Multicultural Book Talk
Kat Elder
"Bee-bim Bop!" Information and Introduction
Author: Linda Sue Park
Illustrator: Ho Baek Lee
Genre: Realistic Fiction
Topic/Theme: The wonderful joys of family and food!
Awards:
(1) New York Public Library, 100 Titles for Reading and Sharing
(2) Bank Street Best Children's Books of the Year

Citation: Park, Linda Sue., and Ho Baek Lee. Bee-bim Bop! New York: Clarion, 2005. Print.
Newbery Medal-winning author, Linda Park, captures the exciting rush of dinner time preparations in this picture book about a Korean family. A little girl is thrilled about what's for dinner--the Korean dish Bee-bim Bop--and she excitedly helps her mother shop for groceries, prepare the ingredients, and set the table before the family gathers for dinner. Park's rhyming text, with the refrain of, "Hungry hungry hungry for some BEE-BIM BOP!" perfectly echoes the frenzied speed of shopping for and the cooking of a favorite meal! The enthusiasm of the narrator is conveyed in the whimsical watercolor illustrations (many of which are from a child eye's view), which bring details from Lee's childhood in Korea to his depiction of a modern Korean-American family. The step-by-step descriptions will intrigue children who love learning about the process of putting a meal together. A recipe for Bee-bim Bop, with instructions for "you" and a "grown-up," is found in the closing of the text.
About the Author -- Linda Sue Park
Linda Sue Park was born in Urbana, Illinois on March 25, 1960, and grew up outside Chicago, but now lives in Rochester, New York with her family. She is the daughter of Korean immigrants and got her inspiration for this piece from the culture and heritage she was raised in. She has written five novels for young readers, one of which (
A Single Shard
) received the Newbery Medal, and several picture books. She has worked as a food journalist and has also won cooking contests! Although nearly everything she writes includes some mention of food,
Bee-bim Bop!
is her first book to focus on cooking and eating.
When asked about literature as pertaining to her life, she said, "I've been writing for as long as I can remember, and reading even before that. My mom still has stories that I wrote when I was in kindergarten. I was a reader and a re-reader. That's the main reason I became a writer. I can give advice to anyone interested in writing in one word: READ! I think it's much more important to be a reader than to be a writer!"
To find out more about Ms. Park, visit www.lspark.com
Taste of the Text
Almost time for supper
Rushing to the store
Mama buy the groceries
more, Mama, more!
Hurry, Mama, hurry
Gatta shop shop shop!
Hungry hungry hungry
for some BEE-BIM BOP!
About the Illustrator -- Ho Baek Lee
Ho Baek Lee was born in Seoul, South Korea. He studied graphic design and communications. After spending several years in Paris, he returned to Korea and founded a children's book publishing company called Jaimimage. He now lives in Seoul with his wife and his son. Bee-bim bop! is the first book he has illustrated for the publishing company of Clarion. In this piece, Lee brings details from his childhood in Korea to the pages through his watercolor illustrations.
Lee's illustrations are warm and add humor, especially in their depictions of the family dog (as seen above). The illustrations are placed on a white background which makes the color POP off the page! Although the illustrations have a cartoonish look, there is no denying the reality of the characters.
Criteria for notable multicultural literature
1. Portrays cultural accuracy and authenticity of characters in terms of physical characteristics.
The physical characteristics of the characters replicate the natural appearance of some, but not all, Korean-Americans and avoids stereotypes. The characters are portrayed as unique individuals within the Korean-American culture.
2. Portrays cultural accuracy and authenticity of characters in terms of social status.
In many Korean families, it is common for relatives outside of the immediate family to live in the home. It is common for a grandparent to live with one of their children and their grandchildren. This aspect of Korean culture is seen in "Bee-bim bop!" as the grandmother is shown praying and sharing a meal with her child and her two little grandchildren.
3. Honors and celebrates diversity as well as common bonds in humanity.
Across every culture, through every time, and in every place, family and food are very important. In this piece, family and food are celebrated. Although the food they are eating honors and celebrates Korean culture, and although their "family dinner" may include different relatives than would be present at our typical "family dinner", as humans we can relate to the joy of family and food! We can think about our own family gatherings and think of the foods we are excited to prepare and share! An example for that pertains to me and my family would be Thanksgiving! . . . What about you?
4. Has an appealing format and is of endearing quality.
Because this book is written in a mix of "ABCB" and "ABAB" formats, it makes it impossible to read without singing along to the rhythm! The format of the illustrations (watercolors on white) make the color POP off the page. This book is definitely appealing to the ears and the eyes!
*The pictures below taken from the book are examples of each of these criteria*

| | | |
| --- | --- | --- |
| | | |
| portrays physical characteristics and social status | honors and celebrates diversity as well as common bonds in humanity | has an appealing format and is of endearing quality |
"Bee-bim Bop!" Lesson Plan
STANDARDS
CCSS.ELA-LITERACY.RF.K.2
Demonstrate understanding of spoken words, syllables, and sounds (phonemes).
CCSS.ELA-LITERACY.RF.K.2
Recognize and produce rhyming words.
GRADE LEVEL:
Kindergarten (end of year once letters and sounds of letters are mastered).
OBJECTIVES:
1. The student will recognize rhyming words within the text.
2. The student will produce rhyming words.
3. The student will be able to identify the word that does not belong when given 3 words (2 that rhyme, one that does not).
LESSON PROCEDURE
Have students come to the carpet at the front of the room.
Define Rhyme: the correspondence of sound between the ending syllables of words. Usually used at the ends of lines of poetry.
Give examples of words that rhyme to the class like "mop and top, stop and cop, loose and goose, time and lime, shine and mine, ect."
Read aloud of "Bee-bim bop!". Read once through completely and tell students to pay attention to the way the words sound.
Read aloud again, but stop after each stanza is read aloud and ask students to identify which words (located at the ends of the lines) rhyme.
Discuss the concept of word families. Word families are groups of words that have a common feature or pattern; they have some of the same combinations of letters in them which gives them a similar sound (rhyming).
There are Introduce word families to the students. It would be reasonable to introduce a new word family once a day or once a week depending on how well the students grasp the concept of rhyming. Some of the most common word families, according to Wylie and Durrell, are: ack, ain, ake, ale, all, ame, an, ank, ap, ash, at, and ate. Although I only listed the 13 most common word families, Wylie and Durell address the 37 most common word families in many online articles and sources.
Choose one word family to address. I would choose "op" because it goes along with "Bee-bim Bop!"
Have students return to their seats.
Let each student familiarize with the word family through practice with an "op" worksheet (example of a word family practice sheet pictured below).

Do they understand? Informal Assessment: Post-It Word Sort. Have all of the "op" family (bop, chop, cop, crop, drop, flop, hop, lop, mop, plop, pop, prop, sop, shop, stop, top) written on Post-It Notes prior to the beginning of the lesson. Also have words written that are not part of the "op" family, words that do not rhyme (ex: dime, lamb, grass, cat, dog). Stick two of the "op" words and one random word on the board. Randomly call on one student to come to the board and take away the Post- It that does not belong. Once the student has made his or her selection, ask the class to show whether they agree or disagree using their thumbs. Thumbs Up = Agree! Thumbs down = Disagree! Thumb in the Middle = I am unsure! The teacher should monitor not only how many times the chosen student correctly takes away the wrong Post- It from the group, but also, how many students in the crowd agree when the correct Post- It is removed and how many students have their thumbs in the middle meaning that they are unsure.
Read Aloud of "Bee-bim Bop!"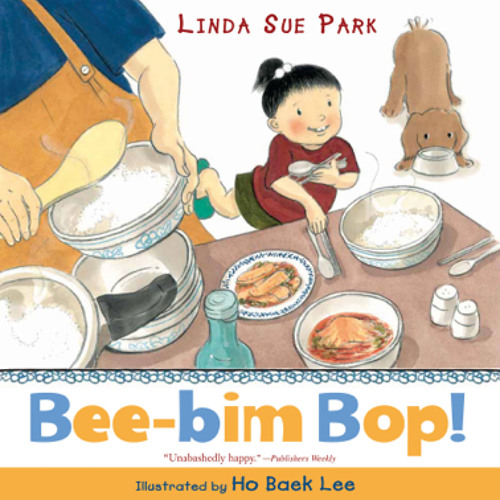 katelder
Audio Recording of "Bee-bim bop!" by katelder