The Travels of Igal Shidad
Presented by Elliott Pattison EDEL 411 Section B
Saint Paul, MN :, Minnesota Humanities Center,, c2008.
INFORMATION ABOUT THE BOOK
Author/Retold by: Kelly Dupre
Illustrated by: Amin Amir
Somali translation: Said Salah Ahmed
Genre: Somali Folktale
Topic/Theme: With cleverness and faith, you will find a solution to all your problems!
Awards: No recorded award at this time
ABOUT THE AUTHOR
Kelly Dupre is an artist and writer. A former special education teacher, she lives in Grand Marais, Minnesota. She is the author/illustrator of the
Raven's gift, A true story from Greenland
and the illustrator of
The Lion's Share/Qayb Libaaz
in the Minnesota Humanities Center's Somali Bilingual Book Project.
ABOUT THE ILLUSTRATOR
Amin Amir is an established political cartoonist and artist. Born in somalia, he currently lives in Edomonton, Alberta, Canada. He has illustrated several books including two collections of Somali folktales,
Sheekoyink Dadqalatadii Dhegdheer
and
Sheekoyinkii Cigaal Shidaad
. This is his second children's book for the Minnesota Humanities Center's Somali Bilingual Book Project.
Recent art

Picture from The Travels of Igal Shidad

All illustrations are painted in gouache. Gouache is a technique that is similar to using water colors.




Recent art
ABOUT THE TRANSLATOR
SAID SALAH AHMED was born in Somalia. He is an established poet, storyteller, playwright, filmmaker, and writer. A lifetime educator, He is currently a bilingual teacher and resides in Minneapolis, Minnesota. The author of
The Lion's Share/Qayb Libaaz
, This is his second children's book for the Minnesota Humanities Center's Somali Bilingual Book Project.
CRITERIA FOR HIGH QUALITY MULTICULTURAL BOOKS
1. Physical characteristics of a people of a diverse culture should replicate natural appearance and avoid stereotypes.
Through out the story of Igal is portrayed in very similar to individuals that are currently from Somali. Amin Amir drew Igal in the custom tribal white robe. He also equipped him with his spear which would be common for them to carry when they would travel into the bush. Amin Amir, the illustrator is originally from Somali so he has plenty of personal experience to proper Somali tribesmen rituals and attire.
2. Setting should be representative of and consistent with historical or contemporary time, place, or situation of a particular culture.
The book is set in Somlai Africa. The main character Igal is a typical nomadic herder of both sheep and camels. The herders were frequently tasked with going out and finding new locations for food and water for their animals. The safest time for them to search was in the evening due to lower temperatures and fewer predators being out and active.
3. Themes are consistent with the values, beliefs, customs, traditions, and conflicts of the specific cultural group

This folktale was meant show the great lengths that Somalia herdsman will go to find food and water for their folks. This story is also meant to be comical as well. They depict Igal as a coward but still a wise man. Igal's unending fear causes him many issues in all his stories. However his cleverness and faith always manage to help him find solutions to all his problems. These two values are what all Somalis herdsman rely on to help them survive out in the bush.
THE TRAVELS OF IGAL SHIDAD: AUDIO LESSON
Grade Level 2
CCSS RL.2.3 Describe how characters in a story respond to major events and challenges.
Students will use the information and illustrations from the text to identify how the environment challenged the main character.
Lesson Beginning:
The teacher will start the lesson by having students discuss with their elbow partner on different things that they encounter on their way to school that challenge them in form. Second the teacher will ask them to identify things that could possibly challenge other people that don't live in our community.
Lesson Middle:
After discussions has finished the students will be informed that as the story progresses the main character will be faced with many varying environmental challenges. They will experience the same situations as Igal and will be asked to predict what will happen and how they would react in the same situation.
As the story is being read, stop and ask students to identify how they will react-- When do you think is the safest time of day to look for more food and water. What would you do when you heard the loud screech in the dark night come from the trees, first noticed the shadow. When you were to notices that it was a lion would you (turn and run or hide). What would you do to help you last the long and pain full times. Do you think Igal is brave or a coward.
Lesson End:
Once the story has complete the students will work at their tables. The teacher will explain that each student will write a brief narrative explain when they struggled with a decision or were tested by an outside force that they had no control over. These narratives will contain complete and well developed sentences.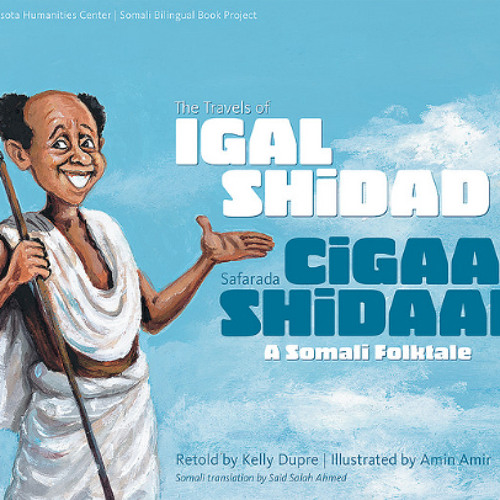 cepattison
The Travels of Igal Shidad by cepattison