The Upside Down Boy
Presented By Tresse Keplinger EDEL 411 Section D
Herrera, J.F., & Gomez, E. (2000). The upside down boy. San Francisco: Children's Book Press.
Book Introduction
Author: Juan Felipe Herrera
Illustrator: Elizabeth Gomez
Genre: Autobiography
Topic/Theme:
Awards: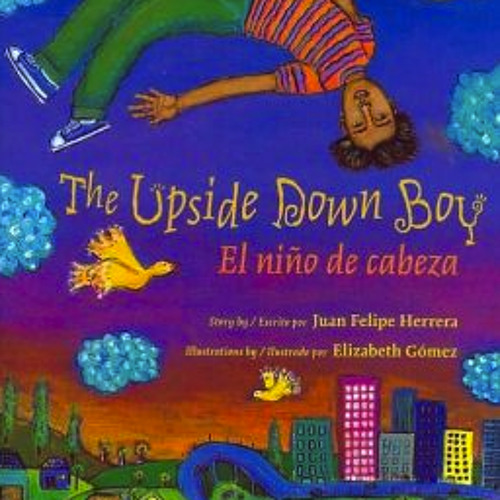 Tresse Keplinger
The Upside Down Boy by Tresse Keplinger
About the Author
Juan Felipe Herrera is one of the foremost Mexican American poets writing today. His first book for children, Calling the Doves, received the prestigious Ezera Jack Keats Award honoring the most promising new author for children, The author of five books of poetry, he is also an actor, musician, and popular professor at California State University at Fresno.
About the Illustrator
Elizabeth Gomez is an internationally exhibited painter known for exquisite colors and delightful sense of fantasy. "In everything I paint," she says, "there are always people, animals, and plants, and always beauty." A native of Mexico City, she now lives in Cupertino, California with her husband and daughter. This is her first book for children.
Criteria for High Quality Multicultural Literature
This book honors and celebrates diversity as well as common bonds in humanity. Juanito's teacher, Mrs. Sampson, is African American. However, she celebrates diversity in her classroom community. On page 31, you can see that Mrs. Sampson is wearing a sombrero.

This book is rich in cultural details. The illustrations feature many cultural details that are accurate. For example, the vibrant colors are a common feature of Hispanic culture.

Themes are consistent with the values, beliefs, customs, traditions, and conflicts of the specific culture group. This details mentioned in this book are very accurate in portraying Hispanic culture. The book is a true story about the author, Juan Felipe Herrera. That being said everything is very accurate since this story is about real events, people, ideas, etc. A particular conflict, is the way that Juanito feels when he first begins to attend school. Many Hispanic children feel this way when attending an English speaking school for the first time.

Lesson Idea
CCSS RL.2.3
Describe characters in a story (e.g., their traits, motivations, or feelings) and explain how their actions contribute to the sequence of events.
The student will describe how Juanito overcame the language barrier at his school.
Lesson Procedure:
The teacher will begin to read The Upside Down Boy aloud to the class in Spanish. She will ask the students questions about the book. When students are unable to answer, she will ask them why. The class will discuss how they feel when they cannot understand their teacher. Could they imagine if they were to feel this everyday when they came to school?

The teacher will read The Upside Down Boy aloud to the class in English.
The students will write a journal entry describing why Juanito felt as though he was "upside down" and how he was able to overcome that feeling.