Elena's Serenade
Presented By: Dakota Kaufman EDEL 411 Section B
About the Author
Campbell Geeslin was born in 1925 in Goldthwaite, TX. He attended Columbia College in 1949 and University of Texas in 1950. Campbell Geeslin published his first book shortly before his retirement from the world of print journalism, where he had worked for more than three decades as a reporter and editor. Although Geeslin and his family were centered for many years in and around New York City, the author retains vivid memories of his youth in rural west Texas in the 1930s, and the vacations he and his family took to an even more exotic locale—across the border into Mexico. Geeslin draws on his familiarity with the Texas-Mexico border area in his writing, which includes picture books such as Elena's Serenade and How Nanita Learned to Make Flan.
About the Illustrator
Ana Juan has contributed cover art to
The New Yorker
since 1995. Born in Valencia, Spain, in 1961, Juan studied fine arts and later moved to Madrid, where she began to publish her illustrations in magazines and newspapers. She has had major exhibitions in Geneva (1988), New York (1992), and Spain (1999 and 2006).
Criteria for High Quality Multicultural Literature
Themes are consistent with the values, beliefs, customs, traditions, and conflicts of the specific cultural group. The theme of this book is how different people have different jobs and how you are born into that job of what you are suppose to do. The beliefs and customs are also present when you read this book with the different Spanish songs that are used when blowing the glass.
This book honors and celebrates diversity as well as common bonds in humanity. This book talk about how you shouldn't be judged on the type of sex you are or the type of culture that you are in. When you put your mind to something you can always achieve it.

This book is rich in cultural details. This book talk about the different things that men do in the hispanic community. Like blowing glass, it says that if you are a man this is what you are suppose to do and how woman are suppose to do their jobs. I love how the book has Spanish in it, it really brings at the Hispanic culture.
Lesson Plan Idea
Grade Level 2

CCSS RL.2.3 Describe how characters in a story respond to major events and challenges.

The students will...
Identify why Elena wants to blow glass and also what she does to get there.
This will begin with the teacher asking the students what they want to be when they grow up. Asking them if they want to achieve these things what do they have to do to get there. The teacher can then ask the students what they think girls should do when they grow up and what boys should do when they grow up. If there is an overwhelming theme, tell them that they are now going to read a book and will ask the same question later.
Read the book to the students asking them questions about it while reading it. Is it fair that Elena can't be a glass blower? How does Elena help the animals and the other way around? Why do you think Elena dressed as a boy? Is it fair that Elena can't be a glass blower?
After reading the story again ask the students if there is any job that a girl and boy can't do the exact same. The teacher can then talk about how no matter what race, color, ethnicity, girl/boy you are you can always do something that you set your mind to. Never let anyone stop you from doing that.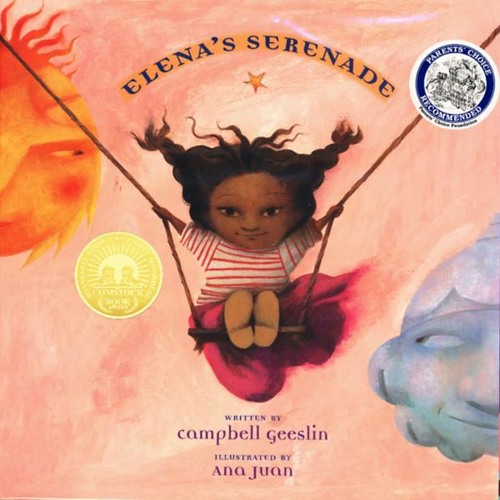 user267299651
Elenas Serenade by user267299651