Number the stars
Lois Lowry
Summary of the book
During the Second World War, Nazis invaded several countries, including Denmark. The anti-Jewish fever has started, and no Jew is safe and sound under the German control. Annemarie Johansen, a ten-year-old girl, and her family must hide the Rosens, their jewish neighbours and close friends. Ellen, the Rosen's daughter and best friend of Annemarie, has to personate Lise, Annemarie's old sister, already dead. Meanwhile, Ellen parents are safe with Peter, Lise's fiancé. It's time to go to Gilleleje, the village where Henrik, Annemarie's uncle, lives. From Gilleleje shore anyone can see the Swedish coast, so that's the perfect place to collect a lot of Jews and hide them into the boats of the fishermen and take them to Sweden, a country free of German soldiers. But it's a difficult and dangerous work, and Annemarie and all of them must be precautious and very braves.
About the author
Lois Lowry (Hawaii 1937- )
Born in 1937 in Hawaii, Lois Lowry is known for her more than thirty children's books and an autobiography.
Lowry grew up in Pennsylvania, and in 1948, following World War II, she and her family moved to Japan, where her father, an Army dentist, was stationed from 1948 till 1950. Then, their lived in New York, where she entered to Brown University.
Only 19 years old, she got married with Donald Grey Lowry, a U.S. Navy officer. They moved to Maine, where they had two sons and two daughters. She completed her degree in English literature from the University of Southem Maine in 1972, ans she was introduced to photography during a coursework. Thanks to that, her editor recognized her talent and suggested that she write a children's book. It was the beginning of her literary career.
She received Newbery Medals for two of her novels, Number the Stars and The Giver. She has received many more honors, like the Boston Globe-Horn Book Award, the Dorothy Canfield Fisher Award, the California Young Reader's Medal and the Mark Twain Award. Furthermore, her first novel A Summer to Die was awarded by the International Reading Association's Children's Book Award.
Ms. Lowry now divides her time between Cambridge and an 1840s farmhouse in Maine.
Book review
The book takes place in Copenhagen, Denmark. Its title, Number the Stars, refers to the Star of David which represents Jews.

The genre of this book is historical fiction.
The main characters are:
Annemarie Johansen: she's the main character. she's ten years old. She has got blond hair and she's a good racer. She used to think that she was an ordinary girl, but she has demonstrated to be brave, wise, and a very good friend, risking her life to save her best friend Ellen.
Ellen Rosen: she's ten years old. She has got dark hair and she's a good actress. She and her parents are Jewish, so they're in danger. Now, she must show how good she's acting, personating Lise, Annemarie's dead sister.
Kirsten Johansen: she's only five years old. She has got blond hair and she's charming. She doesn't understand what is really happening, so she's very happy and she's not afraid when she encounter German soldiers.
The Johansens: they are Annemarie and Kirsten's parents. They're very brave and they help their good friends, the Rosens, to escape to the Nazis. They have prepared a very good plan to send Jews to Sweden, and they hide all the information about it to protect their daughters.
Uncle Henrik: he's a single fisherman, and he's Inge's brother (Annemarie's mum). He prepare, along with the Johansens, a plan to save Jewish.
Peter Neilsen: he was Lise's fiancé till she died. He's on the resistance and he hide the Rosens (Ellens parents). He helps the Johansens to carry out their plan of escape.
German soldiers: they are cold, severe, terrible, scoffers, spooky and much more.
The main idea of the story is the friendship and common sense against adversity (common sense saving lives against the madness and folly of another country).
This is a valid book for any age, and it tells us a interesting and beautiful story of overcoming that make us to believe in humanity. It's a highly entertaining read, perfect to put yourself in the place of who suffered the Second World War. Definitely, it's well worth reading!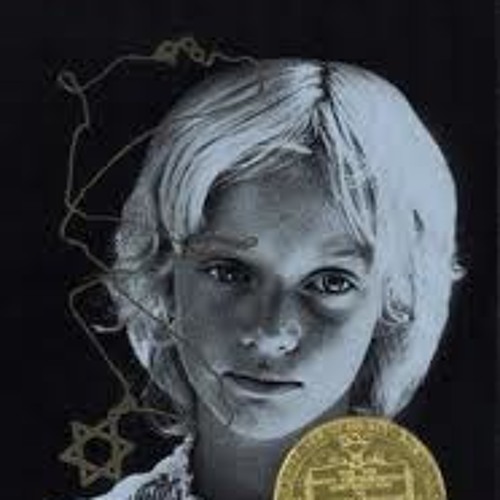 YolandaMV9
Page 51 Number The Stars by YolandaMV9
Vocabulary
Here are some words from the book that we can use in our daily life
Ankle (n): the joint connecting the foot with the leg
Bluster (v): talk in a loud, aggressive, or indignant way with little effect
Chuckle (v): laugh quietly or inwardly
Gnarled (adj): knobbly, rough, and twisted, esp. with age
Grin (v): smile broadly, esp. in an unrestrained manner and with the mouth open
Handkerchief (n): a square of cotton or other finely woven material, typically carried in one's pocket and intended for blowing or wiping one's nose
Hug (v): squeeze (someone) tightly in one's arms , typically to express affection
Push back (v): exert force on (someone or something), typically with one's hand , in order to move them away from oneself or the origin of the forcé
Slap (v): a blow with the palm of the hand or a flat object
Squeeze (v): an act of pressing something with one's fingers
Stroke (v): an act of hitting or striking someone or something; a blow
Whisper (v): a soft or confidential tone of voice; a whispered word or phrase