The Digital Broadside
News You Can Use
Oct 12 Staff Development Survey
Thank you to all those who attended Monday's Staff Development session. Please take the time to fill out the survey for the day.
This is also for Middle School and the museums. I'm sorry the VCU Parking Deck was a mess. One of those uncontrollable things.
Also, if you couldn't get the attendance to work, email me. I'll probably remember you being there.
Authentic Assessments
This year, some 6th and 7th grade teachers are starting down the road of Authentic Assessments in their classrooms since there is no longer an SOL test. The goal is, by 2017-2018, when the new Curriculum Framework is being used, we will only be doing Authentic Assessments for VDOE purposes.
But... if you're in High School... you'll want to know what this is about.
SPECULATION ALERT: This is S-P-E-C-U-L-A-T-I-O-N, and hopefully we will know something in November, but I'm guessing the move to replace SOL tests won't end with just 6th and 7th grade content. My guess is that either for the 2016 or 2017 school year, we'll see another Social Studies class move to Authentic Assessments instead of an SOL test. I won't write which class I think it will be, but I have my guesses.
So, what is an Authentic Assessment? The leader of Authentic Assessment model is Jay McTighe and I just saw him present in Roanoke on Monday and Tuesday. According to him, it is:
" . . any learning activity or assessment that asks students to perform to demonstrate their knowledge, understanding and proficiency. Performance tasks yield a tangible product and/or performance that serve as evidence of learning. Unlike a selected-response item (e.g., multiple-choice or matching) that asks students to select from given alternatives, a performance task presents a situation that calls for learners to apply their learning in context."

But here's my definition: IT'S GOOD TEACHING.
For years, teachers have lamented having their pedagogic hands tied because of SOLs. Well... no test, no cuffs. We can go back to Wild, Wild West of teaching with guns blazing.
Ok... reeling it in a bit...
Authentic Assessments aren't easy. But... they make teaching and learning fun again. Count yourself lucky if you get to do Authentic Assessments instead of the SOL test. I hope the state gets rid of all Social Studies SOL tests in place of Authentic Assessments. But it's a shift in thinking and will take time to adjust.
Over the next two years, I will be asking for teachers to help me develop authentic assessments for classroom use, but also train teachers on how to make their own. This will be a long conversation. But I honestly believe that this will make you a happier teacher.
Teacher|Student Opportunities
Monticello Teacher Institute
The Thomas Jefferson Foundation is pleased to announce the 2016 Monticello Teacher Institute (MTI), an immersive professional development opportunity designed to provide social studies teachers the opportunity to research and study at Monticello and the Jefferson Library in Charlottesville, Virginia.
With the dual goal of enhancing their classroom teaching and contributing to the collection of digital resources available online at Monticello's Digital Classroom and Sea of Liberty websites, teachers will collaborate on projects such as lesson plans, curricular units, resource packets, or other creative products rooted in the history of the founding principles and their relevance today.
Their onsite experience will be enriched and supported by group excursions, presentations by leading Jefferson scholars, and other focused workshop sessions. Following the weeklong residence, participating teachers will be expected to bring conversations about Jefferson's ideas and Monticello into their classrooms, schools, and communities.
Archives Open House
Join the Virginia Holocaust Museum (VHM) curatorial staff on November 5th at 7:00pm for a behind-the-scenes tour of the museum's collection.
During this tour, visitors will have the rare opportunity to learn about and venture into the VHM's collection, which includes over 6,000 artifacts, photographs, and documents. Participants will view and examine some of these seldom seen objects -- all while learning about how they are stored, cared for, and prepared for exhibition. Curatorial staff will also explain the history and significance of each object, as well as how the VHM is working to preserve and present the history of the Holocaust.
Space is limited so please RSVP with the name(s) and contact information of participants to Angela Rueda at arueda@vaholocaust.org. We hope to see you there!
If I Were Mayor
If you teach 7th grade, here is a contest your students can enter.
Each fall the Virginia Municipal League (VML) invites all Virginia 7th Graders to participate in its "If I Were Mayor" essay contest. The essays describe what the student would do as mayor to make their cities and towns great places to live.
Promoting good local government is important to VML, and this essay contest provides students the opportunity to reflect on the important role of elected officials in their own city or town.
I asked if 8th grade students could do this, but they said, "no."
http://www.vml.org/education/essay-contest
DAR Essay Contest: Middle and High School
The Daughters of the American Revolution are holding two essay contents. The American History Essay Contest was established to encourage young people to think creatively about our nation's great history and learn about history in a new light.
This contest is open to students in public, private, and parochial schools, and registered home-study programs. Students in grades five through eight are encouraged to participate. Each year, a selected topic for use during the academic year is announced, and contest instructions are published online and sent to schools by participating DAR chapters. Essays are judged for historical accuracy, adherence to the topic, organization of materials, interest, originality, spelling, grammar, punctuation, and neatness.
High School students can write about Columbus while Middle School students write about a Colonial family during the Stamp Act.
If interested, email me or check this site out.
Center for the Constitution
What does it mean to be and to become an American citizen? What combination of political principles, cultural identity, and historical experience does and should constitute U.S. citizenship? This seminar explores the meaning of citizenship and nationhood in different historical contexts, amidst competing constitutional interpretations, and at the center of contemporary policy debates.
U.S. Citizenship: History, Meaning, and Conflict|November 20-22, 2015
Deadline is October 30, 2015
National History Day
A few folks went to the National History Day session on Monday, and I'm curious to know if anyone wants to follow up with it. I'd love for someone in HCPS to try this and get students competing with Social Studies content. I have more books describing it if you're interested and didn't attend the session. Let me know. It's a great program and I'm willing to help in any way to launch this. Our students need something like this.
Social Studies Students @ Play
One of the most popular sessions on Monday was "Social Studies Students at Play." Christine Rayburn, the ITRT at Short Pump, had resources to share with those in the session and those who didn't attend. Here they are:
Social Studies Students at Play: Resource Page and the Share Out Idea Page.
Plickers
Good teaching means engaging students during your lesson. There are many ways to do this, but one important element is changing up what you do. This is especially true with formative assessment. You can only use Kahoot so many times before the kids get bored with it.
Plickers is another way you can use Formative Assessment easily while making it engaging for students. I'd like to thank Doug Saunders and Jason Vest for showing me this.
Jason used it his class last week. Basically, he creates questions and gives each kid a unique card with a funny shape similar to the picture here. There are 4 ways kids can hold up their card (A, B, C, D) which is marked on the card. Jason then downloaded the app to his phone.
In class, he just asks the question. Kids hold up a card. He scans the room with the camera of his phone. The app adds up the responses. It's very accurate. I was holding onto 3 cards, which weren't scanned, and the APP gave a "no answer" for those cards. It took about 5 - 10 seconds to score each question.
It's free and pretty cool. Try it.
5 Fun Alternatives to Think-Pair-Share
All learners need time to process new ideas and information. They especially need time to verbally make sense of and articulate their learning with a community of learners who are also engaged in the same experience and journey.
Trivia and Other Balderdash
Trivia 2015 - 2016: Teachers- 1 and Me- 5
Last week:
He served as a right hand man, and then his life ended with neither a left or right hand. Who is this biker?

The answer was Che Guevara, he was Fidel Castro's right hand man, and had his hands chopped off for ID purposes.
This week:
In an attempt to have great art shown to the public, which museum began an Artmobile that drove around the state, free to the public?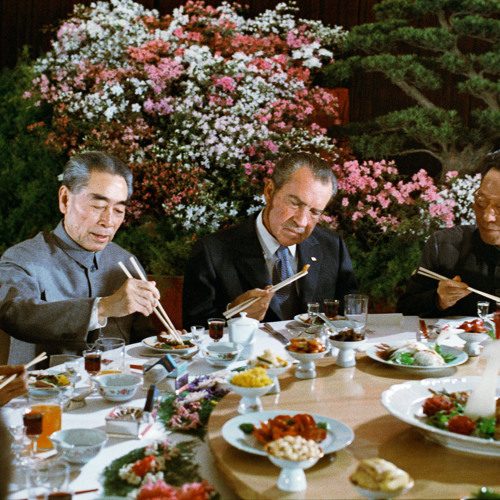 BackStory
They Might Be Giants: China and the U.S. by BackStory