The Family Zone
The Seventh Sunday of Easter/Issue 8/May 24, 2020
IMPROVING YOUR FAMILY'S PRAYER HABIT
This is the final Sunday of the Easter season, before we celebrate the Feast of Pentecost next Sunday! We hope that you have been able to find joy in this Easter season amidst the troubling atmosphere of this pandemic. Joy does not always need to be exuberant. In can be the simple feeling of contentedness that comes from seeing sunshine through the window of your home office, listening to your baby laugh, or catching up with a friend on zoom. We have certainly learned to reconnect with the simple joys of life. As we move toward Pentecost, we want to share in this edition and the next, ways for you to reconnect with the Holy Spirit. It is that Spirit that moves us to pray in gratitude for a cool breeze across our face, or the colors of our spring garden and it is the same Spirit that gives us courage to face uncertain times. In this edition, we'll focus ahead to Pentecost, to prepare you to celebrate the Feast, and we will offer some ideas for building your domestic church by improving your prayer time with the Holy Spirit, Jesus and God, our Creator!
NOTE TO PARENTS: Stay with us through the summer months as we shift to Summer with the Saints, fun family challenges, at home VBS ideas and more!! The Family Zone Summer Edition begins June 14!
MAKING GOSPEL CONNECTIONS WITH YOUR FAMILY on the SEVENTH SUNDAY OF EASTER
"Because the words you gave to me, I have given to them"
This Sunday's gospel can be found at: http://cms.usccb.org/bible/readings/052420-day.cfm

This is a perfect weekend for us to focus on prayer because in this Sunday's gospel, Jesus, himself is praying to His Father. He does three things:
1. He prays for his mission
2. He prays for the disciples that were following him at the time
3. He prays for his future disciples...that's US!
On this Sunday, chat with your family about prayer and the protection of God.
Jesus prays that God will protect us. How has your faith in God's protection gotten you through the last few months or other difficult times in your life?
Prayer is a way of building our relationship with God. Our quarantine has proved to us how important it is to communicate with family and friends in order to maintain relationships with those we can't see. The same is true with God. We pray to maintain a relationship with God. How can you commit to doing that as a family and individually?
What kinds of ways do you like to pray when you are happy? How do you like to pray when you are sad?
SACRAMENTAL LIVING
One of our diocesan priests, Fr. Justin Miller, a parochial vicar at St. Mary's in Auburn, NY, is making a series of videos called "Holy HORSEplay" These videos are a fun way for us to learn a little bit about the vocation of the Priesthood. In this episode, geared toward high school students, Father Miller shares the vocation story of Fr. Nathan Wayne who is from our diocese as well. Learn more about the Sacrament of Holy Orders by clicking on the pdf below!
Holy HORSEplay - Episode 2 - Fr. Nathan Wayne
LET US PRAY
What are your obstacles to prayer? Do you not feel worthy of that intimate communication with Christ? Do you feel you don't have enough time? Do you worry that you are doing it wrong?
Prayer is simply talking to God and there is no right or wrong way to do that! There are many prayer styles and you may find that one is more comfortable than another for you.
Throughout the summer, this column will focus on MANY different prayers and types of prayers that you can try with your family!
Let's start with the basics. You might want to have a special spot designated as your family's prayer space. Add a candle, a Bible, and maybe a journal you can add to. You may want to include a cross, rosary, or a statue of Mary if you have those as well. This light-hearted video discusses the different types of prayer. It's a good Catholic 101 about the different ways in which we pray. We have also included a starter video for our younger children to learn some of our traditional prayers. This video is a very calming two minute guided prayer of the "Glory Be" and could be used at the end of the day. The Glory Be is a good starter for memorized prayer as it is shorter and the language is a bit simpler.
Prayer | Catholic Central
Let's Pray the Glory Be! 2 min of guided prayer
CATECHESIS CONNECTION
How can you and your spouse create a habit of prayer?
How do you help your family pray together and make God a focus in your life?
What are some easy strategies for today's families?
The catechism defines prayer as the "living relationship of the children of God with their Father who is good beyond measure, with his Son Jesus Christ and with the Holy Spirit." (CCC2565)
Now is a wonderful time to help your family enter into that living relationship with a God who loves you deeply. It helps us to make sense of life in difficult times and it helps each of you to be guided toward leading a moral life as a disciple of Christ; seeing the world through new eyes. This podcast offers families real tips on how to engage your family in prayer for your own parental wellness as well as the spiritual health of your family. Click on the arrow in the left corner to listen!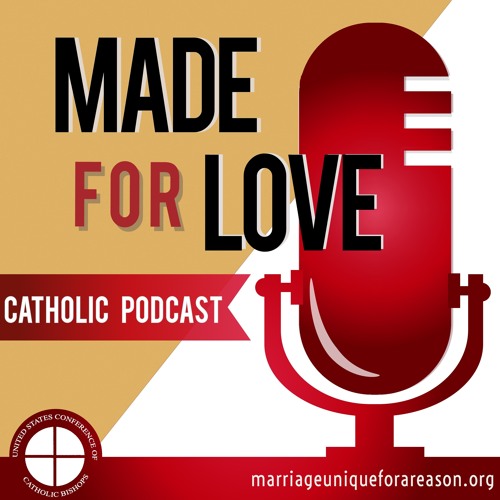 USCCBClips
Made for Love Ep 50: Praying as a Family by USCCBClips
SUPPORTING THE FOUNDATION
Are you struggling with teaching your children at home? We hear from so many parents that the daily struggle of trying to get lessons taught and learned, while possibly working from home and competing with warming weather are truly reaching a pinnacle of frustration. Here is an article that might help you consider your at home teaching strategies, especially if your child has diverse learning needs. The additional PDF comes from search institute and offers many strategies for supporting your child through these uncharted waters. If you are struggling with helping your child cope, we invite you to join our free online discussion with national expert Roy Petitfils on June 3 at 5:00 PM. You will have the opportunity to have your questions answered by Roy and gain new skills for parenting during this pandemic. See the AD below! You must register to attend but our live presentation will be shared on Facebook at a later time for those who cannot be present.
Coronavirus Anxiety and Our Young People: How to Help Them Cope
Wednesday, June 3rd, 5-6:30pm
This is an online event.
Join us for an exclusive presentation for parents and ministry professionals, sponsored by the Diocese of Rochester, Office of Evangelization and Catechesis, with national author, speaker and counselor Roy Petitfils.
Roy has worked with youth and young adults for more than 20 years as a minister, teacher, school administrator, school counselor and now as a counselor in private practice. He has authored several books including: Helping Teens with Stress, Anxiety, and Depression: A Field Guide for Catholic Parents, Pastors, and Youth Leaders and is a TEDx talks speaker as well as presenter of workshops on teens around the country.
CLICK ON REGISTER HERE BUTTON BELOW TO REGISTER FOR THIS WEBINAR!
RECIPE OF THE WEEK
Bake your favorite cake or cupcakes! Then decorate for Pentecost. Pentecost is our celebration of the gift of the Holy Spirit and is considered the birthday of the Church! It is coming up next Sunday! The color RED is associated with Pentecost to symbolize the love of the Holy Spirit. Some other symbols of this day are FIRE, WIND and a DOVE. After baking your cake or cupcakes, decorate with one of the symbols above! Use icing, fruit, candies and more!

Photo from: https://catholiccuisine.blogspot.com/2011/06/flamming-cupcakes-for-pentecost.html
Create!
LINKS FOR FURTHER LEARNING, FAITH AND FUN
| | | |
| --- | --- | --- |
| | | |
| Download a prayer flowchart to guide your family's prayers | Play a prayer game at family prayer time! | Teach your children to pray the way Pope Francis suggests! |
Download a prayer flowchart to guide your family's prayers
Play a prayer game at family prayer time!
Teach your children to pray the way Pope Francis suggests!
Office of Evangelization and Catechesis
Roman Catholic Diocese of Rochester
Debtor in Possession