HMS UPDATE
December Newsletter
From the Principal
To the HMS Community,
On behalf of the Helen Morgan School staff, I wish all of our students and their families a Winter Break full of joy and happiness.
Please see below for a variety of updates, highlights and pictures that provide a glimpse into the amazing world of HMS.
Proudly,
Doug Layman
Principal
Helen Morgan School
PARCC Reports
All HMS PARCC reports have been mailed home. Please read Dr. Johnson's letter that came with the report. Helpful links that will help parents interpret the report and provide additional information about the assessment are below:
Are You BullySmart?
This month, the Center for Prevention conducted a series of four workshops with all of our 4th grade students. The workshops focused on identifying forms of bullying, what to do if a student is involved in bullying and how students can be Upstanders. A particular focus this year was on cyberbullying. More and more students are communicating online (iMessage, a variety of apps like Instagram, Xbox Live, etc..) and the need for students to be good Cyber Citizens is crucial to maintaining a safe online environment for all.
Where Did We Go This Summer?
Thank you for responding to our survey. Check out
this map
to see the various places, near and far, that we visited this summer.
Veterans Day: A Military Family Perspective
Mrs. Leary visited Mr. Gorecki's LA classes to share with students the sacrifices that families, particularly children of veterans make, and that they, too serve their country as military children. Students viewed and discussed age-appropriate video segments that conveyed the impacts of parent deployment on military children as well as the resilience and maturity of these special young people when missing a deployed parent, moving every couple of years, and adapting to unfamiliar circumstances upon the return home of a serving parent. Mrs. Leary also answered students questions and listened to their own stories of parents who serve or have done so in the past.
Saying Thank You to our Veterans
In November, many HMS students created "Thank You" cards for veterans participating in the Hudson Valley Honor Flight. This program allows our older veterans to visit- many for the first time- the World War II, Vietnam and Korean War memorials in Washington, D.C.. The video below summarizes this year's trip and at the 8:30 mark you can see many thankful veterans, boarding the flight home, opening our students' cards.
Hudson Valley Honor Flight Mission 10
Delivering Presents from the HMS Toy Drive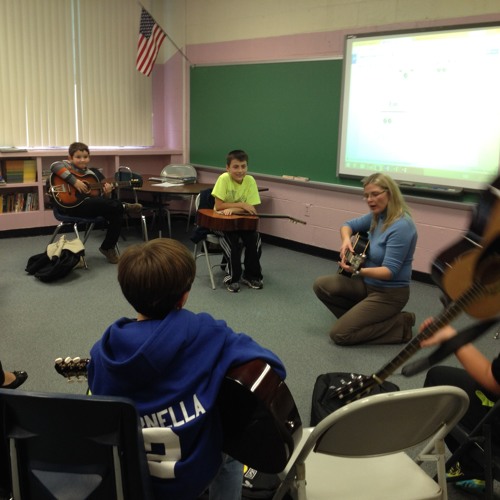 Doug Layman
Guitar Class by Doug Layman
HMS Text Messages
Click here to sign up to receive general HMS reminders, updates and school-related news.