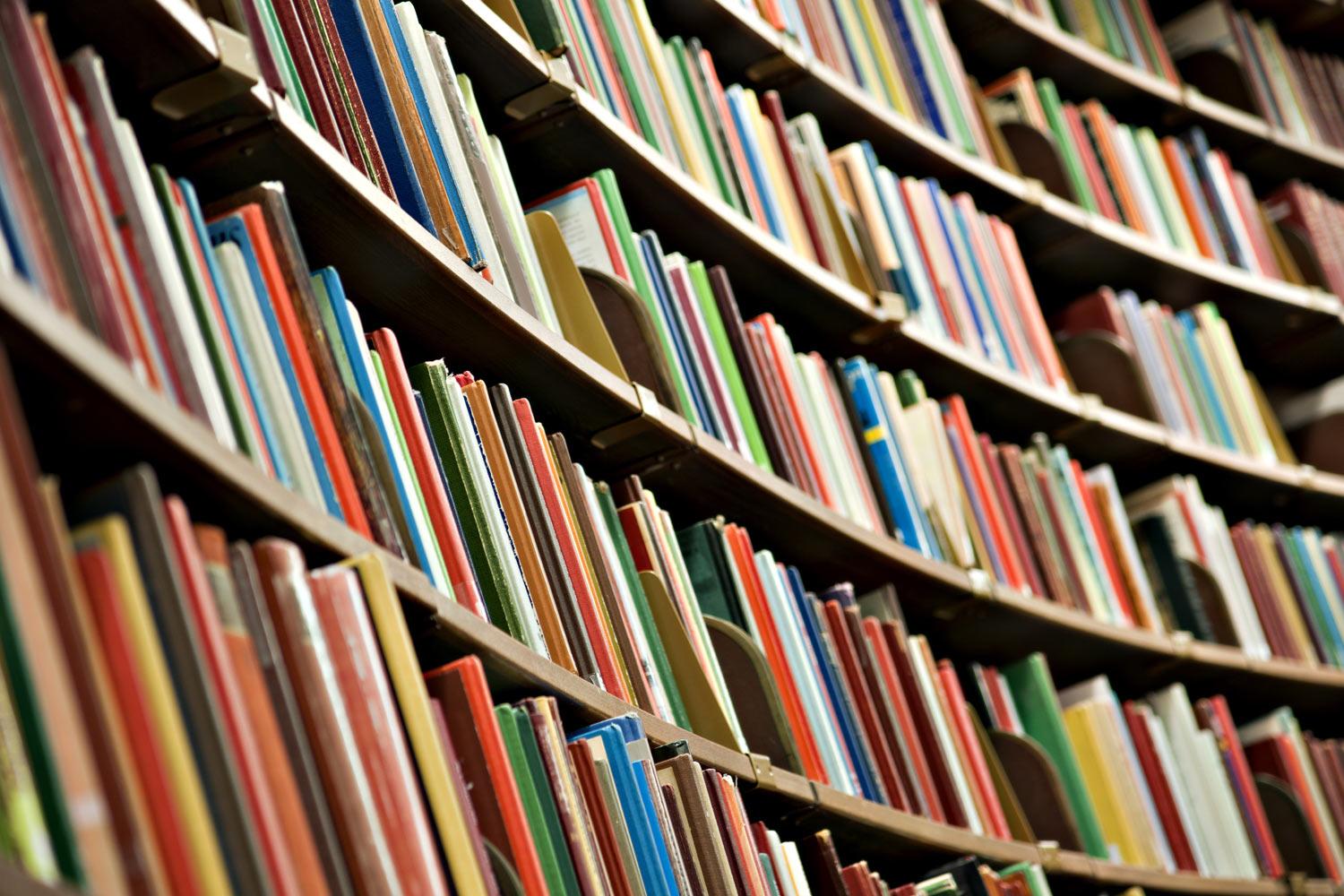 AAPS Library Services Department
November/December 2023 Vol. 18
Carpenter Elementary School Starts a Story Walk
by Elizabeth Clark
Carpenter Elementary has a new Storybook Walk featuring the book
School is More Than a Building
. A Storybook Walk is a fun and engaging way for students to read a story. Pages are placed throughout the school for students to enjoy. Featured in the pictures are 5th grade Cougars reading the book with their 1st grade Cougar Pals.
Beginning November 20, the U.S. History Gale Database will be added to the AAPS Schology courses for secondary students. Students are already familiar with and currently using Gales databases including Opposing Viewpoints, Biography, Science, World History and In Context (general reference encyclopedia). Once students know how to use one Gale database, they can use them all because the interface and tools are the same in each resource making it easy for students to switch between them. Featured tools of the databases allow students to translate text to multiple languages, send articles directly to their Google drive, highlight text and take notes on articles, just to name a few.
Huron High School Student Publishes a Fantasy Novel
An interview with author, Maya Fu
What inspired you to write the book?

"I honestly don't really remember what inspired me to write the novel, but I do remember that it was right after a fight with my mom. I was really mad, and I went outside to sit in the garage for an hour. During that hour, I sort of just dreamed up this story, and immediately began writing the first draft."

Have you always enjoyed writing?
"I've always enjoyed writing! I did Kumon as an elementary schooler, and ended up finishing the reading program in 4th grade. I think doing that kind of jump-started my love for reading and writing because I was introduced to "advanced" literature from a pretty early age. After that, I continued writing through The Cougar Star (Clague's newspaper) in middle school, and I'm now an editor-in-chief of Huron's newspaper, The Emery."
Why are you writing under a pseudonym/pen name?
"I'm writing under a pseudonym because my editors recommended it. Although it's not necessarily heartening to think about, a lot of people who write books as teenagers might not end up aligning with the viewpoints or emotions they expressed in that book later on in their life. I began writing the book in 8th grade -- even as I was editing it later on, there were some parts of the book that I knew I would change if I had the time, just because three years had passed, and I had grown as a person. I think it's just really important to remember that it's impossible to love every single word that you write -- especially in a book of this length, and especially while balancing school and other extracurriculars -- if you love the overall product, which I do. I'm also a pretty private person, and I don't need the validation of having my name on something I've done to feel proud of it."
What are your goals after high school?
"I really want to continue writing -- a lot of the things I love to do right now have to do with writing. I'm most likely going to pursue a major in English, or something similar."
Who is your favorite author or book series?
"My favorite book is All The Light We Cannot See by Anthony Doerr. I love historical fiction generally, but Doerr's writing is beautiful, and I think the story itself is creative and full of hope."
Do you plan to write another book?
"Yes, I'm currently working on a second book, but it's not related to my first one at all. It's based on a conversation I had with my cousin about leaving his parents and home country of China at a young age to study in a foreign country, and his experiences and hardships during that journey. I'm definitely taking some creative liberties and not completely following what he told me, but his memories kind of form the structure of the story."
"Lastly, I forgot to mention: I'm doing a fundraiser with this book - 75% of all proceeds of this book are going towards an organization called A Brighter Way, that helps formerly incarcerated people readjust to society to lessen the chances of them offending again."
Clague students were given the opportunity to show their appreciation to those who sacrifice their lives every day. Students created drawings, thank you letters, note cards, and poems to express gratitude to military personnel, first responders and veterans in honor of Veterans day. Ms. McLean, Clague Librarian, organized the initiative in connection with Operation Gratitude. Operation Gratitude is a national non-profit organization founded in 2003 that "provides care packages to our Military and first responders containing carefully chosen items meant to boost the morale and resilience of our service members and give them warm reminders of home" (Source: https://www.operationgratitude.com/about/)
The thank you letters written by Clague students will be paired up with a care package. To learn more about this organization, click here.
Meet Kyle Kipp, Tappan Middle School Librarian
Kyle R. Kipp loves working with people of all ages. He has a passion for learning and exploration and considers libraries society's most essential hubs for enlightenment. Kyle grew up in Lapeer, Michigan (his parents were from Flint and Detroit). He got his teaching certificate in 2000 (BS.ed, Central Michigan University), and started out as a high school and college physics teacher. He became a certified librarian in 2003 (MLIS, Wayne State University) and spent the first many years of his school librarian tenure at the high school level, switching to Tappan Middle School eight years ago. During the summer months, he works as a part time librarian with the Ypsilanti District Library.
Throughout the year, Kyle spends many nights and weekends as a professional performing musician, and also works as an event producer and talent buyer. He's owned a historic home in downtown Ypsilanti for about 20 years and enjoys cooking, horticulture, travel, bicycling, walking, kayaking, movies, building musical instruments, and spending time with his wife and pet housecat.
What inspired you to study library science?
Even from a young age, I've always loved being in the library. I found it to be a calming and inspirational place where I could get away from the "outside world" and explore subjects at my own pace without interruptions. My parents were avid readers and liked taking me to the public library. Later on during my first year of teaching, my classroom was located across the hall from the school's library, so I had my students doing a lot of projects there throughout the year. I got to know the librarian and started asking questions about her role and how she got there. I was fascinated by the prospect and knew it would be a great choice for my next professional adventure. I am reminded every day that I made the right decision because I love my work.
Why are school libraries so important?
School libraries are important for so many reasons, particularly to keep literacy and a love of reading alive in our children, but also to provide that safe and calming place for students to escape to, explore their interests at their own pace, and find an alternative to the rest of the school building and the typical routines that are imposed on them during the school day. It should also be the gateway to a lifetime of public library use and appreciation.
How can a parent encourage their kids to read more?
Parents should promote reading in their household, model the behavior, take their family to the public library, and set aside time each day to read with them. That is easier said than done with today's busy lifestyles, but it can be so easy to make the time and enjoy all the different programs and resources our libraries provide the community. You just have to get into the habit of halting your busy day and making some time to read with your family. It's a great way to slow down, set aside the typical day to day busy work, and escape into a relaxing moment of peace and exploration.
What book or books have had the most influence on your life?
I love reading about music history/biography and ethnomusicology, but I love a good story, too. A few of my favorite books include Please Kill Me by McCane & McNeil, Devil In The White City by Larson, Cash by Cash, and Cat's Cradle by Vonnegut.
How do you keep students engaged?
I try to "meet them where they are." With middle schoolers, they require a little more direction than older kids, but you can also keep it kind of light and fun by being easy going and a little goofy. I just try to make their experience in the library as memorable and enjoyable as possible since their time with me is so limited.
What's also great about the middle school level is the students are feeling a little more "grown up" and seem to look forward to coming to school where they have more time on their hands to really dive into reading bigger books independently. I encourage them to just come hang out in the library and enjoy exploring and reading quietly while they can, before the pressures of being a "grown up" might distract them from these carefree activities.
Kim McLean
Kim is using Smore to create beautiful newsletters