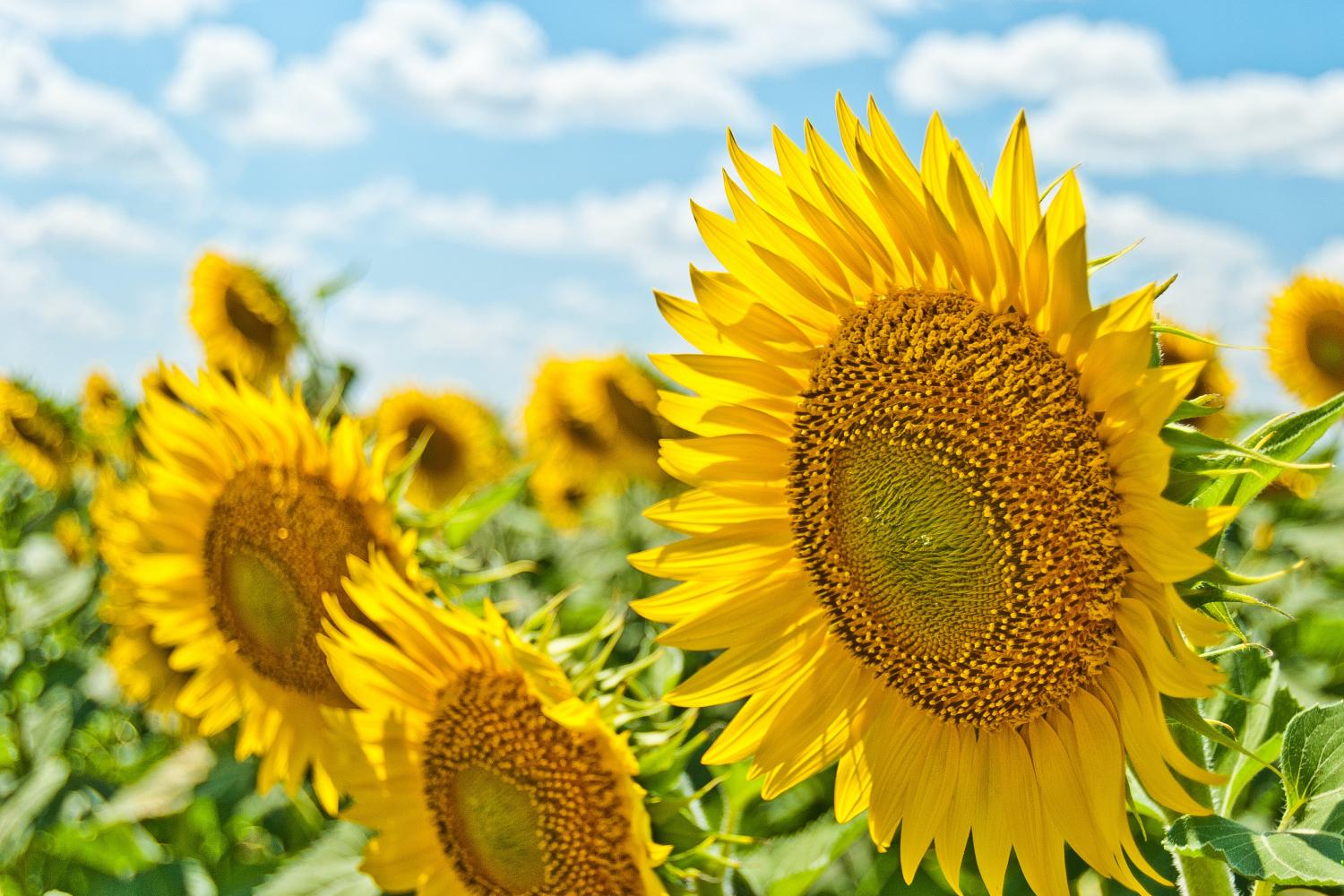 Dakota County 4-H News
OCTOBER 2022
Nebraska Extension - Dakota County
Follow us On Facebook and Instagram!
Dates & Deadlines
OCTOBER

2nd - 8th - National 4-H Week
3rd - Dakota County Extension Board
26th - Retirement celebration - Carol Larvick
31st - Happy Halloween
NOVEMBER
7th - Dakota County Extension Board
11th - office closed Veterans Day
24th - 25th - Office closed - Thanksgiving Holiday
30th - Achievement applications due
Dakota County 4-H Open House and National 4-H Week
Spread the word! 4-H is awesome! Dakota County 4-H is sponsoring an open house and recruitment for the 2022-2023 4-H year. Tell your friends and neighbors about all the wonderful opportunities 4-H has to offer. We will also be recognizing our State Fair participants. Join us at the Dakota County Extension Office on Saturday, October 8th from 9AM to 11AM.
Learn about the project opportunities and participate in hands on activities.
Help to celebrate National 4-H Week and show your love of the green!
Celebrating 4-H Achievements
You enrolled in 4-H at the beginning of 2022. You chose projects and curriculum areas you wanted to learn more about. County fair is over but the 4-H year isn't, there is still more to do!
You used 4-H project manuals, parents, grandparents, friends and the Extension Office staff to help you learn more about the projects you picked.
You attended club meetings, did group projects, worked as a group, maybe did a community service project.
You met all the deadlines and paperwork requirements (There are a lot!)
You finalized the projects and checked the fairbook for guidelines.
You entered your projects for the fair and got them delivered safe and sound.
You joined fellow 4-H'ers at the County Fair and competed with all those pillars of character.
You received ribbons and maybe some rosettes and trophies (don't forget to thank the sponsors!)
NOW……. The Final step.
¨ Keep records of your projects
¨ What was your goal, was it reached?
¨ Tell about your results, what can you do better next year.
¨ Record everything you did. (This is a great resource for keeping track of your activities for future scholarship applications!)
¨ This is the time to toot your own horn, record your accomplishments, both successes and failures.
¨ Complete the Achievement Application. The Nebraska 4-H Achievement Application is a standard application form used for the selection of county and state award winners, including Nebraska delegates to National 4-H Congress and National 4-H Conference, as well as Nebraska 4-H Foundation scholarship award recipients. This will be used at county level also.
¨ Get together with your club and share your successes and your challenges. Begin challenges would you like to try. Club leaders, assign older youth the task of working with younger youth, have them serve as mentors.
¨ Apply for Diamond Clover Awards
¨ Clubs should apply for Club of Excellence status.
Link to Diamond Clover Awards, Achievement Application and other awards https://extension.unl.edu/statewide/dakota/projects-and-resources/
Information and applications were mailed out to 4-H families the end of September.
APPLICATION DEADLINE: NOVEMBER 30TH, 2022
CLUB OF EXCELLENCE
The overall goal of 4-H Clubs is to develop enthusiastic young people who boldly take action to demonstrate life skills as capable, caring, competent kids of character thus contributing to the improvement of themselves, their family, their club, their community, and their world. One way clubs might choose to measure their success in meeting that goal is their ability to gain status as a Nebraska 4-H Club of Excellence. To receive the designation as a Nebraska 4-H Club of Excellence, clubs must meet a certain set of criteria and document how this criterion was met. Clubs meeting the requirements will initially receive a certificate. In subsequent years clubs successfully meeting the requirements will receive a special insignia to place on their certificate. Clubs must apply annually to receive this recognition.
Requirements
To receive the designation as a Nebraska 4-H Club of Excellence, clubs must meet the following:
Have at least five members from at least three different families.
Recite the 4-H Pledge at meetings.
Meet at least six times per year.
Choose/elect youth officers.
Have youth serve in leadership roles.
Have one club project, related to curriculum, which they do together.
Have an adult role model involvement.
Be facilitated by organizational and project leaders who have successfully completed the volunteer screening.
Have members who perform a presentation or public speaking at the club level or above.
Complete one community service project.
Have members who participate in county, district or state events.
Celebrate member and club achievements.
https://4h.unl.edu/clubs-excellence
NEBRASKA 4-H CAMP
Many of you are aware Nebraska State 4-H Camp experienced complete devastation on Sunday. Many of us have spent time there either a camper, staff member, an educator or even a volunteer.
Nebraska 4-H wants to express their thanks for all who have been helping with the devastating fire in the Halsey area. Our thoughts are with the families, volunteers, and all who are being impacted. We wanted to give you an update on the Nebraska 4-H Camp, we know the camp has been a major part of so many lives over the years.
The 4-H Lodge and the cabins are a total loss. The staff house appears to be standing; however, we have no idea of the damage to that structure.
The Nebraska State 4-H Camp at Halsey, was dedicated in 1963 and was Nebraska's first campsite. Friends of 4-H from every community in Nebraska contributed to the campaign for funds. The winterized facility, which can accommodate 150 campers at a time, has served youth from nearly every community in the state. Over the years, the State 4-H Camp has made an influence on thousands of young people and their families. On May 4, 1965, a major fire burned through the Nebraska State 4-H Camp, destroying the boy 's bathhouse, six cabins, and many trees.

Since its dedication, the camp has reached over 30,000 young people through fall and spring outdoor education programs that focused on environmental education, skill development, and the capacity for life-long learning.

When asked about their experiences, 4-H campers and parents reported the following:

96% of campers report that camp is a place where adults cared about them.

94% of campers recognize camp as a place where it was okay make mistakes.

65% of campers felt encouraged to plan for their future at 4-H camp.

Meeting new friends, exploring, zip-lining, tubing, camp-fire and the look-out tower were routinely shared as "my favorite thing about camp".
Nebraska 4-H is evaluating the damage and feel so very fortunate that our team was able to evacuate. Because the facility has limited youth users over the winter months, we will use this as an opportunity to think about how we best create an environmental education experience for youth in the future. More details will be forthcoming.
Thanks to all for the continual support of 4-H and Nebraska's young people.
Kathleen Lodl
Associate Dean/4-H Program Administrator
4-H Shooting Sports
If you want to learn more about thE Nebraska 4-H Shooting Sports program, now is the time! Several opportunities are coming up that will provide training and certification to adult leaders and Junior leaders.
https://4h.unl.edu/shooting-sports
NEBRASKA HORSE ADVISORY COMMITTEE - NOW ACCEPTING APPLICATIONS
Are you a parent, 4-H leader, horse trainer, or volunteer that would like to be more involved in the 4-H Horse program? Check out the Nebraska 4-H Horse Advisory Committee!
We are looking for passionate and involved people to add to our committee. The Nebraska 4-H Horse Advisory Committee serves as a group of representatives who provide guidance, solicit support, and assist in carrying out program activities in the interest of the 4-H youth development and horse program.
Read more about the Horse Advisory Committee at: https://4h.unl.edu/horse-advisory-committee
Applications are open from October 3rd to October 31st at 5pm central time.
4-H CANINE GOOD CITIZEN & TRICK DOG CERTIFICATION
Register today!
We will be having a Canine Good Citizen (CGC) and Trick Dog Certification Day in the animal science complex in Lincoln, NE on Saturday, October 15th. Usually these certifications require a fee for each dog but due to a generous approved evaluator and volunteer, fees are only $5 per dog for 4-H youth!
We ask people that are interested, to register. This will allow us to know approximately how many youths plan on coming. Payment can be due the day of the event
-Youth can bring multiple dogs if they feel that they are ready (4-H Vaccination forms are required)
Registration: https://ssp.qualtrics.com/jfe/form/SV_2g8GLTu7799biqW
-please register by Monday, October 10th by 2pm
Other information about CGC and trick dog certification can be found at the following links below:
-Canine good citizen certification: https://www.akc.org/.../training.../canine-good-citizen/
-Trick dog certification: https://www.akc.org/sports/trick-dog/
Nebraska Extension is a Division of the Institute of Agriculture and Natural Resources at the University of Nebraska–Lincoln cooperating with the Counties and the United States Department of Agriculture. The 4-H Youth Development program abides with the nondiscrimination policies of the University of Nebraska–Lincoln and the United States Department of Agriculture.
Dakota County
Dakota is using Smore to create beautiful newsletters