Cups of Fortune
A Coming of Age Novel by Lenore Tolegian Hughes
Archbishop Desmond Tutu Blesses CUPS OF FORTUNE with His Endorsement
The good Archbishop captures the heroic heart of the novel, CUPS OF FORTUNE, with his insightful endorsement:
"A touching, gently humorous account
of an ethnic minority in the United States,

determined to remember its past."
- ARCHBISHOP DESMOND TUTU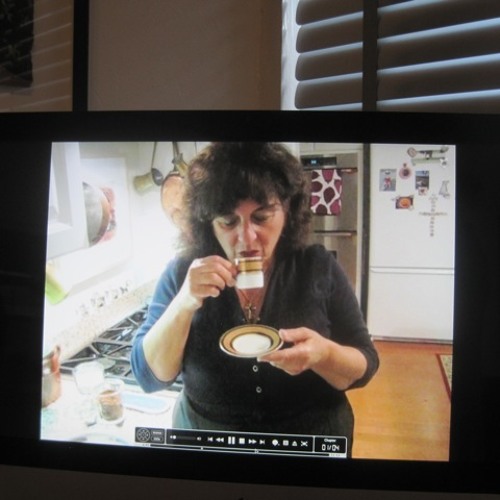 Lenore Tolegian Hughes
"The Death Cup" from Cups of Fortune, read by Author by Lenore Tolegian Hughes
ABOUT THE NOVEL
Cups of Fortune captures the experience of the escapees from the Armenian genocide who came to America to rebuild their lives, and of their children growing up in 1950's Southern California.

With a spirited and humorous voice Lenore Tolegian Hughes vividly evokes the physical, social, and psychological adventures of men and women driven by love of life to leave their homeland, and by their passionate natures to make something of
themselves in the New World. The novel overflows with stories of three generations that are by turns horrific, hilarious, and heart-warming. At the same time Cups of Fortune is a powerful coming of age novel that recounts the early life of an Armenian-American girl growing up in 1950's Los Angeles.

Raised by her survivor-grandmother, who reads fortunes in the patterns made by the grounds at the bottoms of cups of thick Armenian coffee, Azad is introduced to tales of her family's shocking past, grows to appreciate of the exotic characters who
inhabit her world, and gains insight into her own hyphenated identity. Gradually initiated into her grandmother's masterful preparation of traditional and mouth-watering Armenian foods, Azad also learns one of the world's perennial paths to love. Honest, realistic, and magical, Cups of Fortune captivates the reader's imagination by evoking a world both tantalizingly foreign and as familiar as home.
Hughes Featured in Yerevan Magazine
Hughes Participates in Santa Barbara Museum of Art Show: The Art of the Arrangment
Friday, April 12th 2013 at 5:30-7:30pm
1130 State Street
Santa Barbara, CA
Hughes will once again be participating in the Santa Barbara Museum of Art show, "The Art of the Arrangement" as she interprets "La Virgen de San Juan" by Alfredo Martinez from the museum in a contemporary flower arrangement.

"Spilled Blood" flower installation by Hughes, 2012

based on "Artillery Shell: War in the Desert" by Adolf Schreyer

"Stroll Along the Seine" flower installation by Hughes, 2012

based on "The Banks of the Seine" by Georges d'Espagnat

"Fireworks" flower installation by Hughes, 1997

based on "Dabs" by Peter Alexander
"Spilled Blood" flower installation by Hughes, 2012
based on "Artillery Shell: War in the Desert" by Adolf Schreyer
"Stroll Along the Seine" flower installation by Hughes, 2012
based on "The Banks of the Seine" by Georges d'Espagnat