Mrs. Zaputil's Weekly News
What's happening in 3rd grade?
Friday, September 4th, 2015
Reminder: No School Monday!
Please remember students do not have school this Monday, September 7th. It is Labor Day! I hope you're able to enjoy a nice long weekend together as a family.
Hot, Hot, Hot!
It was pretty uncomfortable in our room this week, but we made it through! It was good to have two short days at the end of the week, hopefully it didn't mess schedules up too much, and students were able to stay cool both afternoons! Thank you for sending water bottles with kids and encouraging them to drink to stay hydrated! Hopefully next week will be better for all of us with a much more comfortable classroom!
2015 SPELL-A-THON
The KIDS Group fall fundraiser this year is a spell-a-thon. Look for information in your child's mail today! This is a great opportunity to raise money for our KIDS Group who do so much to improve our school!
There should be a yellow information sheet stapled with:
Donation Collection Procedure
Pledge Sheet
Our 3rd Grade spelling list for the week of the spell-a-thon (not next week, the following week)
Envelope for collections
Wonders ELA Curriculum
Even though next week will be shortened a day, we'll still move forth with the next week of Wonders ELA instruction. You can find the outline for next week and spelling list attached here. I also made a paper copy of the Wonders Outline on purple paper, look in your child's mail for it tonight!
Weekly Reading Assessments
Students took their first weekly reading assessment on Friday. We start the year having students take these tests paper pencil, without an essay. Once students take the test, we have them transfer their answers to the electronic format of the test so they get used to how this works. After this, I had students go ahead and try and share their test results with you. So if you got an email inviting you to view a document from your child, this is what it was.
Some tend to have problems viewing this document, and we're not completely sure why, however one thing we've noticed is the difference in trying to view it on a smart phone vs. a desktop/laptop computer. It seems to work better through a regular computer for one reason or another.

If you're still having difficulty viewing this document, the assessment results are saved on your child's Google Drive. You can always access it by logging on to your child's google account (username/password is in the front of their planner).

Reading Log
Even though there may be many nights students come home with nothing circled or highlighted in their planners for homework, I've talked to them about their "daily homework." Students should be reading for at least 20 minutes each night. I'm interested in seeing and hearing about what students are reading in their free time, and I want to recognize them. Please help your child log minutes they read on our classroom reading log
here
. Logging their minutes can help them earn prizes! If you have problems with this log, please let me know!
NWEA MAP Testing: September 14th-17th
Students will be taking MAP (Measure of Academic Progress) tests in another week. They will be administered on our Chromebooks. There are reading, language, math, and science tests given through MAP. We will take one test each day next week until we are done, and as long as everything technologically runs smoothly. These tests are not timed, but we plan 45 minutes to an hour for each test. Please help your child prepare for these important assessments by getting a good night's rest and a good breakfast.
Friday Mail Papers
Please look over your child's work with your child. This gives you a better idea of what your child has been doing each week in school, and a chance to talk to them about things they've missed. We briefly go over general mistakes, but there's not a lot of time to meet individually with students to go over what they directly missed, unless there's a big discrepancy to address. Most work students do is for practice, so mistakes are going to be made, that's how they learn, but an important part of learning is understanding what/why they missed what they did. When I go over things as a large group, not everyone pays as close attention to their work as they should. So going over things at home is just another way you can help your child improve. I understand you may not have time to go over everything that comes home either, but anything you do have time to go over will make a difference. Thank you in advance for your support in your child's learning at home!
When students' work comes home on Fridays, you may find there some pages in their packets. If a page is blank, we just ran out of time to get to it, or I made the decision to skip it. There just isn't enough time to complete everything our new Wonders (English Language Arts) curriculum provides us with. If you find a page left blank and your child would like more practice, they can certainly work on it at home, but they do not need to return it to school.
Math
This week students will take their first math test in third grade!
Here's the plan:
Tuesday: 1.6 Problem Solving- Choose the operation (How do you know when you need to add or subtract?)
Wednesday: Chapter 1 Review
Thursday: Chapter 1 Test
Friday: Go over Chapter 1 Test and start Chapter 2: Place Value and Number Sense
Friday: 2.1 Even and Odd
Homework
I'm not a big fan of homework, HOWEVER, I certainly agree, at times it IS necessary. With literacy work, time is given for students to work on their work, but as we start our Daily 5 small reading groups, students won't always have the time they need to complete their assignment. Therefore, then it becomes homework. None of their work should really take over 20 minutes, if they stay focused and understand the assignment. Some students need more practice at staying focused to make the most of their work time. I know they will get better about this as we continue, once they have a better understanding of expectations.
With math, students may end up with homework if it takes longer to teach a concept because then their work time has to be cut short, but again, if they have an understanding of what we talked about, they should be able to finish their homework within 20 minutes.
The trickiest part about homework in third grade is making sure students are responsible about placing work they don't finish in their planners right away so they know it needs to be taken home. Then, at the end of the day when they write in their planners, unfinished work (homework) should be circled or highlighted. Thank you all for doing a great job signing your child's planner at night. Hopefully you're able to take the time to go over their work from the day and make sure they remember turning checked off work in.
Thanks for your support!
Classroom Wish List
If you missed our classroom wish list when you visited our classroom at Back to School Night, there's a copy in your folder from that night, and it's also located on our classroom website
here
for you to view.
Some things have already been crossed off our list because a sticky note was taken at Back to School Night.

Other things have been donated like snacks and stickers, but I haven't crossed off our list because we'll always take more of these items!

If you find something on the list you'd like to donate, please let me know and I'll cross it off the list! There are a wide variety of items that can be used in our classroom! Thank you for considering!

School Pictures
Smith Studio will be taking school pictures this year! She plans to split Elementary pictures up over two days. Our pictures (Grades 3-5) will be taken on Wednesday, September 16th.
Dates to Remember
Please remember every Wednesday, students are dismissed at 2:00. All other days we dismiss at 3:10.
Today- Friday, September 4th: Book Orders Due
Monday, September 7th: Labor Day- No School
Tuesday, September 8th: Brenner's Birthday
September 14th-17th: NWEA MAP Testing
Monday, September 14th: Spell-A-Thon Pledge Sheets Due
Monday, September 14th: K.I.D.S Group Meeting 6:30pm (Elementary Library)
Tuesday, September 15th: Kiara's Birthday
Wednesday, September 16th: 3rd-5th Grade School Pictures
Thursday, September 17th: Spell-A-Thon Spelling Tests will be administered
Friday, September 18th: No School for kids- Staff Development
Friday, September 25th: Pledge Money Due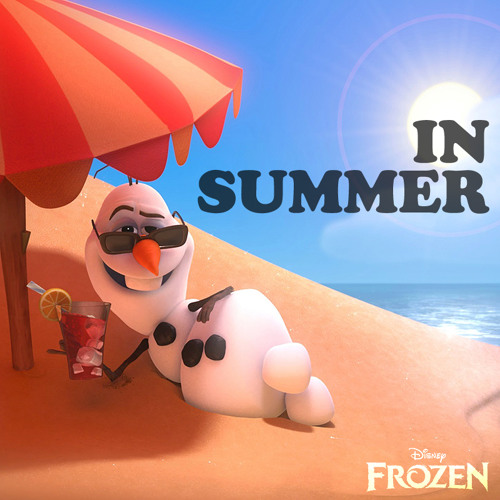 markexander
In Summer [from the Disney movie, "Frozen"] by markexander