What is Shadowhunters?
Shadowhunters is a tv show that follows 18 year old Clary Fray. What she doesn't know is that she is about to be thrown into a life changing adventure. After her 18th birthday she starts to see strange things. Starting when she bumps into a boy named Jace and learns that she is part of a long line of shadowhunters, half angel half human hybrids that protect the human world from demons. Later her mother is kidnapped and she along with Jace and her best friend Simon, enter the world of faeries, warlocks, vampires, werewolves, and shadowhunters, to race against time to try and save her mom.
Source
Bricker, Tiereny. Shadowhunters Fans, Check Out These 7 New Character Posters and Try Not to Lose It. Digital image. ENews. N.p., n.d. Web. 9 May 2016.
Clary Fray
Played by Katherine McNamara. Clary had is the one of the main characters in this tv show. When she turns 18, she is catapulted into an unknown world when she trys to save her mother. On the way she will meet some nice friends and some not so nice friends.

Source of Picture
Clary Fray. Digital image. Shadowhunters. FreeForm, n.d. Web. 11 May 2016.
Jace Wayland
Played by Dominic Sherwood. He is Clary's first look in to the Shadow World when she bumps into him one night. He is thought to be tough and a little arrogant, but when Clary meets him she brings out his soft side. Him and Alec Lightwood are Parabatai, meaning they are bound by oath to fight and protect each other. When it comes to slaying demons he is not afraid to express himself.
Source of Picture
Jace Wayland. Digital image. Shadowhunters. FreeForm, n.d. Web. 11 May 2016.
Simon Lewis
Played by Alberto Rosende. Simon is Clary's BFF and a great musician. He follows Clary wherever she goes including when she goes into the Shadow World. He will do almost anything for Clary even if it means putting his life in danger for her.

Source of Picture
Simon Lewis. Digital image. Shadowhunters. FreeForm, n.d. Web. 11 May 2016.
Alec Lightwood
Played by Matthew Daddario. Alec can be seen as the not so fun one, with his feeling of responsibility to follow the rules. But once he meets Magnus, he will start to soften up. He shares a parabatai bond with his adoptive brother Jace. He will do anything to protect the people he loves, especially his younger sister Isabelle.
Source of Picture
Alec Lightwood. Digital image. Shadowhunters. FreeForm, n.d. Web. 11 May 2016.
Isabelle Lightwood
Played by Emeraude Toubia. Isabelle is Alec's feisty younger sister, who is not afraid to throw herself into danger. Isabelle has a serpent bracelet that can turn into a whip when there are demons to deal with. When Isabelle first meets Simon she doesn't really like him, but over time he makes a special place in her heart.
Source of Picture
Isabelle Lightwood. Digital image. Shadowhunters. FreeForm, n.d. Web. 11 May 2016.
Magnus Bane
Played by Harry Shum Jr. Magnus is the high warlock of Brooklyn and will help Clary and her friends find her mom through out the show. What Clary does not know is that Magnus is the one who took her memories about the Shadow World at her mothers request. When Magnus first meets Alec, he starts to have a crush on him. Through out the show their love may or may not grow...
Source of Picture
Magnus Bane. Digital image. Shadowhunters. FreeForm, n.d. Web. 11 May 2016.
Shadowhunter's Trailer
This trailer gives a brief insight into the world of Shadowhunters. It shows all the things that are part of that world. It also shows the beginning of the adventure Clary will go through.
Shadowhunters - Official Trailer
Shadowhunters "Monsters"
"Monsters" is played in the very beginning of the first episode. I think this song really fits because it talks about monsters coming after you and this whole world is basically surrounded by demons/monsters, but at least their are shadowhunters to get rid of them.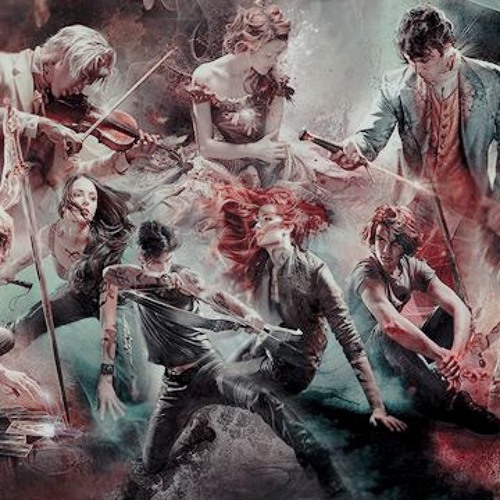 ran
Ruelle - Monsters -- Shadowhunters Soundtrack 1x01 by ran