Popularity
Cumbia music is most popular in Argentina, specifically in Ushuaia. (The southmost tip of Argentina.) Cumbia comes from the costal regions of Colombia. It is typically played loudly through a stereo. One of the reasons why it is so popular is because it is simple, and has a straightforward dance step. It's listened to widely across South America and Mexico.
History
Cumbia is played with the strong drumming of the traditions of the Magdalena River in Columbia. The sound of the flute is to represent the exotic birds that fly over South America. It brings together three different cultures, African, Indigenous, and European. Cumbia originated in the 17th century when there were many slaves. The name "Cumbia" comes form the African word cumbe which means dance. During this time, Cumbia was heavily influenced from the instruments of native tribes. For example guacharacas, which are when the musician rubs a stick on a ruffled surface to make a sound.
Characteristics
Typically you will hear drums, flutes, clarinets, accordion, and piano in Cumbia. The two main musical categories are percussion and winds. It is completely opposite from salsa music, which has a more complicated beat. Cumbia is simple and is easy to dance to.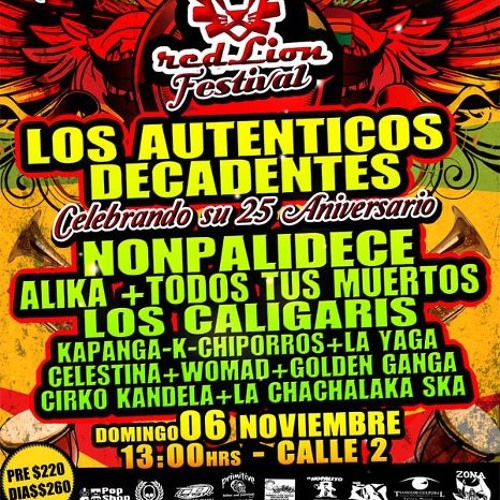 Difusionalterna
11 - El Gran Señor - Los Autenticos Decadentes En Vivo Gdl Red Lion Fest By Difusion Alternativa by Difusionalterna
Dances
Dancers will wear bright colored costumes. Cumbia dances are commonly found at celebrations like parades.
Cumbia Today
Today, Cumbia is considered to be like the alternative genre for South Americans. It is listened to all over SA, and is most common in Argentina. It's unique sound and simple dance moves will allow it to continue to be popular in the future.