Club 45 At Home
Week 3 March 28-April 3
Jesus is right here with us! And so is Club 45.
During this time when we can sometimes feel a bit pent up and lonely, isn't it great to know that Jesus is right here with us? He knows what it feels like to be alone. This week's Club 45 story - "A Dark Night in the Garden" tells us about a time when Jesus felt alone and afraid.

Gather your family up and do Club 45 together this weekend! Our very own Aaron O'Leary recorded the story so listen in! And Jesus is right there with you, closer than the air you breathe.

Then, plan to join your Club 45 friends online via Zoom! We've included a fun screen shot of our Zoom call with emoji's replacing faces. Can you guess who was who?

10:00am Sunday, March 29th, join your Club 45 friends live. There will be a new Zoom link, so we need you to request it again by email and/or text from andreabrinkert@gmail.com / 507-380-2845 by Sunday at 9:30am to get the link. We will be changing the link every week so we maintain a secure environment for everyone. Feel free to log in early if you want. We'll be ready to chat with everyone at 9:45am and we'll start circle time promptly at 10:00.

Is is too long to wait a whole week to see your Club 45 friends? We feel the same! We'd like to do a little mid-week Club 45 check-in for any kiddos who would like to join us. If that interests you, take the survey at the button below and let us know what times might work. We will schedule something based on the most popular time.

When you're ready, gather somewhere comfy, and share this newsletter version of Club 45 with the whole family.

Love your Club 45 team,
Aaron, Andrea, and Tom

Circle Time
Alright everyone, time to begin! Answer the following questions with your family:
Your name
Your number from 1-4 that tells us how you are...1 is not so good, 4 is great.
One way that you tell someone in your family or another friend that you love them.
Andrea's answer here: I'm Andrea, I am a 3 today. One way I tell my family I love them is by asking them what they would like to eat for dinner and then making that thing.

Build My Life
Worthy of every song we could ever sing
Worthy of all the praise we could ever bring
Worthy of every breath we could ever breathe
We live for You. We live for you.

Jesus, the Name above every other name
Jesus, the only One who could ever save
Worthy of every breath we could ever breathe
We live for You. We live for You
Holy, there is no one like You, there is none beside You
Open up my eyes in wonder and
Show me who You are and fill me with Your heart
And lead me in Your love to those around me
I will build my life upon Your love, it is a firm foundation
I will put my trust in You alone and I will not be shaken
I will build my life upon Your love, it is a firm foundation
I will put my trust in You alone and I will not be shaken
Find it in the Bible
Last week, we read about Jesus and Zacchaeus, how Jesus SAW Zacchaeus, even when everyone else excluded and refused to look at him. Jesus' forgiveness changed Zacchaeus' heart and the way he treated other people. Jesus SEES us and he wants us to SEE other people. This week we will learn about God's rescue plan and how Jesus is at the center of it: God's rescue plan shows us how much he loves us. We will also learn that we can trust God with ANYTHING!
In a physical Bible, or in a Bible app like YouVersion, look up Psalm 91:1-2. Read it together. Think and talk about this question:
When have you needed to trust God?

How has God protected you?

Let's listen to the story together! Aaron O'Leary is our reader-leader today!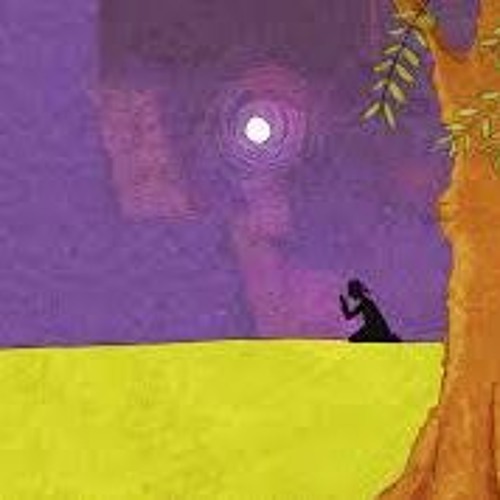 Andrea Brinkert
A Dark Night In The Garden by Andrea Brinkert
Let's think about that a little bit!
What did Jesus say at his last meal with his friends about his death and God's rescue plan?
What did Adam and Eve lose after they sinned?

How does God show his love for us? How does he show us this? How did Jesus reverse what happened to Adam and Eve?

Before the soldiers arrested Jesus, who did Jesus speak to? What does Jesus tell His Father? (that he will trust him and do as he says)
Why does Jesus stop Peter from attacking the soldiers, saying "this is not the way" and healing the guard Peter attacked?

Quiet time - just you and Jesus
Find a spot where you and Jesus can chat.

We're going to take just a few minutes and sit quietly with Jesus. Our lives are full of so much noise and activity that sometimes it's nice to just stop and listen for Jesus. I'm going to open us in a prayer and you can get comfortable, close your eyes and picture yourself with Jesus. Maybe picture you and Jesus by a lake, or sitting together on a rock, or curb, or in a flower patch. If you don't have a picture, ask Jesus for one and he will show you! When we picture ourselves with Jesus in some way it helps our mind to focus on him instead of the other places our mind goes to like I'm hungry, I want to go home, I can't wait to play with my friends later, or I love pizza and unicorns!

Settle in with Jesus and talk with him. He loves to hear from you and it's the best part of his day to be with you in this way. Tell him your thoughts, your fears, your worries, your dreams, hopes….just like a best friend….he wants to hear it all. Sometimes you will feel Jesus in different ways. Maybe he gives you his thoughts on something like someone just put in your brain what they think…that's Jesus. You may feel His peace like a warm heavy blanket was just put on you. Maybe you have a picture come to your mind. We all experience Jesus in different ways. All of it you can ask Him about!
Pray for each other
What do you think you should pray together about as a family?
Don't stand alone!
Here's a whole bunch of ways you can connect with your Duluth Vineyard Church family
Small groups. Many are meeting online, and more online groups starting soon.

Get an email or a phone number for your Club 45 friends. Send one of us an email or text with the following info and we will get it to your friend's family, and leave it up to them to get in touch with you. Here's what we need from you: your name, your phone number (or parent phone number), the name(s) of the Club 45er you want to connect with, and all of the ways you want to invite your friend to contact you (email, gaming handle with parent permission, Snapchat, etc)

Get in Touch!
We would love to hear from you, pray with you, and connect you to other Club 45 friends so you can get together in smaller groups! Let us know how you enjoyed this creative version of Club 45.
Aaron O'Leary

Tom Strewler

aka "Tom Cat"

218-348-5089


Andrea Brinkert
Aaron O'Leary
Tom Strewler
aka "Tom Cat"
218-348-5089

Andrea Brinkert