Tayler's Multicultural Book Talk
EDEL 411
An Introduction...
Just In Case
was written and illustrated by Yuyi Morales and is a fiction children's book. This book takes readers on a fascinating and exciting journey. Senor Calavera has been invited to Grandma Beetle's birthday party and is in search of the perfect gift. After searching throughout the entire alphabet for possible gifts, he finds the most special gift that he could ever give. This book is spectacular and has won many awards to prove it. Those awards are:
Americas Award for Children's and Young Adult Literature, 2009 Winner United States
Northern California Book Award, 2009 Nominee Children's Literature United States
Pura Belpre Award, 2009 Honor Book Author United States
Pura Belpre Award, 2009 Winner Illustration United States
Best Children's Books of the Year, 2009; Bank Street College of Education
Choices, 2009; Cooperative Children's Book Center
Kirkus Book Review Stars, October 15, 2008
Notable Children's Books in the Language Arts, 2009; NCTE Children's Literature Assembly
Notable Children's Books, 2009; ALSC American Library Association
Morales, Y. (2008). Just in case: a trickster tale and Spanish alphabet book. New York: Roaring Brook Press.
About the Author
Living now in San Fransisco, California, Yuyi Morales's Mexican childhood inspired her to follow her dreams and draw and illustrate her work that won her a numerous amount of awards. She takes pride in her Mexican heritage and works to create many children's books. Her drawing career started early as a child, and she often drew replicas of her family portraits. Yuyi was a Spanish-speaking immigrant, and had a hard time with English. After many trips to the library, she found that she truly enjoyed the works of English literature that she found and decided to take writing classes to learn how to tell more stories.
A Look at the Illustrations...
This illustration was created by the use of oil pastels.
How This Looks in the Classroom...
Common Core ELA Standard: RL.3.2
2. Recount stories, including, fables, folktales, and myths from diverse cultures; determine the central message, lesson, or moral and explain how it is conveyed through key details in the text.
The student will..
interpret and retell this story by using key vocabulary to identify the central message of the story

I had the opportunity to present this book to a group of third grade students at my job as an after school supervisor at Bergman Elementary. Out of this group, three of the students spoke Spanish in their homes and, also, speak English fluently. I introduced the book to them and asked those Spanish speaking students that I would need their help with pronunciation. They made an instant connection! The students told me about how they used alphabet books in English and how they loved to see alphabet books in their own native language. As we read some of the words of the gifts in the books, the students would pause me to explain to the others what those words were and how they were used in their and other homes. This is a huge connection to social sciences; and we got a wonderful lesson on some of the materials used in the Mexican culture. After we learned the pronunciation of the words, I would ask the rest of the class to repeat the word after me, and they learned some new Spanish vocabulary.
I chose this standard because it allowed for students to take key details from this multicultural book and explain the central message and lesson. This entire book was based upon Spanish vocabulary. As the students retell the central message, they will need to use the vocabulary that they learned. I will have them practice this by doing an activity with the vocabulary (a word play or Reader's Theatre) to master this concept.
Meeting the Criteria...
This story is:
Rich in cultural details: Throughout the book, there are 26 words that describe the Mexican heritage and culture. The words are written in both Spanish and English and displayed with pictures, helping those who speak only one of the languages. There are many cultural lessons to be taught by just those 26 words.
Demonstrate unique language or style: As mentioned previously, the book includes both Spanish and English, and uniquely does so. The students that I shared this children's book with, enjoyed seeing a book with the Spanish alphabet, as they usually see English alphabet books.
Honor and celebrate diversity as well as common bonds in humanity: This book celebrates the culture of which it is written, and is light and enjoyable. It demonstrates the culture by sharing the language, traditions, and holidays.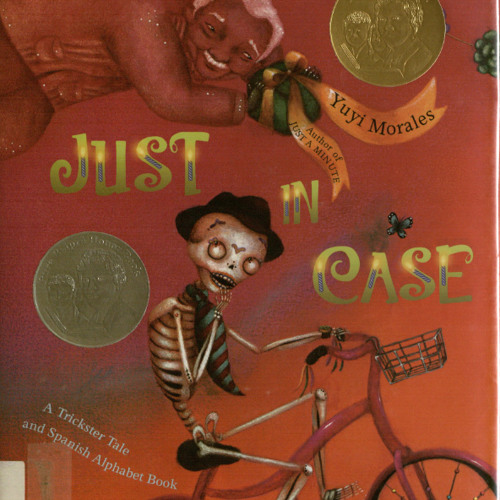 Tayler McCullough 2
Just In Case by Yuyi Morales by Tayler McCullough 2