Hip, Hip, Hooray, It's Monsoon Day!
Presented By Alex Myers EDEL 411 Section C
Ashford, R. C., (2007). Hip, Hip, Hooray, It's Monsoon Day!. Arizona: Arizona-Sonora Desert Museum Press.

Book Introduction
Title:
Hip, Hip, Hooray, It's Monsoon Day!

Author: Roni Capin Rivera-Ashford
Illustrator: Richard Johnsen
Genre: Realistic Fiction
Topic/Theme: It is important to appreciate and celebrate Nature and its seasons.
Awards:
2007 Southwest Children's Books Award
2008 AAAS Science Children's Book
2008 Americas Award for Latin American and Caribbean Studies, Commended Title
2009 OneBookAZ Award

About the Author
Roni Capin Rivera-Ashford grew up in a Jewish family in Nogales, Arizona. Nogales is located on the Mexican border, in a predominantly Mexican-Catholic community. Roni has learned to believe in and accept herself with grace and integrity. She also respects the values of family, traditions, and culture. She has placed these special terms into her books and they have made an impact in her life.

About the Illustrator
There is not a lot of information found about Richard Johnsen. Although, he was active in the philanthropic community.

An Illustration From The Book
Watercolor is the media Richard Johnsen uses for this book. He clearly demonstrates how it is not safe to hide under a tree during a lightning storm.

Criteria for High Quality Multicultural Literature
The dialect is natural and blends with the plot and characterization while not being perceived as substandard language. The dialect in this book is Hispanic. This book is written in the main character's point of view. Throughout this book, the main character, Aaron, addresses his elders as their Hispanic title in society. For example, Aaron addresses his grandfather as "tata." This is an informal term with reference to a relationship of respect.

The theme of the book is consistent with the values, beliefs, customs, traditions, and conflicts of the specific cultural group. This book demonstrates respect and appreciation for Nature, as the grandfather of the three children in this story tells a story from their culture. This story is about how it is tradition for the monsoon (summer rain storm) to begin on June 24th. This is San Juan's Day, the feast day of St. John the Baptist. Hispanics have been celebrating this day for over 400 years, after a great Spanish explorer stood on the banks of a riverbed and asked for rain. These Hispanics pray for rain every year on June 24th, in hopes it will bring them more rain and good luck.

This book has a appealing format and is of endearing quality. This book is formatted for English Language Readers and Spanish Language Readers. Each page is divided equally, with the English translation on top and the Spanish translation on the bottom of the page. This provides readers with an endearing quality because it appeals to two different languages.

Classroom Teaching Application
Grade Level 2
CCSS RI.2.1 Ask and answer such questions as
who, what, where, when, why,
and
how
to demonstrate understanding of key details in a text.
The students will identify evidence from the text that illustrates the traditional story behind Monsoon Day, specifically who celebrates it, what are they celebrating, where do they celebrate it, when is it celebrated, why do they celebrate it, and how do they celebrate it?
Procedure
Lesson begins with the teacher showing the students a calendar. Asking different students to come up and show what day their birthday is on the calendar. Then asking the whole class why do we have birthdays, who celebrates their birthday with them, and what do they do/what have then done in the past to celebrate their birthday? Note for students that birthday's are like holidays, they are celebrated every year. People in other countries around the world celebrate events in history just like we do in the USA. (Example: The 4th of July) These are also like holidays. They are celebrated every year.

Share with the students that as the story is read, they will find that there is a special "Day" that is celebrated. Ask students to put a thumbs up when they find the special "Day" in the story and any additional information about how that special "Day" was created.

Read the story aloud, pausing as the students find the special "Day" being celebrated- Monsoon Day, When it rains, June 24th, San Juan's Day, Spanish explorer, Ask/pray for rain, In hopes of more rain and good luck. Who celebrates Monsoon Day? What are they celebrating it for? Where is this day celebrated? When is this day celebrated? Why is this day celebrated? How is this day celebrated? (As students answer these questions, ask for textual evidence)
Upon completion of the story, students will write a paragraph (5-7 sentences) describing a family tradition they have every year with their family, or if they know of someone who celebrates a unique family tradition every year. Students should explain their traditions with answers describing who, what, where, when, why, and how. Paragraphs will be shared. Discussion about how different traditions are important to different families may evolve from reading these paragraphs.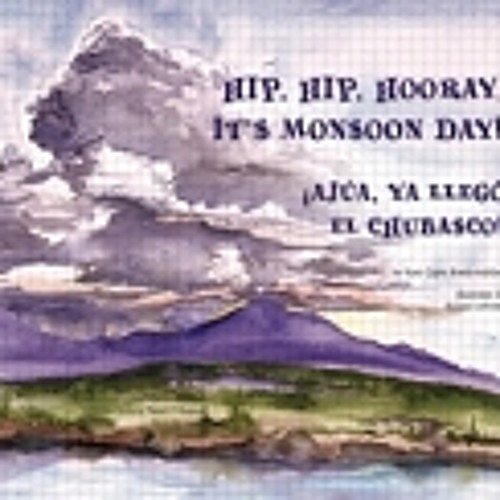 amyersksu
Hip, Hip, Hooray, It's Monsoon Day! by amyersksu