Benny Goodman, Role Model
Who Was Benny Goodman?
Benjamin David Goodman was brought into this world on the sunny day of May 30, 1909. His family was fairly large, but not very rich. As the ninth of eleven siblings, he was not always the center of attention, nor did his family have much of a financial advantage. Luckily, Benny was born with a gift: he played extremely well on the clarinet. At only ten years old, Benny picked up a clarinet for the first time, and at twelve, he played on stage for the first time. By the time he was sixteen, he joined Ben Pollock's well-known traveling band. He grew, not only in age but in skill, as well, and in 1962 his orchestra was the first to tour the Soviet Union since about forty years earlier. Sadly, he died on June 13, 1986 from cardiac arrest. Though he is no longer with us, Benny's legacy is continued in is two daughters, Rachel Goodman Elelson and Benjie Goodman Lasseau. His music has inspired many, including myself, and though he was once a poor kid, his dedication has gotten his to such a high spot, and he has earned his title, "The King of Swing"
"The brilliant explosion known as Benny Goodman went off in 1935, and it hasn´t gone out yet." - Whitney Balliett in The New Yorker, December 28, 1977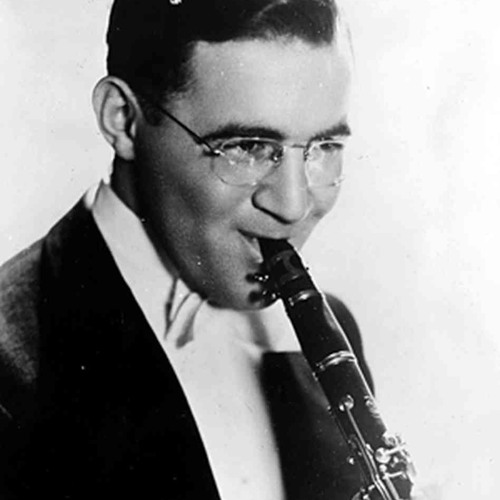 Georgy Bulygin
Benny Goodman - Meadowland by Georgy Bulygin
Fast Facts
Earned a Grammy after his death in 1986 for his song, Moonglow, in 1998
He was elected to the All-Time Jazz Hall Of Fame 1957
He was nicknamed "The Professor"
He was six feet tall
He was a star in many movies, such as Hollywood Hotel, A Song Is Born, and more
Works Cited
"Goodman, Benny."
World Book Advanced
. World Book, 2015. Web. 10 Dec. 2015.
"Benny Goodman - The King of Swing "Benny Goodman - The King of Swing. Web. 10 Dec. 2015 (http://www.bennygoodman.com)
"Benny Goodman." Britannica School. Encyclopædia Britannica, Inc., 2015. Web. 10 Dec. 2015.