wins
NAPLAN
- THANK YOU for your work ! THANK YOU FOR THE EXPLICIT TEACHING to support our children's skills and to provide the right testing conditions for them to evidence their learning and continuing progress !
Far North Coast Dance - Good luck to our performers and thank you Alisha and Ailsa for organisation, preparation and supervision!

Unique Professional Learning Opportunity

Kingscliff Public School will be hosting a unique Professional Learning Opportunity in term 3 to be presented by Judy Hatswell. It is titled - Enhancing Teacher Effectiveness - Developing a Quality Classroom. Basic Intensive Training in Choice Theory, Reality Therapy and Lead Management integrates whole school development and effective communication.
Attached is a flyer promoting this learning. It will be held over 4 days - two Friday's and two Saturday's and will total 27 hours in total learning. The dates are :-
Friday 5th August and Saturday 6th August - week 3 term 3.

&

Friday 19th August and Saturday 20th August - week 5 term 3.

There are 16 participants only in total. Kingscliff Public School Staff are offered first consideration. If not fully subscribed it will then be shared with our CLC partner schools and beyond if necessary. If you would like to accept this invitation to attend the 4 days of professional learning please reply by email to the principal by the close of school Thursday 19th May.
Looking forward to this quality professional learning opportunity in our schools.
learning ... one year of input should mean one year of growth
Have you ever wondered what doesn't work and what works best in education?

Well, Professor John Hattie has and in 2015 he wrote about it in two papers:
"What doesn't work in education: The politics of distraction".
"What works best in education: The politics of collaborative expertise".
John Hattie is the Director of the Melbourne Educational Research Institute at the University of Melbourne. He's also the Chair of the Australian Institute of Teaching and School Leaders, and co director of the Science of Learning Research Centre.
The titles sound provocative and controversial. But the message is quite simple. One year of input should equal one year of progress, for all students, no matter where they start.

It sounds obvious, but John Hattie argues we are too easily distracted from the real issues. And we don't harness the power of collaborating with our best educators to create what he calls a "coalition of the successful".
I caught up with John at the Improving Initial Teacher Education conference in Melbourne, in April 2016. He spoke to me on the Learning Capacity podcast where we dug a little bit deeper into these two papers.

Colin Klupiec
LearnFast Australia & New Zealand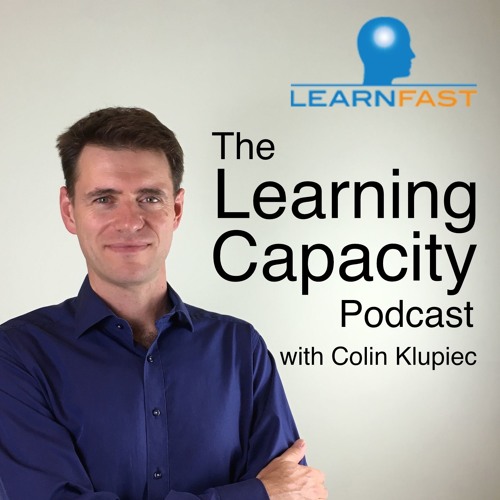 LearnFast
55: John Hattie on the education politics of distraction and collaborative expertise. by LearnFast
the above podcast is definitely a very interesting and in some instances it might be a challenging listen ! ?
THE GOOD THING IS THAT IT IDENTIFIES RESEARCH REGARDING IDEAS THAT WORK .... SOME WE HAVE DEFINITELY BEEN WORKING TOWARDS ..... DO CONSIDER TAKING TIME TO LISTEN TO THE FULL PODCAST. TRUST YOU FIND IT INTERESTING ! ?
FAST FORWORD RESOURCES
Another interesting link that gives the background information, research and evidence regarding this program ...
https://flowvella.com/s/3lcs
.... (link below) - Thanks Kay for sharing link.
In one of the evidence videos it talks about THE IMPORTANCE OF READING PRACTICE TO make the rapid progress that Fast Forword supports clearly evident across other learning eg literacy ..... WOW ... That again supports and identifies the importance of our Sustained Reading Program each day in classes, the borrowing of reading books and the Literacy Pro Resources. They don't stand alone / isolated - they link and support rapid growth in literacy skills !!
THANK YOU FOR YOUR WORK AND SUCCESS!!
Our Personal Performance and Development Plan and Processes
In further follow up to the staff meeting last week please find links to information that supports our PDP's. This information has also been emailed so that all staff have copies. The PDP template remains unchanged.
The links below include:-
* Evidence PDF reference information

* Feedback PDF reference Information

* Goal Setting PDF reference information

* Observations PDF reference information

* PDP information powerpoint.
performance and Development Plans
Please check that you have sent through a copy by email of your PDP to the Principal (and also made it available to your supervisor) for 2016.
This would follow from your meeting / discussion you will have had with your supervisor regarding your plan and goals for 2016.
Thank you to teaching staff who have already sent through their PDP copy !
Thank you ALL for your work in this!
THE AUSTRALIAN PROFESSIONAL STANDARDS FOR TEACHERS
· Know the students and how they learn.
· Know the content and how to teach it.
· Plan for and implement effective teaching and learning.
· Create and maintain supportive and safe learning environments.
· Assess, provide feedback and report on student learning.
· Engage in professional learning.
· Engage professionally with colleagues, parents/carers and the community.
SENTRAL REPORTS
In follow up to the Staff Meeting - the link below identifies the steps to access reports. This has also been emailed. Thank you Belinda for your work on this !
MEMORANDUM: Federal Election 2016 - DN/16/00061
Dear colleagues
As the upcoming Federal Election has now been announced and will increasingly become a talking point, I would like to highlight the protocols outlined in our policy on controversial issues in schools in relation to visits to schools by Members of Parliament and local candidates. The Election will be held on Saturday 2 July 2016.
I would also take this opportunity to remind all staff of our duty to be objective and impartial in our work and to protect the reputation of public schools. Any attempt to use students or school resources in political campaigns breaches long-established policy, is unacceptable, and puts our reputation at risk.
Protocols on official visits
Protocols on official visits are located in the Controversial Issues in Schools implementation procedures. These include:
o Local Members of Parliament (State or Federal):
- Principals may be approached by the local Member regarding if a visit, whether formal or informal, can be arranged at an agreed time.
o Other Members of Parliament (State or Federal) and local candidates:
- Principals notify the Director, Public Schools NSW of any proposed visit.
- Director, Public Schools inform my office (via the office of the Executive Director).
- Visits are considered by the Minister's Office.
As the Principal of your school you may need to consider whether or not it is appropriate to have photographs taken of students due to privacy concerns.
Information for all staff
I ask that you please remind your staff of the following:
· All employees should understand and follow the Controversial Issues in Schools Policy, and act in accordance with the Code of Conduct.
· Schools should remain objective and impartial places and school staff are required to be professional in their work and to protect the reputation of public schools.
· Schools serve all families, with no regard to their political views. Our schools should be places that make everyone feel welcome. The policies make it clear that there is no place for staff to promote partisan political views inside schools.
· Any attempt to use students or school resources in political campaigns breaches policy, is unacceptable, and puts the Department's reputation at risk.
· Material of a political nature is not to be distributed to students, or to be distributed on school sites. This extends to the development or reproduction of any such material using school resources or equipment.
Potential use of school facilities
Principals are reminded of the conditions surrounding the potential use of school facilities as polling places, given the forthcoming Federal Election.
The priority use of school facilities for federal, state and local government elections is addressed in Section 3.7 of Community Use of School Facilities Implementation Procedures.
The Department of Education and the Australian Electoral Commission have in place a Memorandum of Understanding regarding the use of government school facilities in connection with federal elections. The procedures and Memorandum of Understanding can be found at: https://detwww.det.nsw.edu.au/policies/administrative/facilities/comm_use/PD20090400_i.shtml?level=
The Department has a standard rate for all NSW government schools to cover the cost of leasing premises, lighting, heating, cooling and cleaning the rooms used as polling places.
Officers from the Australian Electoral Commission will be contacting schools regarding planning for the Federal Election.
If you have questions about these matters please discuss them with your Director, Public Schools NSW or your local Asset Management Unit Manager.
Thank you for your assistance with this matter.
Regards
Gregory Prior
Deputy Director-General, Schools
1000 Awesome Things
In "The Book of Awesome", author Neil Pasricha provides a catalogue of universal little pleasures we all share. The book is intended to help us focus on the many little things that give us pleasure rather than the few things that annoy and frustrate us. In his book Pasricha offers a hearty cheer for all the things we take for granted. This philosophy applies in schools too!
Inspired by the book I have started a list of things that happen in schools that add pleasure to our day… feel free to add to the list!
A thank you note from a parent




The first five minutes after 3 o'clock




A 'free' afternoon when an after-school meeting is cancelled




A staff morning tea and you are NOT on playground duty




4 pm on Friday




The welcome back from your class after you've been away and they had a relief teacher




A parent who HAS read the newsletter




Parents who are brilliant cooks and share




That first sip of wine at the end of a long day




The first day of the school holidays




When your students have that 'aha' moment




Eager faces on the first day of school




When your students can't wait to see you on Monday to tell you all about their weekend




When you successfully program the photocopier the first time




A colleague cares enough to check you are okay




When parents back you up and work with you




A class that laughs at your well-rehearsed jokes




Pressing print and the printer works




A staff morning tea and you ARE on duty but a colleague sends out a plate of goodies



Meeting a past student who is blown away when you remember them.
Shared by Steve Francis - Happy Schools
Calendar
· Week 4 Term 2
Mon 16.05.16
FNC Dance

P. & C. Meeting

Performance and Development Plan schedule check .. how are you going ?

Tue 17.05.16
UNSW Digital Technologies

Kids With Courage – Hub Club Program

Wed 18.05.16
Professional Learning Meeting AM

District Cross Country – Kingscliff

Principal Meeting – Murwillumbah High
Thur 19.05.16
Kingy Playgroup – 9am – 11am – Hall
Fri 20.05.16
Exec Meeting

CLC Meeting Kingscliff High School – 7.30am – 10.30am

Printing wirelessly from your ipad or phone
Very handy ... particularly photos of activities and learning ! Thanks Lou for sharing.
(was also emailed)