Bee-bim Bop!
Kaitlin Oldenhuis EDEL 411 Section C
Book Information
By Linda Sue Park
Illustrated by Ho Baek Lee
Fiction
No Awards
Park, L.S. (2005). Bee-bim bop!. New York, NY: Clarion Books.
About the Author
Linda Sue Park has written 5 novels and several picture books. She has worked as a food journalist and has won several cooking contests. She was born and raised in America and sees her self as fully American. However, Korea sets the scene for her books. Linda's first publication was at the age of nine. Her haiku poem was published in a children's magazine. She started by retelling Korean folk tales and then decided to write her own stories. She currently lives in Rochester, New York with her family.
Illustration
Drawing with watercolor and some colored pencil.
The meal is prepared and the little girl is helping her mother set the table. She is eager to eat the Bee-bim bop and to spend time with her family. This illustration shows some of the food that they have spent time preparing.
Criteria for High Quality Multicultural Literature
1.) The book is rich in cultural details. Bee-bim bop is a Korean dish. Bop is the Korean word for rice and bee-bim means "mixed up". The story describes how the Bee-bim bop is prepared and the cultural significance to this Korean family. They spend the day shopping for the ingredients, then preparing those ingredients and enjoying the meal as a family that night.
2.) Honor and Celebrate diversity as well as common bonds in humanity. Every culture group has their own traditions. This story recognizes the diversity and traditions of this Korean family. The story describes how the traditional dish of Bee-bim bop is prepared. This is a typical Korean dish and there are many other cultures that have traditional dishes as well. This story also has multi-generational characters. They all come together to eat the meal together as a family.
3.) Have an appealing format and be of endearing quality. This story is written in a quick paced, repetitive format. The story invites the reader to wonder what will happen next. The reader is able to follow the pattern of the text and be able to acknowledge what is to come. Some of the text is also in a curved fashion and not the traditional straight across way that most text is.
Teaching Application
Grade Level: Kindergarten
Common Core Standard: RL.K.1 With prompting and support, ask and answer questions about key details in a text.
Literacy Objective: The student will be able to identify key details in a text, and pose questions about that text.
Students have their own culture and family experiences. This book shows the culture and family traditions of a little girl. Students can relate it to their own culture and family traditions. Important for children to be involved in their homes. It is important for students to understand their family heritage and their family culture.

Model what students should learn by asking them questions about the little girl along the way. Ask them what she is doing and have them relate it to their own experiences. Students should be able to retell the key details in the story.
Students can practice retelling key details by answering questions about the story when prompted to.
Students should be able to understand key details and be able to ask questions based on the key details they have learned about from the story. To increase mastery, the students would retell the key details of other stories, ask questions and answer questions about those other stories as well.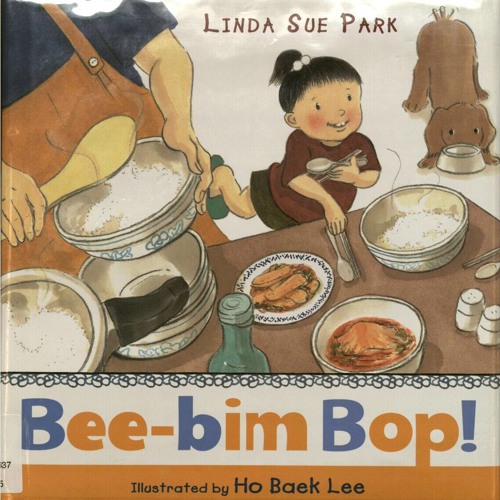 Kloldenhuis
Bee-bim bop! by Kloldenhuis