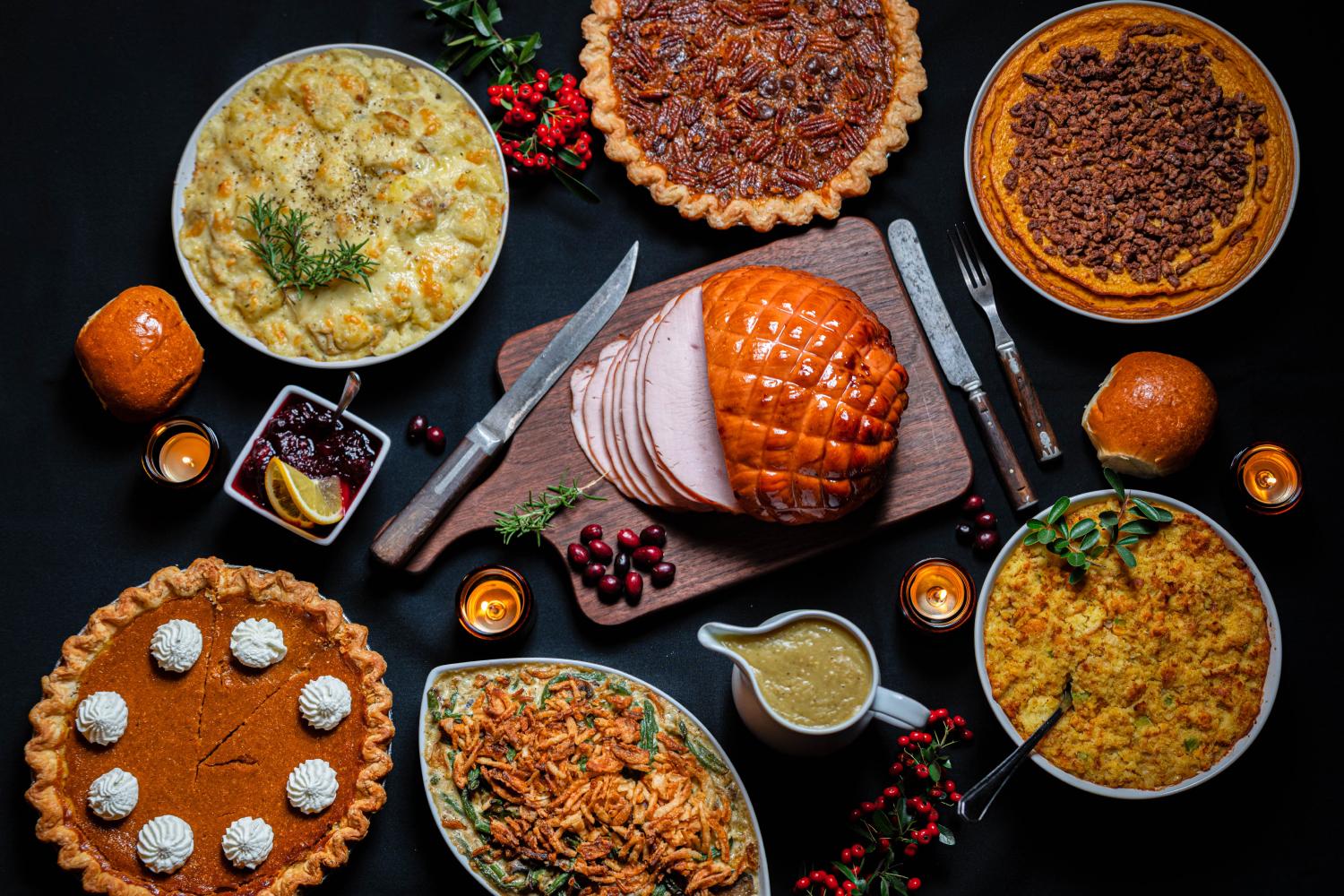 This Week at MHS
November 20th-24th
Dear MHS Parents and Students,
From our school family to yours, we wish you a Happy Thanksgiving break and hope that is it filled with family and wonderful memories.
Our Culinary Program wants to thank everyone who joined in the Thanksgiving Pie Sales. Our students have learned much while making the 195 requested pies!
Congrats to Abigail Burkhalter! She has been selected to join 50 other high school students across the country on the All -American United Nations 2023-24 Cohort. As part of this exciting journey, the All-American Model UN travel team will attend prestigious conferences hosted by renowned institutions, including Yale, Columbia, Georgetown, the University of Connecticut, Northwestern University, and Harvard during the upcoming season. These conferences provide students with invaluable opportunities to showcase their diplomatic skills on a global stage, further solidifying All-American Model UN's position as a leader in the field.
The MHS Model UN team competed at AltMUN in Chattanooga. We are proud to announce that they received a variety of awards and earned 3rd overall in the competition!
Please consider donating on November 28th to Giving Tuesday Event sponsored by the Maryville City Schools Foundation. The flyer regarding the use of the funds can be found above.
After the last legislative session, students in grades 9-12 are provided the opportunity to test out of certain graduation requirements by earning a passing score on a comprehensive credit exam prior to enrolling in the class. Testing out is an opportunity for students to earn credits for material they may already have a strong foundation in, without having to take the actual course for a semester or school year. To understand more about the courses for this opportunity, the score required, and the testing dates, please go to this link: https://mhs.maryville-schools.org/academics/state-test-out. The first testing date for this school year will be Saturday, December 2nd. If you need more information, please see your school counselor.

May we all remember things that we are most grateful for this time of year!
State Testing is right around the corner!
The dates below indicate State Testing requirements for students in these courses this first semester.
Tuesday, November 28th - English 2 EOC part 1
Wednesday, November 29th - English EOC part 2
Thursday, November 30th - English EOC part 3
Friday, December 1st - English EOC make-ups
Tuesday, December 5th - SDC Criminal Justice 2 and SDC Intro to Business
Wednesday, December 6th - Biology EOC and SDC US History
Thursday, December 7th - SDC Pre-Calculus and SDC Psychology
Friday, December 8th - Algebra I, Algebra II and Geometry EOC part 1
Friday, December 8th - Algebra I, Algebra II and Geometry EOC part 1

Friday, December 8th - Algebra I, Algebra II and Geometry EOC part 1

The MHS CHEER Team is headed to Nationals!
Join us this year for the only THANKSGIVING DAY 5K and Fun Run in Blount County. This race will start and finish at Coulter Grove Intermediate School. Funding from this race will assist in providing aquatics programs such as child-focused water safety, adult and child swim lesson, competitive swimming and practice time for local schools' swim teams. The 2023 Goggled Gobbler 5k title sponsor is The Shanks Companies: Integrity Through Unparalleled Experience.
RACE TIMES: Thursday, November 23, 2023 - 5K starts at 8:30am The Fun Run starts at 8:00am.
For more information - click the link below!
Monday, November 20th, B Day
Regular Bell Schedule
12:00 pm MHS Boys Bowling @HVA Baker's Classic
5:30 pm School Board Meeting @MHS
Tuesday, November 21st, A Day
Regular Bell Schedule
1:00 pm Wrestling Boys & Girls @William Blount High
4:30 pm MHS JV Girls Basketball vs Heritage
6:00 pm MHS Girls Basketball vs Heritage
7:30 pm MHS Boys Basketball vs Heritage

Wednesday, November, 22nd through Friday, November 24th
Wednesday, November 22nd
8:00 am Boys & Girls Wrestling Hosts Clinton, Webb, and Jefferson County
Friday, November, 24th
11:00 am MHS Girls Basketball vs Jefferson County at Heritage
Thanksgiving Tourney
Saturday, November 25th
9:00 am Girls Wrestling @Hixson Girls Invitational
10:30 am MHS Girls Basketball vs Northview @Heritage Thanksgiving Tourney
Counselor's Corner
MHS will offer the ASVAB test on January 8 beginning at 8:25. Students can choose whether or not they want their scores to be reported to the military. Participation in the ASVAB does not obligate a student to talk with a military recruiter or consider a military career. ASVAB results offer access to excellent career exploration information that can assist students in finding a career that matches their strengths. Please see the QR code posted on the TVs to sign up.
Does your student need some career direction? Would he/she benefit from some guidance about future jobs? YouScience is a great tool that MHS provides to all students. Users complete 9-11 brain game assessments related to various aptitudes that indicate the potential to excel at and enjoy certain activities. Unlike skills, knowledge or interests, which can be enhanced or changed, your aptitudes remain stable. Based on your aptitude results, the system generates a series of career matches sorted by overall fit, aptitude fit, or interest fit. Students can save careers, then research "A Day in the Life" of someone in that profession. Additionally, YouScience links students with colleges who offer that program of study.
A reminder to all parents of seniors that the TN Promise mandatory meeting is on 12/04/2023 at 4:00 PM in the MHS cafeteria. This one-hour session is vital for maintaining TN Promise scholarship eligibility. TnAchieves will introduce their programming and discuss TN Promise requirements. Students will then have the chance to meet volunteer mentors from the community. All TN Promise applicants must attend. Parents/guardians cannot attend on a student's behalf. Arrival on time and full meeting duration attendance is required.
Senior parents, as you may already know, major changes are coming to the 24-25 FAFSA form. Currently, you can access a FAFSA prototype to preview what the new form may look like. We are still being told the new form will be officially released "sometime in December."
The TN Governor's Schools provide eleven challenging and high intensity programs for rising 11th and 12th grade students nominated by high school faculty. Students interested in participating in a Governor's School should obtain an application from Mrs. Murphy in the guidance office. The MHS deadline for submission is Monday, December 4.
UT Promise is an undergraduate scholarship program guaranteeing free tuition and mandatory fees for qualifying Tennessee residents attending UT's campuses in Knoxville, Chattanooga, Pulaski, Martin and Memphis. This innovative scholarship will cover a student's last-dollar amount of tuition and mandatory fees after other financial aid is applied (such as Pell grants, HOPE Scholarship or other institutional scholarships) to students who qualify for HOPE and whose household income is under $75,000 a year.
Upcoming dates of interest:

12/4, 4:00 pm: TN Promise MANDATORY meeting at MHS
1/8: ASVAB at MHS
1/10 and 1/11: FAFSA completion sessions at MHS
Upcoming Scholarship Deadlines:
11/30: National Honor Society Scholarship
12/15: UT Promise Scholarship
As always, check Canvas for applications and more details!
In the Know with PTSO!
MHS is proud to partner with the PTSO members to support our students and faculty throughout the school year. The PTSO usually meets the first Wednesday of the month in the Greenhouse Conference Room at 12:30pm. This year PTSO will be holding two evening meetings as well. New members are always welcome!
Wednesday, December 6th - 12:30pm
Wednesday, January 3rd 12:30pm
Wednesday, February 7th - 6pm - Ed Harmon Room
Wednesday, March 6th - 12:30pm
Wednesday, April 3rd - 12:30pm
Wednesday, May 1st - 12:30pm
Student Check Out Procedures
Check-outs should be held to a minimum and are limited to the following:

Emergency - Decision to be made by the principal or assistant principals.

Prior arrangement - If a written request is received by officials in the student services office prior to the beginning of the school day, the student will be dismissed at the requested time. The checkout note must include the student's full name, date, time of dismissal, phone number where parent/guardian can be reached for verification, and signature of the parent/guardian.

The parent/guardian comes to the main entrance office to sign the student out.
Students who become sick during the school day must report to the assistant principal's office/school nurse before they call home. The assistant principal's office will assist the student and permit the student to call home. The student will remain in the assistant principal's office or with the school nurse until he/she receives permission to go home or until he/she is picked up by a parent/guardian.
Students are allowed to check out during third block only for medical or legal purposes, and proper documentation must be provided. Students are not allowed to check out to retrieve items needed for school. Leaving school without permission will result in disciplinary action.
Students checking out of school on an altered schedule day will receive an unexcused absence unless the school is provided the appropriate legal or medical documentation.
Regular Bell Schedule
8:25—9:55 | First Block (90)
9:55—10:10 | Break (15)
10:10—11:40 | Second Period (90)
11:47—1:48 | Third Period & Lunch
A Lunch
11:43—12:13 | Lunch (30)
12:17—1:48 | Class (94)
B Lunch
11:47—12:13 | Class (26)
12:13—12:43 | Lunch (30)
12:46—1:48 | Class (62)
C Lunch
11:47—12:48 | Class (61)
12:48—1:18 | Lunch (30)
1:21—1:48 | Class (27)
D Lunch
11:47—1:18 | Class (91)
1:18—1:48 | Lunch (30)
1:55—3:25 | Fourth Period (91)
Afternoon Activity Schedule
8:25—9:40 | First Block (75)
9:45—11:05 | Second Period (80)
11:10—1:15 | Third Period & Lunch
A Lunch
11:10—11:35 | Lunch (30)
11:40—1:15 | Class (95)
B Lunch
11:05—11:35 | Class (30)
11:35—12:05 | Lunch (30)
12:10—1:15 | Class (65)
C Lunch
11:10—12:15 | Class (65)
12:15-12:45 | Lunch (30)
12:50—1:15 | Class (30)
D Lunch
11:10-12:45 | Class (90)
12:45-1:15 | Lunch (30)
1:20-2:35 | Fourth Period (80)
2:40—3:25 | Activity
Homeroom/Morning Activity Schedule
8:25—9:45 | First Block (80)
9:50—10:35 | Activity (45)
10:35—11:55 | Second Period (80)
12:00—2:00 | Third Period & Lunch
A Lunch
11:55—12:25 | Lunch (30)
12:30—2:00 | Class (90)
B Lunch
12:00—12:25 | Class (25)
12:25—12:55 | Lunch (30)
12:58—2:00 | Class (62)
C Lunch
12:00—1:00 | Class (60)
1:00-1:30 | Lunch (30)
1:33—2:00 | Class (27)
D Lunch
12:00—1:30 | Class (90)
1:30—2:00 | Lunch (30)
2:05—3:25 | Fourth Period (80)
Heather Hilton
Heather is using Smore to create beautiful newsletters