N Is for Navidad
Presented By Erin Walker EDEL 411 Section B
Information about the book
Author: Susan Middleton Elya & Merry Banks
Illustrator: Joe Cepeda
Genre:Multicultural Fiction
Topic/Theme: Alphabet book introducing one new spanish word as well as a new aspect of the the Latino traditional style holiday, Chritmas
Awards: While this book has no specific awards, Joe Cepeda has received over 20 awards for his artwork, including the Recognition of Merit award for 2000.
About the Author
Susan Middleton Elya is the author of 22 picture books. She grew up always wanting to be a writer and would practice every day. She went to Spain and Venzuela to study Spanish and ended up getting a double major in Spanish and Elementary Education with a minor in Spanish. She taught in multiple states as well as in South America but ended up teaching many subjects in secondary education. She now resides in California and works at her own shop called the Polka Dot Attic. If you want to know more about Susan, see the link below!
About the Illustrator
Joe Ceeda received his BFA in illustration from California State University as well as studying engineering at Cornell. He is the illustrator of many award-winning books and says, "As with every book, I try not to illustrate just the words, but to write my own story in pictures, one that compliments the manuscript and is in harmony with it. I think the best illustration does that." He speaks about his work with students and teachers in schools and currently lives in Southern California with his wife and son. To learn more about this illustrator, visit the link below!
An Illustration from the book
Oils and acrylic are the media Joe used in this book. Joe does an excellent job portraying the culture of Latino's in this picture and how they are joyous and would celebrate the New Years holiday.
Criteria for high quality multicultural literature
This book reflects distinctive vocabulary, style, and patterns of speech of this cultural group. While the book N is for Navidad is primarily in English, each page/ letter of the alphabet has one word in the Spanish/Latin language used to describe that action or thing. For almost every letter of the alphabet, the spanish word is stated first and then followed by an explanation of what that word means in english. So for the letter 'L' the spanish word used is luminarias and is followed by the sentence, "They're paper-bagged candles that light up the way."
The illustrations of this book complement and enhance the imagery of the story. The illustrations of this book are incredible and really add a deeper understanding of each spanish word being used in the text. Not only does every illustration have a visual to really help the reader see and understand what the word being used in spanish is, but it also really shows a lot about the Latino culture and style and how it looks for them to celebrate this holiday. When the word 'mantilla' is used, there is a picture of a grandma wearing a lacy black scarf to cover her hair.
The theme of this book is consistent with the values, beliefs, customs and traditions of the Latin holiday celebrated, Christmas and New Years. This book does an incredible job portraying the traditions of the Christmas and New Year holidays. It covers all aspects of their traditions and customs including, food, clothing, decorations, activities, etc. that are practiced during this time of year in the Latino culture. Their beliefs and values are also clearly portrayed when Jesus, the Bible or even the church are referenced multiple times in the celebration of Christmas and the new year. Like for the letter 'H' the text references the story from the Bible when it says "No room at the inn." and then is also supported in the illustration when the children are dressed up as Mary and Joseph.
N is for Navidad lesson idea
Grade level: 2
CCSS RIT.2.1 Ask and answer such questions as who, what, where, when, why and how to demonstrate understanding of key details in a text.
The student will be able to identify who, what, where, when, why and how of a holiday celebrated in their culture by making their own alphabet book to demonstrate an understanding of how to use key details based off the text read in class.
Lesson procedure:
The lesson will begin with the teacher showing their students an ornament that they have made with their family (or something from any holiday) to celebrate Christmas. They will explain how that is a tradition in their home each year for that holiday and then ask the students what traditions they have in their culture to celebrate certain holidays. Discuss this with your students and then explain that each culture celebrates holidays in their own ways, at different times and for different reasons.
Introduce the book 'N is for Navidad' and tell the students to pay careful attention to the key details of the who, what, where, when, why and how's of this text and to raise their hands each time they see one identified.
Begin reading the story aloud pausing each time a student raises their hand or a major detail to support one of the '5 w's' is read or illustrated in the text. Identify what category that it may belong to and why it is an important detail to understand this holiday of the Latino culture. - Who celebrates this holiday? What holiday is being celebrated? Where is this holiday celebrated? When does this culture celebrate this holiday? Why do they eat 12 grapes at the new year? What are the most important details to help us understand how they celebrate this tradition? Make sure that the students explain the reasons/how they figured out their answers.
After reading this book students will choose one holiday celebrated in their culture and write down some of the key details in the who, what, where, when, why and how of this holiday. They will then turn it in to the teacher for it to be approved before a later project of starting their own alphabet books of a holiday celebrated in their culture.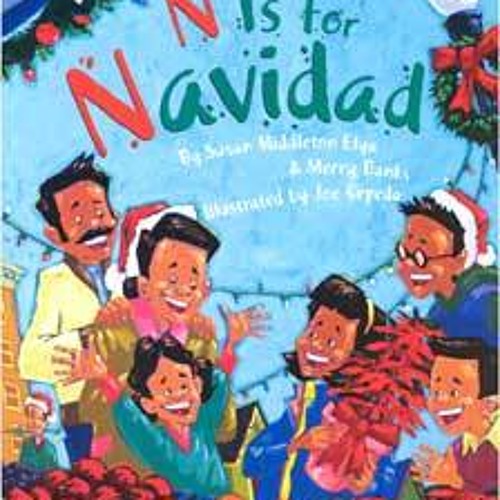 Erinwalker
Erin Walker, N is for Navidad by Erinwalker