A Party in Ramadan
Caitlin Byttner EDEL 411
Mobin-Uddin, A. (2009). A Party in Ramadan. Honesdale, PA: Boyds Mills Press, Inc.
Book Information
Title: A Party in Ramadan
Author:
Asma Mobin-Uddin
Illustrator: Laura Jacobsen
Genre: Realistic Fiction
Theme: Sometimes is can be hard to do the right thing
Awards: Parents' Choice Award
Asma Mobin-Uddin
Asma Mobin-Uddin was born and raised in the United States and is of Pakistani decent. She is an active member of the Muslim American community. Currently she lives in Columbus, Ohio where she is president of the Ohio Nation Muslim Advocacy Organization. Mobin-Uddin has written many books including "My Name is Bilal" and "The Best Eid Ever". She has won many awards for her books including the Paterson Prize for Books for Young People and the Skipping Stones Honor Award.
Summary
Ramadan is coming! Leena is excited for Ramadan and about fasting with her family. Leena is too young to fast everyday during the Muslim Holy Month so she decides to fast every other day. Leena gets suck in a dilemma when her first day of fasting is also the day of her classmate's birthday party. She does not want to miss her friend's birthday party but she does not want to miss her first day of fasting either, so she decides to do both! Leena, being is the only Muslim Child at the party, sees her friends drinking lemonade and eating cake. She soon becomes hungry, thirsty, tired, and her head begins to hurt. Finally, Leena pushes through and is able to celebrate breaking her fast with her family at dinner.
| | | |
| --- | --- | --- |
| | | |
| Leena hugging her mom | Illustrator, Laura Jacobsen, uses pastel pencils, watercolors and her computer to create her illustrations | Leena tired from fasting |
Criteria for Notable Multicultural Books
Language reflects distinctive vocabulary of the cultural group (Ramadan, Iftar, hijab)
Language reflects the style and patterns of speech of the cultural group ("God, I fasted for Your sake, and I break my fast with food provided by You. In Your name...")
Social issues and conflicts related to the cultural group are shown (Leena debating about fasting or going to the party. Her struggles with hunger, thirst, and fatigue)
Physical characteristics of a diverse culture are replicated (the women's headscarfs, darker hair and skin, facial hair)
At the end of the book the author includes an Author's Note in which she explains the terms Ramadan and Hijab.
Classroom Teacher Application
Grade:
2nd
Common Core ELA Standard: RL.2.3 Describe how characters in a story respond to major events and challenges.
Objective: The student will analyze how characters respond and react to events
Lesson: I will begin my lesson by asking the students if they have ever had to make a difficult decision. I will have the students share with a partner before sharing with the class. After hearing the students responses I will introduce the book A Party in Ramadan to the students. I will asks the students if they know what Ramadan is. If they do not know I will explain that Ramadan is the month during which Muslims fast from dawn until dusk. Fasting is when people do not eat or drink for a certain period of time. While Muslims fast they must try their best to be kind to one another, keep their tempers and be generous to everyone. I will then begin reading the book. During the read aloud I will pause at certain points in to book to ask question and allow for discussion. I will focus my questions on the problems Leena faces and how she reacts and overcomes them. For example when she must decide to go to the birthday or fast, and what she does when she become hungry and tired. After I have read the book the students will complete a foldable in which one side lists the challenges Leena encounters and the other side will lists her reaction and solutions.
Cross-Curricular Teaching: A Party in Ramadan can also be incorporated in to a science lesson because Ramadan is based on the phases of the moon. This means that the book can also be used when teaching the phases of the moon!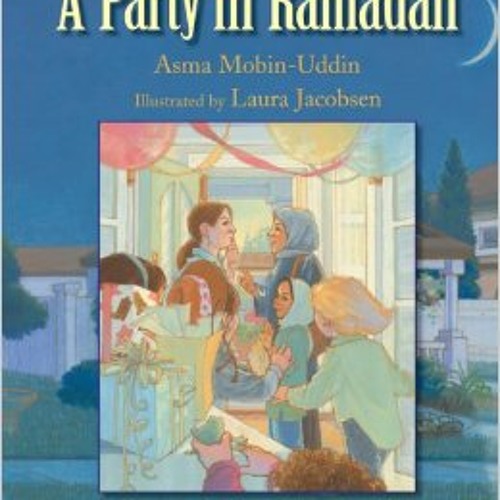 Caitlin Byttner
Audio Recording on Thursday night by Caitlin Byttner