Beautiful business
Fun Fun Fun (and business)
Inside the life of a CEO
Many people have a dream of being successful in business. Beside their effort, not everyone reach their goals. But what does it take to get to the top and is it really so desirable? We met with Guðjón Reynisson, CEO of Hamleys, in hope of receiving answers to these questions.
Hamleys, a toy retail company, is the oldest one of its kind in the world, founded in 1760. Although the headquarters are stationed in Regent Street, London, the enterprise has spread around the globe, having 40 toy shops in 12 countries and over 1400 employees.
When graduating high school, Guðjón decided to become a PE teacher. After a few years in that profession, he changed his mind completely and signed up for a degree in business and an MBA. A few years later, he graduated from the University of Iceland to become one of Iceland's most prominent financial figures.
According to Guðjón, the most common education for people in his position would be a degree in business, economics or even engineering. But despite education being important, Guðjón claims that the main reason for his achievements is no less his eagerness to succeed as the countless hours of book-reading. "Doing every job in my career as well as I could at that time, being confident and driven to succeed," he explains. "Education helps, but confidence, communication skills and perseverance are important."
Having climbed to the top of the ladder, we wanted to know how the day-to-day life of a CEO goes. Asked about what is included in his field of work, Guðjón says: "I am responsible for the whole company. I have four directors reporting to me and they control all departments in Hamleys. I spend time meeting with them and their people to discuss projects and the performance of the company. We are also together responsible for the strategic direction of Hamleys and I communicate our strategy to the whole company. In addition, I also need to visit shops regularly to make sure I know what is going on. I usually leave my house at 8am and return around 7pm and I do not work weekends."
He says that the job is not desirable for everyone, but to him it is. "I like responsibility and leading people," he says.
Guðjón's profession, in its nature, is time consuming. To Guðjón, a husband and father of three children, coordinating career and family life can therefore be difficult. "I try my best but it can be hard. It is important to reach a certain balance."
Guðjón's story is an inspiration to us all and tells us that ambition and confidence can get you wherever you dream of. "If the sky is the limit," he says, "why not aim for the stars?"
-------------------------------------------------------------------------------------------------------------------
Guðjón was asked the following questions:
What is your profession?
What kind of company is Hamleys?
Where is the company stationed?
How many employees does the company have?
What is included in your job? / What is your field of work?
What education do you have and what are your previous occupations?
How has this (education and previous occupations) been of use in your current profession?
How are your working hours?
What type of education is the most common among people in your position?
How did you manage to get where you are today?
What does it take to succeed in business, in your opinion?
What makes it desirable to be in a similar position as you in the business world?
What do you look for when hiring employees?
Do you have family?
How do you manage to harmonize your personal life with the professional?
I chose to interview Guðjón Reynisson, the CEO of Hamleys, because he has a job I could see myself doing. He went from being a PE teacher to being the CEO of a big, international company which I think is admirable, and ever since, he has been very successful in the business world.
Richard St. John: 8 Secrets of Success
Once, a teenage girl asked Richard St. John what leads to success. Richard did not know the answer at that time, but now, 7 years and 500 interviews later, he does. He has made a list of eight things that he found out are common amongst people who have succeeded in their lives. These eight things are the following:

1. Passion – Passion for your work drives you to do the best you can. Do it because you love it, not for the money. When you do what you love, money comes with it.

2. Work – Work hard and be efficient.

3. Be good at what you do – Which requires a lot of practice.

4. Focus - Be focused in what you are doing.

5. Push yourself – You have to push yourself to your limits, physically and mentally.
You have to push through all shyness and self-doubts.

6. Serve others.

7. Persist – Persist through failure, criticism, pressure.

8. Idea - Have a good idea and carry it out.

Richard claims that these are the eight big things that lead to success.
I chose to write about this speech because it is very powerful. I agreed very much to the things he mentioned and these are things I want to try and have in my life. I think that the contents of a speech is what is most important and I think it is really amazing how he manages to do the speech in such short time. The speech is incisive and very interesting.
Business Translation: English to Icelandic
The reason I chose this text is that I like reading about something I know. I spent a lot of time on Facebook each day and I find it very interesting to read about how they manage their website. There were a lot of things in this text that I did not know. It is always fun to learn something new, especially regarding your nearest surrounding.
When I translated this text, I started by translating it roughly, one word at a time. Then I read it over again and fixed some words, and changed the sentence orders in some places. At last, I asked a friend to read it over and give me some words of advice.
Here is the original text in English:
Last June, Facebook released a tracking pixel, a snippet of code that allows advertisers to track customers who come to their websites from Facebook ads. For Amy Norman, co-chief executive officer of Little Passports, the pixel was a game-changer.

[...]

The tracking pixel is one of several changes Facebook has made to its advertising tools in recent months. Advertisers can now specify objectives like increasing traffic to a website, encouraging more "likes" or converting more sales. They can choose whether their ads appear in Facebook's "news feed" or in a column on the far right of its pages. And they can target demographics they want to reach more precisely.
[...]
Facebook users spend most of their time in the site's news feed. That is where you will find promoted posts, ads that look like other posts, but are labeled "sponsored." Mr. Gibbard of True Voice Media said that people generally recognized that these posts were ads, but clicked on them anyway. "They are in the same stream as other content, so the ads feel more native," he said.
[...]
Little Passports has been running an ad for several months that features a photo of the company's Explorer Kit, with text that encourages readers to subscribe. Ms. Norman said the ad had attracted more than 1,500 user-generated comments — comments, she said, that were overwhelmingly positive and lent credibility to an emerging brand.
The ads that run on the right side of a Facebook page are more recognizable as paid advertisements. Their click-through rates are generally lower than those for ads in the news feed, and they are not even shown to mobile users. Mr. Gibbard calls them "completely useless."
Here is my translation:
Í júní síðastliðnum tók Facebook í gagnið leitarpixel, bút af kóða sem gerir fyrirtækjum kleift að rekja slóð þeirra viðskiptavina sem koma inn á vefsíður þeirra vegna auglýsinga á Facebook. Fyrir Amy Norman, einn forstjóra Little Passports, hefur leitar-pixellinn breytt öllu.

[...]
Leitarpixellinn er ein af nokkrum breytingum sem Facebook hefur gert á auglýsingafyrirkomulagi síðustu mánuði. Auglýsendur geta nú tekið fyrir sértæk markmið eins og að auka umferð um vefsíðu og stuðlað þannig að aukningu "like-a" eða náð fram aukinni sölu. Þeir geta valið hvort auglýsingar þeirra birtist á fréttaveitu Facebook eða í dálki hægra megin á síðunni. Þeir geta einnig sérvalið samfélagshópa sem þeir vilja sérstaklega ná til.

[...]
Notendur Facebook eyða mestum tíma á fréttaveitu síðunnar. Þar er að finna kostaðar uppfærslur, auglýsingar sem líkjast öðrum innlögnum en eru merktar "styrktar". Gibbard, frá True Voice Media, segir fólk yfirleitt hafa áttað sig á því að þessi innlegg væru auglýsingar, en ýttu samt á þá. "Þær eru í sama fréttaflæði og önnur innlegg, svo að auglýsingin virkar eðlilegri" sagði hann.

[...]
Little Passports hafa verið með auglýsingu í gangi í nokkra mánuði sem sýnir mynd af óbyggðaferðasetti fyrirtækisins með texta sem hvetur lesendur til að gerast áskrifendur. Norman sagði að við auglýsinguna hafi verið skrifaðar fleiri en 1.500 athugasemdir frá notendum; athugasemdir, segir hún, sem eru yfirþyrmilega jákvæðar og hafa veitt uppkomandi vörumerki trúverðugleika.
Auglýsingarnar sem eru á hægri hlið Facebook-síðu eru augljóslegar kostaðar auglýsingar. Mun færri ýta á þær heldur en auglýsingar í fréttaveitu og auk þess eru þær ekki sjáanlegar notendum sem eru á Facebook í síma. Gibbard kallar þær "algjörlega gagnslausar."
Sheryl Sandberg: Why we have too few woman leaders
Sheryl Sandberg is the COO of Facebook. In this speech, she talks about some of the reasons why there are so few women in leading positions compared to men, anywhere in the world, in all professions. She talks about three things she advices all women to do who are trying to succeed in their profession.
The first one is sit at the table. She explains it and tells us that one time she hosted a senior government official at Facebook and with him came seniors from around Silicon Valley. Everyone sat at the table except the two women in the group who sat in the corner of the room. She says that women systematically underestimate their own abilities. If you would ask a man why they did a good job he would most likely say: "because I'm good," but if you would ask a woman, she would say something like: "someone helped me" or "i got lucky" or "I worked really hard." Nobody gets to the corner office by not sitting at the table and nobody gets a promotion if they do not think they deserve their success. Believe in yourself, reach for the promotion and sit at that table.
The second thing she mentions is making your partner a real partner. Balancing professional life and family life can be really hard and it is important to share the responsibility and the housework with your partner, so that both of you can succeed. Today, men are not as active at home as women, and for more women to be able to get to the top of the ladder, that has to change. It is also important that the society accepts fathers who want to stay at home, so that they will not be judged for wanting to spend time with their children.
The third and last thing she talks about is do not leave until you leave. Often, when a woman starts thinking about having a child, she starts making room for it. She stops sitting at the table, she stops taking on new projects, she silently leans back. Then when the time comes and she does have a baby, it can be difficult for her to go back to her job. At least, the job has to be really challenging and rewarding for her to leave that cute little child at home. If some years ago, you did not take that promotion, you stopped looking for opportunities; you are going to get bored. Don't leave before you leave. Keep your foot on the gas pedal until the very day you need to leave, then leave, and then come back and do the job you love.
I chose this TED speech because I had already read Sheryl Sandberg's book on the subject and I really enjoyed reading it. I think this issue is very interesting and something that has to be changed. I, myself, want to be the woman that sits at the table and makes a difference.
A Book Review: Hvid Sommer, by Hanne Elisabeth Schultz
Hanne Elisabeth Schultz.
Hvid sommer.
Copenhagen: Forlaget fremad, 2005
115pp.
87 557 2303 9
Hvid sommer delivers what is expected of it. The book is a fiction, mostly intended for young and teenage readers. It is not expected to be complicated or sophisticated; it is expected to be fun. And it is.
The book is about a teenage girl that meets a boy and falls in love. In the end, she finds out that the boy is not who he tells her he is. It is a typical plot that seems to never get old, especially not amongst teenagers.
The characters are pretty simple, and we sadly do not get to know them very deep. That is something the author could maybe have done better. Still, the plot is rather good. The author creates a mystery that keeps everyone excited, reading until the very last page. The story is told in third person, and the language is rather simple. The author tells the story well, and when reading the book, you can easily picture the surroundings. All these things harmonize perfectly together and serve the purpose of the book, which is being a fun, easy reed for young people. The title fits perfectly with the rest of the book and has a deep connection to it, which you only realize when you are finished reading the book.
Taken as a whole, the book is rather simply written and easy to read. The plot is good and the excitement makes you want to read all night. The book fits its role perfectly and delivers what is expected of it. I give it three stars out of five.
Business translation: Icelandic to English
I chose this text because it discusses an interesting issue, of my opinion. I am very interested in the role of women in the business world and how they are seen as leaders, because someday, I want to be in the same position as these women. It also describes something that is going on in Iceland, and it is not often that you can find texts about how these things are here, on our small, little island.
I started with translating the text roughly, word by word. Then I went deeper to it, changed the order of words and the translation of some, and gave it the final touch. At last, I got someone to read it over and give his opinion of the text.
Here is the original text in Icelandic:
[...]
Í allri þessari umræðu um hina góðu kvenstjórnendur bar þónokkuð á röddum sem héldu því fram að "nú væri loksins búið að gera þessum feminístum til geðs". Umræðan hafði snúist við og konur með alla þá eiginleika sem kallaðir voru aumingjaskapur og gunguháttur í góðærinu voru orðnir að dygðum sem voru nauðsynlegar fyrir samfélagið.
Eiginleikar kvenna, og konur, voru ekki lengur annars flokks og ómerkilegir heldur sá bjargvættur sem myndi rétta þjóðfélagið af á ný. Það má þvi segja að í raun hafi draumur kvennanna sem stóðu að Kvennalistanum á sínum tíma um að hinum kvenlegu eiginleikum yrði gert hátt undir höfði orðið að veruleika.
Þessu bæri femínistum að fagna þar sem konur væru loksins álitnar betri en karlar á sviði sem áður hafði verið stjórnað nær eingöngu af karlmönnum. Það er kannski ekki furða að einhverjir velti því fyrir sér hvernig í ósköpunum sé hægt að gera þeim femínistum til geðs sem eru ekki tilbúnir til að sætta sig við þessar staðhæfingar um að konur séu mikið betur til þess fallnar að stjórna fjármálafyrirtækjum en karlar. Hvernig getur það verið andfeminískt að halda því fram að konur séu betri en karlar í einhverju sem lýtur hvorki að barnauppeldi né matseld? Þetta er það sem femínistar hafa alltaf viljað, er það ekki?
Svarið liggur eflaust í þeim forsendum sem umræðan er byggð á. Eðlishyggja er hugmynd sem hefur verið sem eitur í beinum femínista í gegnum tíðina og því ekki allir sem eru tilbúnir til að samþykkja hugmyndir sem eru byggðar á henni, líkt og umræðan um konur og stjórnun fjármálafyrirtækja var.
Here is my translation:
[...]

In all this discussion about the good female directors there were prominent voices who maintained that "now these feminists should finally be pleased". The discussion had reversed and women with all the qualities that were said to be gutlessness and cowardice in the prosperity were now considered virtues that were necessary for the community.
Women's qualities, and women, were no longer second class and inferior, but the savior that would stabilise the society again. Therefore, one could say that the women who founded the Women's Party back in the days, have had their dream come true, that feminine qualities would be appreciated to their worth.
Feminists should rejoice, because women were finally considered better than men on a field that men had managed almost solely before. Maybe it is not surprising that somebody would wonder how on earth it is possible to please the feminists who are not willing to reconcile themselves to women being better competent in managing financial companies than men. How can it be anti-feminist to think that women are better than men at something that neither has anything to do with raising kids nor cooking? This is what feminists have always wanted, is it not?
The answer lies without a doubt in the grounds on which the discussion is built. Essentialism is an idea that has been like poison in the bones of feminists throughout the years and that is why not everyone is willing to accept ideas that are grounded on it, like the discussion about women and the management of financial companies was.


Lisa Kristine: Photos that bear witness to modern day slavery
Lisa Kristine is a photographer that uses photography to expose deeply human stories. Since 2009, she has been working with Free the slaves to shine a light on modern day slavery.
In the speech that she gave at TED, she said that more than 27 million people enslaved in the world today. That is double the amount of people taken from Africa during the entire transatlantic slave trade. The industry has a turnover of 3 billion dollars every year. She told us about the slavery around many different products and showed heartbreaking photos of people processing them, so in the end, we could enjoy them. She told us about slavery in the brick industry where enslaved people work 16-17 hours a day without any water or food, carrying up to 16 bricks back and forth on their heads. She told us about the gold industry, where some men work up to 72 hours in mines, standing in poisoned water up to their knees; many dying from mercury poison. She showed us photos of little enslaved children who could not swim, but were forced to row out on the lake to get fish.
All these people, 27 million, are still working under these awful circumstances as you read this text today, getting no salary. Free the slaves organization is working hard to free these people and with the help of Lisa Kristine, they want to raise awareness of the issue.
I had watched this video before, so when I heard that we were going to write about speeches on TED, I knew I had to choose this one. I think this speech is unbelievable. I never would have thought there were so many people enslaved in the world today or how bad the circumstances are for these people. She tells the story really well and the photos make you want to make a difference. This video touched me, and that is why I chose it.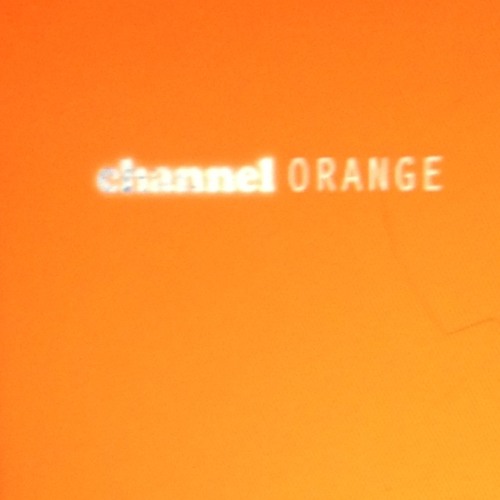 typical_jc
lost-Frank Ocean by typical_jc