Book Fiesta!
Presented by Courtney MacCallum EDEL 411 Section B
About the Book
Author: Pat Mora
Illustrator: Rafael López
Genre: Multicultural, bilingual
Topic/Theme:
Hispanic and Latin American
Holidays
Celebrating culture and families around the world!

Awards:
ALA Notable Book, 2010
CCBC Choices, 2010
Américas Commended List, 2010
Notable Children's Books in the Language
Arts, 2010
Belpré Illustrator Medal Book, 2010
About the Author
Pat Bora was born in El Paso, TX, US where she grew up in a bilingual home. She spoke and wrote fluently in both English and Spanish and considered herself lucky to be bilingual. She had always enjoyed reading and writing her whole life and loves that she has the opportunity to write her own books! Family, Mexican-American culture, and the desert are said to be all important themes in her children's books as well as her books for adults. She is now living in both Cincinnati, OH / Santa Fe, NM as a mother of three children. She has been a teacher, university administrator and a consultant. She speaks about mulitcultural literature at schools, conferences, and universities. To learn more about Pat Mora, visit the link below!
About the Illustrator
Rafael López grew up in Mexico City were he was brought up around a rich cultural heritage. His illustrations in Book Fiesta! was a recipient of the 2010 Pura Belpré Illustrator Award given by the American Library Association to honor his work that celebrates the Latino culture in his children books. Rafael now spends his time in studios in the town of San Miguel de Allende Mexico and also downtown San Diego with his son and wife. To learn more about Rafael's awards, life, and his work, check out the links below!
Criteria For High Quality Multicultural Books
1. Demonstrate unique language or style.

This book had a very unique language and style. With the Spanish and English writing it was definitely not like any other books I have read or seen. It was styled in a really fun way where the words would be loop when reading and sometimes the style of the writing would be traditionally straight. It was very easy to follow along and made the book more exciting then a traditional children's book.
2. This book honors and celebrates diversity as well as common bonds in humanity.
This book really does a great job celebrating and honoring diversity as well as capturing that common bond in humanity at such a young age. Throughout the book it is inevitable that the illustrations and writing show diversity by having a page with writing in English and Spanish. Also the illustrations are children of all ethnicity and the way some dress compared to other children in the book. I really liked how the illustrator added in a picture of a child in a wheelchair because that ties right into diversity as well. Reading books and having fun is a common bond in humanity with any culture for children and this book really shows that.
3. This book is rich in cultural details.
This book is very rich in cultural details on every page. Both the author and illustrator really focused on every detail so that this book could portray diversity in a fun way for children. The illustrations of have a Spanish feel to the with the bright colors that are found in Mexico and the small patterns on each page really do enrich that Mexican culture. Not only is this book rich in Mexican culture but as well as in many other cultures as well. The children are all from different parts of the world but they all come together and read and take their imagination to great heights. Lastly, having English writing and Spanish writing really emphasizes children who are bilingual, it is important as a child to be exposed to other languages to enrich their own culture.
Book Fiesta! Lesson idea
Grade: K
CCSS.ELA-Literacy.RL.K.3
With prompting and support, identify characters, settings, and major events in a story.
The students will be able to identify characters and settings throughout Book Fiesta! by describing their observations they see on each page of the book.
Beginning of lesson:
Teacher will begin the lesson by asking the students what their favorite books are. The teacher will then have each student describe where they like to read or be read to. After that, the teacher will explain that the place they like to be read to or like reading is a setting and the Book Fiesta! has lots of settings in it to look for.
Middle of lesson
The teacher will talk more about what a setting is and discuss what Book Fiesta! is about and the different characters that will be present in this book.

The teacher will encourage the students to observe the characters and settings when he/she reads the book out loud.

The teacher will read to book to the class but will pause on each page and have students describe the setting and characters on each page because every page in this particular book has a different character and setting. The teacher will then ask, "Where do you think these characters are?" "What do you see in the setting on this page" "How many characters are shown on this page" This will make the students more observant on what a setting is and what characters are in a book.
End of lesson
Students will return to their desk and wait for further instructions on what to do next. Teacher will pass out blank printing paper and crayons for each student. Then explain that they are to draw a picture of their favorite place to be read/or be read to and draw "characters" and the "setting" on where they go to read takes place.

This will allow the teacher to assess whether or not the students understand what a character or setting is by what the students draw and their observations from the book portrayed onto their paper.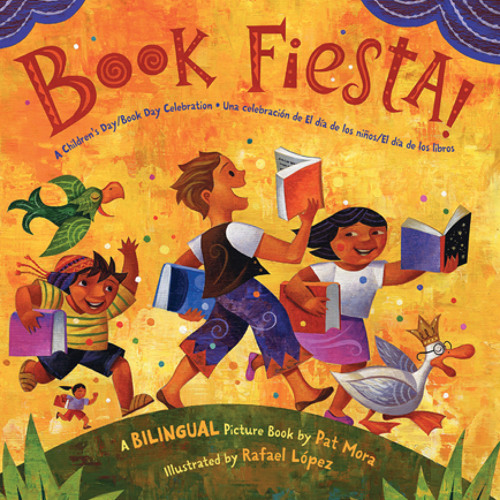 cmaccallum
Book Fiesta! by cmaccallum