Biblioburro
a true story from Colombia
Information about the Book
Title
: Biblioburro
Author & Illustrator
: Jeanette Winter
Genre
: Multicultural, Non-fiction
Topic
: Spreading books to children so they can have books and read
Award(s) nominated or received
:
Americas Award for Children's and Young Adult Literature, 2011 Commended Titles United States
Monarch Award: Illinois' K-3 Children's Choice Award, 2014; Nominee
About the Author/Illustrator
Jeannette Winter lives in New York City, where she has written and illustrated many books for children based on true-life stories, including the highly acclaimed Nasreen's Secret School, Mama, Wangari's Trees of Peace, and The Librarian of Basra, which was an ALA Notable Children's Book and a winner of the Bank Street College of Education Flora Stieglitz Straus Award for Nonfiction.

For More information click the link below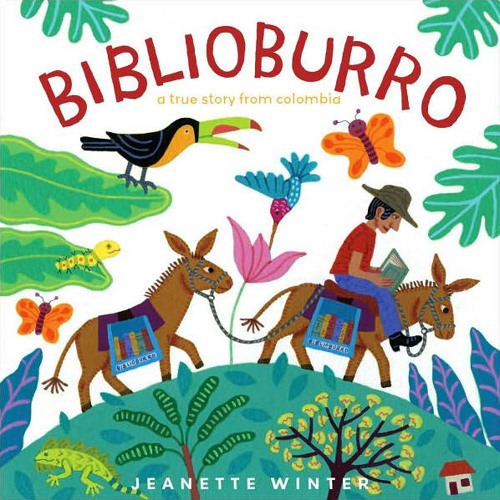 vreeland
Biblioburro By: Jeanette Winter by vreeland
Above you will find a reading of the text Biblioburro by Jeanette Winter, Read by Michelle Vreeland
Below are examples of illustrations from the book
Winter, J. (2010). Biblioburro: a true story from Colombia. New York: Beach Lane Books.
Criteria For High Quality Multicultural Literature
1. Rich in cultural detail: This book is a nonfiction book so the pictures and details are described with detail and how it actually would have happened. The illustrations are enhanced with bright color but still are accurate.
2. Honor and celebrate diversity as well as common bonds in humanity: Biblioburro celebrates a man who was able to read and wanted to spread his love and knowledge of books with children who were less fortunate then him. He travels far and wide to different places in Colombia to share these books.
3. Protray cultural accuracy and authenticity of characters in terms of social and economic status: This book shows how depending on what a person's social or economic status is they may or may not have books, but EVERYONE enjoyed looking through them and staying up late reading them. Also it shows how he got stopped when he had only books but no silver.
Biblioburro Lesson Idea
Grade
:
2nd Grade

Standard
:
RL.2.3 Describe how characters in a story respond to major events and challenges

Objective
:
The student will be able to identify how the main character responds to major events and challenges he is faced with

Lesson Procedure:
First to get the students thinking about the story I would ask them if they could imagine a world where there were no books. Then I would ask them to brainstorm with their shoulder partners about how they thought stories would be told or passed down. Next, I will ask the kids what they would do if they met someone who had never seen a book before?
Next, I would read the story to the kids and ask them to think how Luis solved the problem and shared his wealth of books? I would remind them that this is a true story and to think about how they might apply this to their lives. Also I will ask them to think about the challenges he faced.
After I am done reading, I will have the students talk about what challenges Luis faced as well as how he overcame them. Then I will ask students as a class what we could do to help students who are less fortunate then us like Luis did. I will have students break up into table groups and brainstorm then we will share as a class. Lastly, I will ask they students how they think it would feel to do something nice like that for a large group of people and how they think Luis felt after he got done doing it.