TNTT Weekly
Week of December 1st, 2014
HAPPY NEW LITURGICAL YEAR!
The beginning of Advent season is also the beginning of the liturgical year. It is the time when everything starts over — rotations of scripture readings, cycles of seasons and accompanying color themes. It is also the time for Catholics to prepare for the coming of Jesus Christ.
National Day of Apostolic Works is finally here!
This Saturday, we will kick-off our new initiative to unite, serve and share the love of Christ to all. Click to read Thư Thông Báo Ngày Tông Đồ from Cha Dominicô Nguyễn Trọng Hiếu, Phó Tổng Tuyên Úy Quản Trị.
Many Chapters and Regions have exciting volunteer activities planned, and this week we'll be sharing some of the fun activities we're doing on the Phong Trào Facebook page.
Also, thank you to those of you who have already ordered NDAW T-shirts! As of Tuesday, 540 shirts have been sold, which means $540 ($1 from each t-shirt sold) will be put into a charity fund that will go to a non-profit organization that is sharing Christ in special ways through its work.
This weekend, we will be posting 3 non-profit organizations for you to vote on. The organization with the most votes at the end of the voting period will receive the donation from our NDAW charity fund. Plenty of t-shirts still available if you want to do your part to grow the charity fund! Put your order in now – just $6 for a great shirt that supports a great cause! Stay tuned this weekend to cast your vote!!
If you haven't planned your NDAW activity yet, no worries! December 6 is the kick-off day, but we encourage you to plan a volunteer day for your members on any other day that's more convenient for you. Just be sure to register your event with us at http://tinyurl.com/tnttngaylamviectongdo, so that we can celebrate with your members when they do get out and volunteer.
If you still need to purchase NDAW t-shirts, contact TNTT Store ASAP to get yours. With each t-shirt you purchase, $1 will be donated to a chosen charity.

Ongoing promotion: FREE shipping on orders of 10+.
Also check out the NDAW Flyer & Implementation Guide! If you have any questions, sing "Con Phải Làm Gì?" and contact Ủy Viên Xã Hội BCH TU - Tr. Phạm Ngọc Chi at ecpham@gmail.com.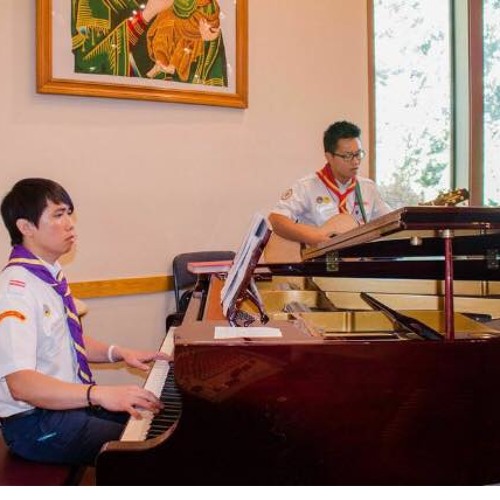 Ban Truyền Thông VEYM
Con Phai Lam Gi - Hoang Thanh Nam by Ban Truyền Thông VEYM
Little Saigon TV: One Brick for TNTT
Your donation will shape the future of TNTT!!!
With the spirit of giving, the VEYM-USA invites all members, from Seedlings to Chaplains, and all families of the Movement, to contribute one brick - $25 – to support the education of the youth, expansion of our Movement, and build the Church and society.

Phong Trào mời gọi các thành viên Ấu Nhi đến các Cha Tuyên Úy và các gia đình có con em đang sinh hoạt trong Phong Trào, mỗi người góp một viên gạch - $25 - để góp phần giáo dục giới trẻ, phát triển Phong Trào, xây dựng Giáo Hội và Xã Hội.
The "
One Brick for VEYM
" campaign will begin publicizing through various Vietnamese Catholic media outlets (TV, radio, internet, and newspaper) throughout the country beginning on November 20, 2014 to help parents and donors to understand more about VEYM's goals and needs.
Continue to follow fundraising campaign news on http://fundraising.tntt.org/
HƯỚNG TÂM LÊN 52 - CHRISTMAS EDITION
As we get ready for the the Christmas edition of Hướng Tâm Lên national newsletter (over 1000 viewers each publication), please send the the pictures and writings that answer the following question: How does your chapter/league of chapters/region prepare and celebrate Christmas? Please send information to htl.veym@gmail.com by December 22nd to be included in this special holiday edition. Thank you!!!

For questions, please contact Ủy Viên Báo Chí - Tr. Teresa Nguyễn Hồng Nhung via email htl.veym@gmail.com
Nội Quy in English/VEYM-USA Bylaws Draft
Lễ Kỷ Niệm Ngân Khánh
Xin chúc mừng Cha Giuse Nguyễn Thanh Châu - Giáo Xứ Thánh Philiphê, cựu Tuyên Úy Đoàn Phêrô & Phaolô, Orlando - trong ngày kỷ niệm 25 năm thụ phong linh mục. Nguyện xin Chúa Giêsu Thánh Thể, thủ lãnh tối cao của Phong Trào, luôn gìn giữ Cha trong công việc mục vụ của Ngài.
Click to read Thư Chúc Mừng của Cha Tổng.
Vietnamese Youth Convention 2015
VYC 5 is an event that allows youth and young adults across the nation to gather in Washington to celebrate the love and happiness we share in Christ. The purpose of this convention is to create an environment for the youth to have an opportunity to learn and share how Vietnamese American Catholics live their faith and experience life. VYC attempts to cultivate faith in their spiritual journey through workshops, presentations, and group discussions.

Registrations has already began at www.vyc5.org, first 200 participants registered will get a free VYC5 gift. For questions, please contact the organizing committee at registration@vyc5.org
Feb 18th
Ash Wednesday - VEYM National Spiritual Bouquet for Lent
Feb 28th, 2015
VEYM Membership Fee Due
Apr 10th, 2015
Hội Nghị Các Cấp Lãnh Đạo – Texas
TNTT Weekly
sẽ được gởi ra mỗi tuần để mọi thành viên theo dõi các chương trình của Phong Trào.
T.M. BCHTU
Tr. Phan Xuân Thịnh
UV Truyền Thông