Board Briefs
Highlights of the May Board of Education Meeting
Prefer this Update in Video Format?
Click below for a 44 second (give or take a few) briefing of the Board of Education meeting.
Students, Staff and Parent Recognized
During the start of the Board of Education meeting, Board members and Superintendent Dr. Ted Stec took time to recognize the following:
Science Fair: Best in Show Winners
Gayle Kankovsky Volunteer Award: Cheryl Montgomery
GWMS Teacher Kyle Lickel for a grant he secured for a poetry event for the school next fall
We appreciate the parents and staff members who joined us in celebration of these deserving award winners!
Join Us for the Cultural Competency Event
Director of Language Acquisition and Equity Maria Martin and Superintendent Dr. Ted Stec will jointly host a special presentation focused on understanding the limitations of our brains and ways we can expand our thinking and actions to be more inclusive.
This will take place on Thursday, May 12 from 6-7:30 PM at the Connect 44 Center.
Submit your RSVP by filling out this form. This will ensure proper seating and accomodations.

Superintendent Recognizes Recent Events
Throughout the last two weeks, we have had several events take place throughout the district. Starting with the Science Fair, it was again a tremendous success, and Superintendent Dr. Ted Stec noted that he appreciated all of the work Tania Parciany and the team of volunteers dedicated to this event.
We also recently had the Stars and Spikes 5K – an annual race between Madison and Hammerschmidt. This year, we had a record breaking number of runners at over 700. In fact, with parents in attendance, we had over 1,000 people. The event continues to be a phenomenal way to bring our school communities together.
Lastly, we had five athletes participate in Region C Special Olympics Track and Field. Four of the athletes competed in both the softball throw and 50m run. One athlete participated in the softball throw. We took home a lot of medals and ribbons. We appreciate Aqeela Kidder, Britelle Smith, Jaclyn Blake, Mia Shea-Michels and Krissy Goebbert for their support.
Staff Appreciation Week
Last week, Superintendent Dr. Ted Stec had a chance to present in every building. His presentation was focused on reflecting on this past year and looking forward to what's ahead and how we can all prioritize our well-being needs.
The district also partnered with several kindergarten and first graders to offer all staff a special, encouraging message each day. Throughout the week, staff received a phone calls from students that offered them a themed "pep talk." We encourage you to hear the pep talks recorded by students, by visiting the image below.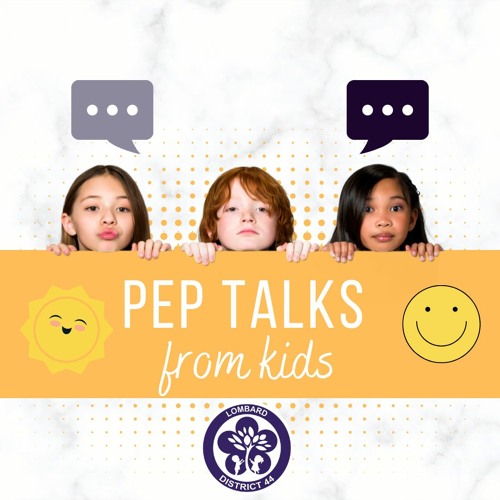 District 44 Podcast Hub
Pep Talks from Kids by District 44 Podcast Hub
Meet the Lombard District 44
Lombard District 44 is governed by an all volunteer, seven-member Board of Education. These individuals are elected to serve the community. For more information,
please click here
.
Note: This communication should not be viewed as a replacement to the minutes taken at each Board of Education meeting. While we aim to provide critical information about need-to-know topics, all of our stakeholders are encouraged to view the full agenda and minutes from each meeting in order to have a deeper understanding.