Family Connections Newsletter
School Newsletter for Week of October 19, 2020
Dear Man Elementary,
It is hard to believe this is the seventh week of school! I am hoping this weekly newsletter helps keep everyone informed of all the great things happening at Man Elementary School. During this difficult time communication is the key to a positive family and school connection.

This week our students will be taking the county writing assessment. Students will read or be read a prompt and will have a writing assignment based on what they read. Our classroom teachers have been working hard teaching the writing process.

As we approach report cards I want to urge the families to be in continuous communication with your child's teacher. It is vital that all students are engaged in learning daily. Assignments are posted daily on the teacher's Google Classrooms. I also want to encourage all our Pioneers to read each day. The only way to get better at reading is to practice. Epic is free during the school day for all our students.

If you have any questions or need assistance please don't hesitate to contact us at Man Elementary.

Sincerely,
Doug Barrett

Principal, Man Elementary School

Picture Day: October 27 and 29th

Halloween Costumes: October 26 and 30th (students may wear costumes to school)

School-Wide: Writing Assessment (October 19th-23rd)

What is iReady?
iReady is a new program for our 2nd-4th grade students purchased by the county. The program identifies skill deficits in reading and math and provides instruction for students to close those gap areas. The goal for our students is 45 minutes per week for reading and 45 minutes per week for math. That is 15 minutes 3 days a week or 10 minutes a day 4 days a week. The video below gives you a better understanding of i-Ready.
I Ready Tutorial for Parents
Micro-Society: Want to run for office?
Mrs Lukacs & Mrs Duba will be doing a Zoom with our 3rd & 4th grade fully virtual students beginning Monday, October 19th. The first couple of meetings will be to confirm who wants to run for a government office and to work on writing campaign speeches. Students, Please log in from 2:50-3:15 for your Micro Zoom session.

Join Zoom Meeting https://zoom.us/j/92130866641?pwd=OW9kYzlKdkM5ZjAxK1hSTGJRSmtsdz09 Meeting ID: 921 3086 6641 Passcode: 1234
Hear what our students had to say about Habit #1: Be Proactive (click below)
Man Elementary on Facebook Watch
This Week's Habit: Begin with the end in mind
* I plan ahead and set goals for myself

* I am prepared at all times.

* I think about how the choices I make now will affect my future.

* I think about the positive or negative consequences for my action before I act.

We need all families to complete the surveys below
YearBook Pick-Up for Fully Virtual Families
Wednesday, Oct. 21st, 2pm
Our School
If you prepaid or would like to purchase the 2019-2020 yearbook please drive through Man Elementary bus loop on Wednesday from 2 p.m. to 4 p.m.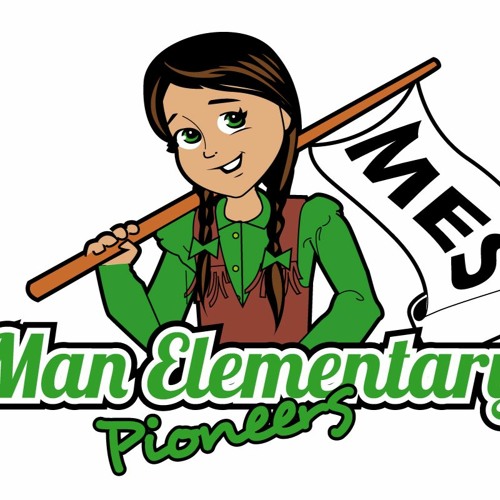 Doug Barrett
Man Elementary Theme by Doug Barrett
Man Elementary School