My Diary from Here to There
Presented by Caitlin Carter EDEL 411 Section B
Perez, A. (2002). My Diary from Here to There. California: Children's Book Press.

Information About The Book
Author: Amada Irma Perez
Illustrator: Maya Christina Gonzalez
Genre: Non-Fiction
Topic/Theme:
Social Studies
Geography and Map Skills
Friends and Friendship
Awards:
About the Author
Amada has been a bilingual educator, consultant and presenter for more than twenty-five years. Her teaching as been done from kindergarten to university level. She is works with programs to encourage literacy and multicultural understanding. Amada said in one of her biographies she thinks that better communication is the solution for world peace. Along with My Diary from Here to There, Amada has written two other autobiographies; My Very Own Room and Nana's Chicken Coop Surprise.

About the Illustrator
Maya was born in 1964 in Lancaster, CA. Maya has one brother who was a year younger than her. Despite her rocky childhood Maya managed to purse art as her passion after giving poetry a try. Her women's art history class is what made her the artist she is today. What makes Maya unique is that she bought her art things from a dime store not an art supplies store. Maya currently lives in California with her husband and still continues to paint.

Criteria for High Quality Muliticultural Literature
1. This book demonstrates unique language or style. The story is formatted in a very unique way; on every page the book has the story written in English and then will have it written in Spanish underneath. A great story for CLD students to have because they can learn English, but still have Spanish there for assists.
2. This book is rich in cultural details. In the story the picture show many details you would see with in a traditional Mexican family. I saw in one picture Amada was sleeping with some of her siblings in the same bed. In another picture there was Mexican food on the table.
3. Social issues and conflicts related to cultural groups should be treated honestly, accurately, and openly. When Papa lost his job and the whole family left for the United States only Papa could go to California. The other family members had to wait on their green cards. Even after they got their green cards crossing the border in Tijuana was crazy for Amada's family.

My Diary from Here to There Lesson Idea
Grade Level: 2
CCSS.ELA-Literacy.RL.2.3 Describe how characters in a story respond to major events and challenges.
The students will create their own journal and they will write about their own made-up adventure.
Lesson Procedure:
Before reading the story the teacher will show the students how in this particular story there are two different languages represented; one English and the other Spanish.

The teacher will then ask the class if any of them write in a diary. Do you know what a diary is? What do you write about in yours'?

Then the teacher will read the story to the class. The teacher will ask the students to raise their hands when Amada the character in the story is writing in her diary.
After the teacher has read the story to the class the teacher will then explain the student get to write in their own diaries just like Amada.

The students will be informed that they can write about anything they want.
The teacher will walk the students through out how to start a diary entry.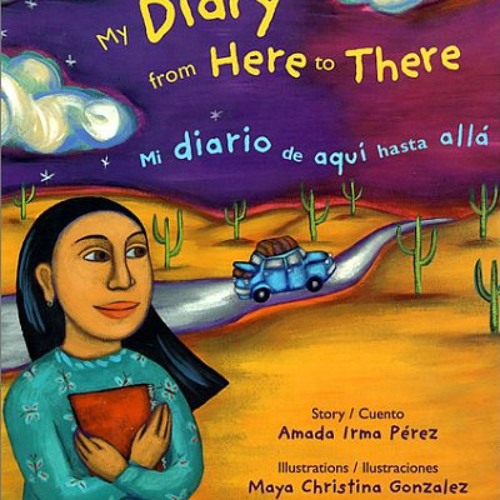 Cecarter2010
My Diary from Here to There by Cecarter2010