A Library for Juana
Presented by Lisa Holthaus EDEL 411 Section B
Mora, Pat. (2002) A Library for Juana: The World of Sor Juana Ines. New York: Alfred A. Knopf.
Author: Pat Mora
Illustrator: Beatriz Vidal
Genre: Biographical Literacy
Topic/Theme: Follow your dreams and never give up! You can make things happen!
Awards:
Tomas Rivera Mexican American Children's Book Award
Americas Award for Children's and Young Adult Literature
Pat Mora's goal in her writings and books is to bring children together, from all around the world. She is an advocate for multicultural education and speaks around the country. Born in El Paso, Texas, Pat now travels and divides her time between the Southwest states and Kentucky. She now has three grown children which makes the traveling possible. Pat has received many children's book awards and is very involved in many multicultural organizations, is a consultant on U.S.-Mexico youth exchanges, and has taught all levels of English. For more on Pat Mora, visit her linked website below.
Beatriz Vidal is an Argentina-born artist who has illustrated a number of beautiful books for children. After college, she moved to New York where she met artist Ilonka Karasz and together, they began studying paintings and design. This is when Vidal's career as an illustrator took off and appeared on record covers and in magazines. Vidal and Mora are both admirers of Son Juana Ines and really enjoyed creating this masterpiece. Using a magnifying glass and small brushes in watercolor and gouache, Vidal was able to create very real, attractive images. This painting technique is similar to that used for illuminated manuscripts hundreds of years ago. For more information on Beatriz Vidal, explore she website which is linked below.
Illustrations from A Library for Juana
The watercolor illustrations show Juana's desire and love of learning throughout the entire book. They also help the reader to understand Juana's perseverance and determination to get an education and be more than a house worker like most women in that day.
Criteria for High Quality Multicultural Literature
Gender roles within the book represent roles with in the culture and are portrayed authentically, reflecting the changing roles and status of women and men in cultures. A Library for Juana is a perfect example of the changing roles of women in different cultures. At the time this story took place, 1600's, women were not allowed to attend schools and were expected to be housewives and houseworkers. Juana was so determined and persistent that she stood up for her beliefs, attended school, and became very well known for her poetry and smarts. Juana showed that, "Yes, girls can do more than spin and sew. We can study and prove all we know." She set a great stage for future women by showing them to follow their dreams, no matter what.
The books setting represented and was consistent with historical or contemporary time, place, or situation of a particular culture. The illustrations of this book set an amazing scene for the time, place, and culture of Mexico at the time of this story. The characters attire, house decor, and images of Mexico City show that beauty of the time and culture of the people. Along with this, the images shown of houses and building really show the culture and make you feel like you are living in the 1600's in Mexico.
The language of the book reflects distinctive vocabulary, style, and patterns of speech of the cultural group. A Library for Juana features many Spanish words and includes a small glossary at the end that tells what each word means. Juana loves poetry and from a very young age was playing with rhyming words in Spanish. For example, "rosa hermosa" (pretty rose) and "luna, cuna, bella, estrella" (moon, crib, beautiful star). This book shows something that all children enjoy, rhyming, and introduces it in a diverse manner that enhances similarities across the globe.
A Library for Juana Lesson Idea
Grade Level 2
CCSS RI.2.6.
Identify the main purpose of the text, including what the author wants to answer, explain, or describe.
Objective: The students will explain the moral of Juana's story, while identifying characteristics of Juana that helped her succeed.
Steps of the Lesson
The teacher will ask the students if they know what the word "passionate" means. The teacher will define the term: something that you feel very strongly about. Something that you would do just about anything to obtain it. Then the teacher will share with the students some things that he/she is passionate about and ask for some volunteers to share what they are passionate about. Be sure to emphasis the beauty in the differences of the loves and passions. Relate this diversity to children around the world and how everyone, no matter where or what age, has something they are passionate about.
Introduce A Library for Juana to the students and explain that Juana has a passion of her own and to try to figure it out as the book progresses. Explain that this book is based on a real story of a girl in Mexico. Read the book to the students and ask questions throughout. What is her passion? (Have them give a thumbs up when they can identify Juana's passion) How is her passion affecting her life? What did she have to do to obtain what she wanted? What words would you use to describe Juana?
Also point out the illustrations of the book and ask for differences and similarities between the character's clothes and houses and their own.
After the book is completed, ask, "What does the author want us to learn from hearing Juana's story?" (relate it to passions and never giving up) Students will write a few sentences about what they learned from Juana's story and can draw or write 3 of their passions. After completed, students will share their passions and learnings and a discussion will occur about determination, bravery, never giving up, going against the crowd, passions, and persistence.
Listen to A Library for Juana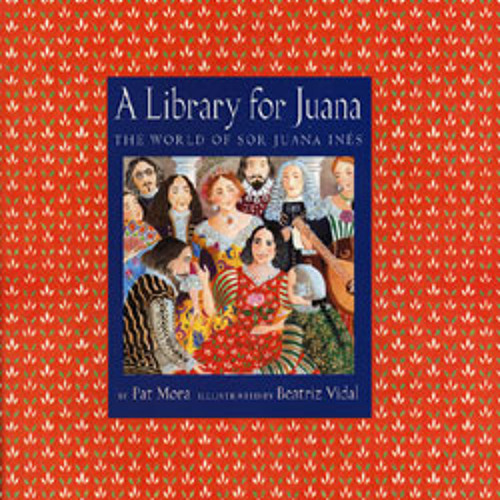 lisa.holthaus
A Library for Juana by lisa.holthaus