My Name is Yoon
Presented by Sarah Swenson-EDEL 411 Section C
Written by Helen Recorvits and Illustrated by Gabi Swiatkowska
Awards
American Library Association Notable Children's Books

IRA Notable Books for a Global Society
Child Magazine Best Books of the Year
Nick Jr. Family Magazine Best Books of the Year
Bank Street Best Children's Book of the Year
Ezra Jack Keats New Illustrator Award
Booklist Editors' Choice
Publishers Weekly Best Children's Books of the Year
School Library Journal Best Books of the Year
Georgia Children's Book Award Master List
Illinois Monarch Award: K-3 Children's Choice Award Master List
New York Charlotte Award Master List
Helen Recorvits
"I love reading and writing stories about interesting characters -- people trying to find their place in life, people with hope in their hearts."
Grandparents immigrated from Poland, Russia and Ukraine and her parents were children during the Great Depression.
Began writing stories and sharing them with her cousins at eight years old and wrote a weekly column for the local newspaper as a teen.
Graduated from Rhode Island College in Education and Psychology.
Currently is a second grade teacher. Lives with her husband in Glocester, RI and has two grown sons.

Gabi Swiatkowska
"While at elementary school, I really did believe I was a princess. Not the Disney kind, but one more along the lines of a Russian folktale, the princess lost and never found, waiting patiently for the day it was officially announced."
Born in Tychy, Poland.
Attended the Lyceum of Art in Bielsko-Bial and the Cooper Union School of Art in New York City.
Received the Ezra Jack Keats New Illustrator Award for My Name Is Yoon by Helen Recorvits.
Illustrated other stories about Yoon and many other books for children.
Currently lives in Brooklyn, NY.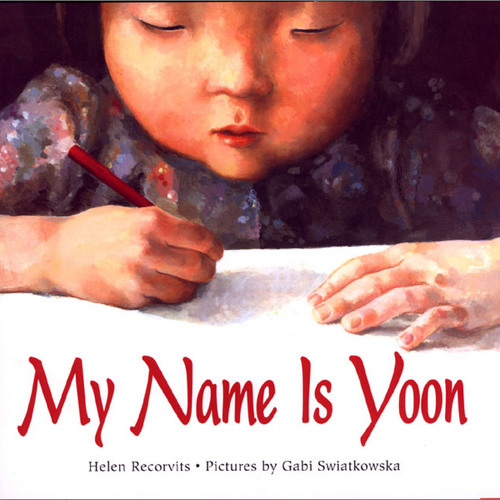 Sarah Swenson
My Name is Yoon by Sarah Swenson
Oil Painting
The use of oil paint in the pictures capture the expression and imagination of Yoon as she transitions to her new life in the United States. Yoon's fears and worries are shown in her desire to be a cupcake, cat, or bird while learning to write in English and in search to find her identity in her new home.

Criteria for Multicultural Literature
1. Illustrations complement and enhance the imagery of the story.
The use of oil paint in the pictures elaborate Yoon's thoughts, feelings, and emotions by illustrating what is happening in her day-to-day life, as well as her in thoughts and hidden feelings. As Yoon imagines herself as a cat, a bird, and a cupcake, the illustrations come alive with detail and imagery to show the reader Yoon's desire to be something other than herself. As she adjusts to her new home in America, the images show her emotions and expressions as she acts with other students, her family, and the teacher in school.
2. Characters are portrayed as unique individuals within a culture.
Each character in the book is portrayed as a unique individual by focusing on their own story, thoughts, and emotions. Yoon's family are immigrants to the United States from Korea and the story shows their process of adjusting to their new home as they help Yoon learn English in school. The sense of ownership over their culture is maintained as Yoon's father explains to her that her name still means "Shining Wisdom" in English. Stereotypes are not used to portray Yoon's Korean culture.
3.This book invites reflection, critical analysis, and response.
Throughout the story, the reader gets an inside look at Yoon's thoughts and feelings about her family's move from Korea to the United States. Seeing Yoon's perspective throughout the transition invites reflection and response about the feelings of a child adapting to a new home. Because her family immigrated from Korea and she must learn to write in English, and the reader is exposed to how resistant Yoon is switching to English and how lost she is in her own identity. After reading this book, one might analyze the teacher's role in this transition and how educators can help make the struggles of learning English, making friends, and adapting to change a smoother process for children.

Lesson Plan
Grade: 2
Standard:
CCSS RL. 2. 3- Describe how characters in a story respond to major events and challenges.
Objective: The students will explain how the main character, Yoon, responds to the challenges to adjusting to a new home in the United States.
Lesson Beginning:
The teacher will place covers over each child's name tag at their desks with symbols for their name instead of letters. The teacher will ask the students to find their desks and will write instructions on the board using different symbols. "Please find your seats. I want you to follow these directions: ▲♦❏☁❖✕●." After the students struggle to understand what to do, give them short direction to go to the designated read-aloud area in the classroom.
"Who had a hard time finding their seat today? Were you able to follow my directions? Why was is difficult for you?" Introduce the book, My Name is Yoon, and read aloud to the students. "We are going to read a story about a girl who also had trouble understanding a new language when her family moved to the United States."
Lesson Middle:
The students will discuss the challenges Yoon faced in the story as a class. "What was challenging for Yoon when her family moved to the United States? How did she feel about going to school? Why didn't she want to learn English? Did you feel the same what earlier when I communicated with you in symbols instead of words?"
The students will break into small groups and pick one example from the story that showed how Yoon responded to moving to the United States and starting school. As a group, the students will illustrate the scene and write 1-2 sentences about what happened on a poster. The teacher will review important parts of a sentence: capital letter at the beginning and punctuation at the end.
Lesson Ending:
Each group of students will share their poster with the class. The class will travel around the room to each group's location and listen to their example.
The students will discuss the challenges with moving to a new country. "How would you feel to leave your home to a new country? What can we do to make people feel better about moving to a new place? How did Yoon respond to adjusting to her new home in the United States?"
The teacher will assess the students based on their posters on the following criteria:
The drawing is a scene from the story showing a time Yoon responded to moving to the United States. (ex: Yoon learning to write her name in English.)
The students wrote 1-2 sentences that describe their picture.
The sentences include a capital letter at the beginning and punctuation at the end.
The students shared their poster with the class.
Recorvits, H. (2003). My Name is Yoon. Canada: Douglas & McIntyre Ltd.