The Family Zone
Lectionary-Based Playlist /Issue 60/May 23, 2021
"Fix in your heart, that the LORD is God in the heavens above and on earth below, and that there is no other'
Happy Pentecost! Pentecost is known as the birthday of our Church!
Our Easter season has come to an end and we return on the path of ordinary time in our liturgical calendar. Did you notice signs of new life and hope during the Easter season?? As the weather continues to warm and the Earth springs back to life, we hope you will continue to seek the Hope of the Resurrection and new beginnings in your life and our world! Ordinary time, though it sounds mundane, can be quite extraordinary if our eyes are open to God at work! This issue of The Family Zone explores the liturgical season of ordinary time. How can you make this season a special one for you and your family to grow in faith?
A Note About Our Newsletter
The Family Zone is designed to help you prepare for full and active participation in the weekend liturgy as well as formation within your families. To that end, we provide the readings for NEXT Sunday and break open the themes you will encounter, within our material.
Journeying with St. Joseph
Learn more about St. Joseph during this YEAR OF ST. JOSEPH!
St. Joseph is a popular Saint in the Diocese of Rochester. We have churches, parishes, schools, chapels, groups, and even a Catholic Worker House all named for the Foster Father of Jesus. They are:

St. Joseph's Church Penfield
St. Joseph School, Penfield
St. Joseph the Worker, Clyde
St. Joseph, Weedsport (part of Our Lady of the Snow)
St. Joseph the Healer Chapel, Elmira
Sisters of St. Joseph (motherhouse & sisters)
St. Joseph, Rush (part of St. Mariann Cope)
St. Joseph, Campbell (part of Ss Isadore & Maria Torribia)
St. Joseph, Wayland (part of Holy Family Catholic Community)
St. Joseph Park, Rochester (site of the former St. Joseph Church in the city of Rochester)
St. Joseph House of Hospitality (A Catholic Worker house)
There are more that are no longer open in our Diocese as well. We have a rich history of relying on St. Joseph's intercession.
READ!
SUNDAY READINGS:

Click on the link below for the readings that you will hear at this coming Sunday's Mass. This will give you a chance to prepare your heart and mind for full and active participation in Mass this weekend! For a Mass schedule in our diocese click on the purple button below.
Family Stories:
Do you love to read to your kids? These stories will help you apply this week's theme to other areas of life and connect the lines between our beliefs and daily life!
Yes Days No Days: The Art of Positive Thinking

Written by Mia Von Scha Illustrated by Mirna Stevanovic

Everywhere Wonder by Matthew Swanson

My Little Book Of Patrons: Discovering How The Saints Help Us In Our Everyday Lives by Katie Baklinski
Parent Articles on the topic:
Make the Most of Ordinary Time:
For Teens to Grow on their Discipleship Journey:
Ordinary Time doesn't have to be boring: Transform yourself! https://lifeteen.com/blog/4-ways-to-transform-your-teen-years/
Write!
Below you will find "at-home" assignments if your child learns best through writing and completing worksheets. There are some great saints whose feast days occur during Ordinary Time
FOR SMALL CHILDREN: St. Anthony of Padua is the patron saint of lost things! Have you ever lost anything? Draw a picture of something you lost and couldn't find. Next time you lose something ask St. Anthony to help you!
FOR ELEMENTARY AGES: St. Monica is a patron saint of mothers. She is known for never giving up on her son, who left the faith and misbehaved. She prayed tirelessly for him and eventually, Augustine not only returned to God but he is recognized as both a Saint and a Doctor of our Church. Write about your own mother or grandmother. If she were a patron saint of moms, what would she be recognized for? Begin with the prompt: My mom/grandma is a saint! She...
FOR ADOLESCENTS: The Feasts of St. Francis of Assisi and St. Kateri Tekakwitha both take place during Ordinary Time. These saints are both often associated with the environment and creation. In honor of them, write your own prayer or poem for creation. Step outside and notice the world around you. What do you see, hear, smell, and touch? How are your senses experiencing creation? Write about it in your poem of prayer.
ALL AGES: Make a list of all the ordinary things your family does that are special to you!

LISTEN!
Do you listen to podcasts throughout the week? We will share episodes to help you embrace week's theme and be able to converse with your kids feeling more confident! We'll also share family listening skills from time to time! Want to know more about how we observe the season of Ordinary Time? Listen to these two podcast episodes from Sacred Ordinary Days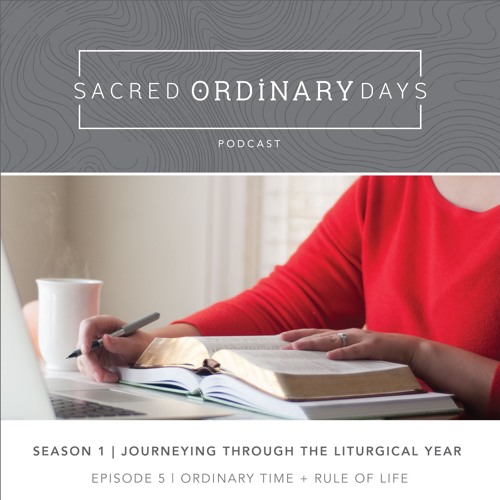 Sacred Ordinary Days
5 | Ordinary Time + Rule of Life by Sacred Ordinary Days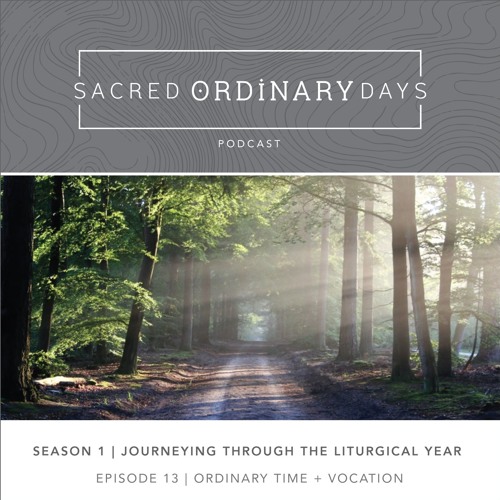 Sacred Ordinary Days
13 | Ordinary Time + Vocation by Sacred Ordinary Days
PRAY!
Here we share ideas for personal prayer, family prayer and learning more about the ACT of prayer as a discipleship skill!
Ordinary Time is a great time to focus on our prayer life. How about turning an every day household task into a time of prayer?.....washing dishes, folding laundry, sweeping, dusting, raking the lawn and gardening are all tasks that lend themselves to contemplation. Contemplative prayer is simply being still and silent with God. Your hands may be busy but your mind and heart can be open to prayer: reflect on your day, your family, your community, the world..whatever is on your heart, and ask for God's presence.
WATCH!
Are you or your child a VISUAL learner? We've curated some videos that help you understand this week's theme!
Why Ordinary Time? | Fr. Brice Higginbotham
LITURGICAL CALENDAR, WHAT DOES IT MEAN TO CATHOLICS? ♥️
Play!
Children learn through play; here are some ways for you to keep learning about the faith theme of the week in a "hands-on" way! During Ordinary time we continue our journey with Jesus. Play some partner games to be reminded that Jesus is always by our side!
FOR SMALL CHILDREN:
Play "Copy the Face" i'm making...similar to mirror image but only with facial expressions. Name the expressions as you go to help with language development
FOR ELEMENTARY AGES:
Play mirror image...follow every movement your partner is making
FOR ADOLESCENTS:
Have a three legged race!
ALL AGES: share a partner story...build the story together by developing one sentence at a time!
Wonder with St. Joseph
It's the Year of St. Joseph! We are shifting our wondering questions to look through the eyes of the Holy Family next month!
What a gift it was to grow in my understanding of God by raising Jesus. From finding him with the elders in the Temple to time spent in the workshop, I learned a lot. I was raised to worship the God of my ancestors and even to love him, but I never fully understood what it meant to have a relationship with Him. Jesus taught me to have a relationship with God, and he went on to teach others as well. He can teach you to have that relationship as well!
Parents – Children have a lot to teach as well as learn. Jesus had to learn the basics every child must – how to use a spoon, how to walk, how to talk, and so much more. Yet, he also taught his parents as every child does – how to love more, new ways to understand life, renewed wonder and awe. What have you learned from your child(ren)?
Young People – Imagine what Jesus must have been like at your age. Do you think he would have liked the same things you do? He would have had to learn to play games and sports, just like you do. Being part of the Trinity would not have made him the perfect soccer player.
FAITH WORD OF THE WEEK!
DID YOU EVER WONDER WHAT SOME OF THE WORDS WE USE MEAN??
CONVERSION: The root of the word conversion, means to transform or change. As Catholics, we should strive to be in a perpetual state of conversion..it doesn't mean that we experience it once and we are done forever. We believe that we are lifelong learners, continually being formed in faith, so we're not done learning about God when we are kids; there is so much more for us to experience in our faith journey. Ordinary Time, just like Lent and Advent is a season of conversion; an opportunity for us to turn away from that which separates us from God and toward a deeper relationship with our God.
SUMMER EDITION FORMAT BEGINS JUNE 2021; watch for our newsletter twice monthly!
Office of Evangelization and Catechesis
Roman Catholic Diocese of Rochester
Debtor in Possession