Written by: Karen Lynn Williams and Khadra Mohammed
Illustrated by: Catherine Stock
Theme: making friends and self-identity
Williams, K. (2009). My name is sangoel. Grand Rapids, Michigan: Wm. B Eermans Publishing Co.

Sangoel is a boy from Sudan, his father died in war, and he has to go to America with is Mama and sister. When they get to America everything is unfamiliar but Mrs. Johnson helps them find an apartment and learn the culture. When Sangoel goes to school he seems to lose his identity because nobody can say his name correctly. Sangoel finds a solution that brings the whole class together.
Awards (Nominated and Received)
Smithsonian Magazine
,
Notable Books for Children
(2009)
Children's Book Council
,
Notable Social Studies Trade Books for Young People
(2010)
International Reading Association-Children's Book Council Joint Committee
,
Children's Choices
(2010)
Maine Association of School Libraries
,
Chickadee Award Nominee
(2010)
Pennsylvania Library Association
,
Carolyn W. Field Award, Honor Book
(2010)
Children's Africana Book Awards
,
Noteworthy
(2010)
Washington Children's Choice Picture Book Award
,
Nominee
(2011)
Arkansas Diamond Primary Book Award
,
Finalist
(2011)
Keystone State Reading Association
,
Keystone to Reading Book Award Nominee
(2010-2011)
Cooperative Children's Book Center (CCBC)
,
Choices
(2010)
Friends of the Roanoke County Public Library
,
Roanoke Valley Reads
(2011)
Junior Library Guild
,
Selection
United Society of Friends Women International (USFWI)
,
Reading List
About the Authors and Illustrator
Karen Lynn Williams:

Karen was born in New Haven, Connecticut in 1952. Her family read out loud a lot at home and when she was in sixth grade she started a writing club with other kids in the neighborhood. Karen decided to go to college at the University of Connecticut and majored in Speech Pathology. Later she got her Masters in Deaf Education. In 1980 Karen worked for the Peace Corps in Africa as a volunteer in a school for the deaf and later an English teacher at an all boys school. From 1990-1993 she lived in Haiti with her family, where her husband was a doctor in a hospital. In 1994 the family returned to the United States, but in 1999 she returned to Haiti to spend another year there. From 2006 to 2009 Karen was a volunteer at the Refugee Center in Pittsburgh and her son got married in Taiwan. Her experiences in different countries and at refugee centers had a big impact on her motivations behind writing "My name is Sangoel." To this day she still enjoys learning about other cultures.
Khadra Mohammed:
Khadra is the director of the Pittsburgh Refugee Center, who is from Somalia. She has over twenty years of experience in working with refugees in the United States, Pakistan, and Kenya. She is currently working to raise awareness of problems that refugees face in the community.
Catherine Stock:
Catherine was born in Sweden and at the age of 4 her family moved and she started school is Paris, at this time she was already speaking French fluently. A few years later her family moved to South Africa for four years and then moved to New Orleans after that. Catherine was going to attend the University of Cape Town, but classes started in March so she decided to backpack Europe for 8 months. She started in Paris and moved her way around until she ran out of money she ended in Israel. After 4 years studying arts in school she got a job in Cape Plats and taught art and art history at a teacher's training college. Catherine then decided that she wanted to get her teaching certificate so she went to London. Later, the illustrator had littler money and went to New York to visit her family. Her mother paid her to paint family portraits and when the word got out she was able to make enough money to pay for a post graduate degree at Pratt. She published for a several years and then decided to write children's books.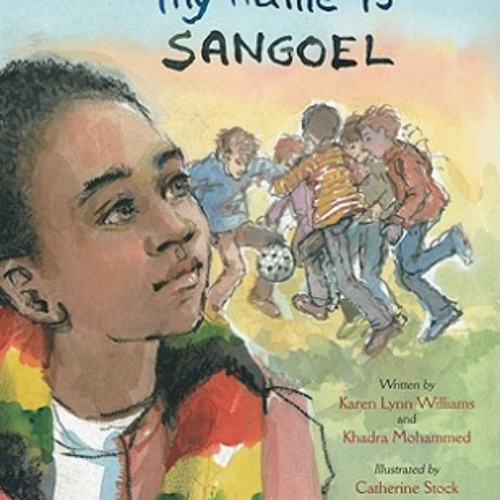 schendrix
My name Is Sangoel by schendrix
Above is an illustration from the book. Here, Catherine Stock uses bright water colors to show the excitement that the main character is feeling.
Criteria that determines the book Multicultural
-Rich in cultural details: The book describes Sangoel's life and family history in Sudan. The reader can see the character development throughout the story has he transitions from life in Sudan to life in America.

-Includes characters with a cultural group of two or more cultural groups who interact substantially: Throughout the book Sangoel's family's culture and the American culture are interacting. Sangoel is introduced to American culture at the airport, when moving into the apartment, and when going to school. Mrs. Johnson is learning the culture of Sangoel as she is helping him and his class is interacting with his culture when they meet him at school.
- Includes a member of a minority group for a purpose other than filling a quota: Sangoel's character is used to show what it is like to be a refugee, but also to connect students to self identity and friendship. He feels like he is losing his identity until he finds a way to introduce his classmates to it.
Classroom Teaching Application
Grade Level
: 2nd Grade
Common Core ELA Standard:
RL.2.3 Key Ideas and Details
Describe how characters in a story respond to major events and challenges.
Teaching Objective:
By the end of the lesson students will be able to identify the challenges that the main character faces and the response the character has to the challenge.
Teaching Strategies:
- Students can connect to this story by investigating what means the most to them and making new friends. The teacher can explore cause and effect with the students and help them understand that the things that happen around them make them react and it is best to try to react in a positive way. The students can then identify Sangoel's challenges and see how he reacts to them. A social studies lesson on immigration could be incorporated into the lesson.
- Writing the objective on the board and telling the students what they should be looking for throughout the story will help them pick out the details they need in order to learn. When the teacher gets to a challenge while reading, he/she can ask the students what they notice so far in the story so they recognize the key details.
- The students can they practice the strategy by drawing and writing out what Sangoel's challenge was and what his response was. This will help the students practice the skill
- After the students are finished the teacher can split the class into groups and give each group a different challenge. The students can come up with a response to the challenge and act it out for the rest of the class. The rest of the class can watch their skit and identify the challenge and the response. This ail increase the student's mastery.