Leadership Recruitment Blitz
Three Hours to Focus On Recruitment
A Step By Step Guide To Leadership Recruitment Blitzing
Utilizing a Leadership Recruitment Blitz is one of the best ways you can reach out to a lot of potential volunteers in just one day. Follow this step-by-step guide to planning and implementing your blitz, and you're on your way to building your leadership bench strength!
Step 1: Put Together Your Plan
Things to consider:
Prior to the Blitz, brainstorm with your Event Planning Committee to come up with a "hit list" of potential leaders who could join your committee. These may be people who you connected with during your event while Working the Track or people your committee members have been working with to plant the seed of getting more involved.
As you brainstorm, start to think about how being part of Relay For Life will benefit their personal or professional life. This will come in handy as you start to present the opportunity to your potential volunteer.
Use this "hit list" to create your blitz list – a list of all of the potential volunteers, along with contact names, contact info, and how to connect with the contact person while blitzing (are you going to stop by or call?)
Step 2: Set a Blitz Goal
Things to consider:
Your Blitz Goal might include the number of potential volunteers you hope to contact during the blitz or it might include the number of new volunteers you actually recruit to a committee on the blitz.
Regardless of what your goal is, it is important to have a goal to shoot for. It gives you direction and it gives you a way to measure the effectiveness of the blitz.
Step 3: Warm Up Your Contacts
Things to consider:
Going in "cold" can sometimes throw people off. Warm up your contacts by sending an email or letter to them in advance. Your message could sound something like this:
Hello,
I'm writing you after hearing about you from <<Insert volunteer or how you were referred to them>>. I work with the American Cancer Society on Relay For Life in your community. Relay For Life is not only an amazing experience for your community, but also a great way to give back in the community. If you are not familiar with Relay For Life, check out this video to get just a glimpse of this amazing event.
We are in the process of forming our leadership committee for the coming planning year and I would love to talk with you further about opportunities to get involved. I'll be in touch soon to discuss further.
Sincerely – Sally Staff Partner
Step 4: Put Together a Blitz Kit
If you are doing a in person Blitz, be sure to have the necessary printed materials available to leave behind. Paper handouts can be put into RFL folders for distribution to each potential volunteer. Things to include in each Blitz Kit:
Your ACS Nametag
Blitz Tracking Sheet (posted to Yammer or see an example below)

RFL event fact sheet or brochure with contact info
Staff business cards
A leave-behind and a call to action – an invitation to an upcoming Committee Meeting or Kickoff

Step 5: Listen Live to the Nationwide Blitz Rev Up Call
Tuesday, Oct. 29th, 12-12:30pm
This is an online event.
Call In Number: 1.888.512.3142 x19183716#
Join your peers across the country on October 29th for the first ever Nationwide Recruitment Blitz! This blitz will focus on recruiting leaders and following up on warm leads from your efforts Working The Track at your events.
Designed to be a pilot of 3 hours. The first 30 minutes, join a rev up call to get you energized and focused. The next 2 hours, block off to do recruitment activities like cold calling, warming up prospects, and direct asks of volunteers. Use the last 30 minutes to track your results and follow up. Join us as we see what kind of impact we can have when we all focus on the same thing at the same time!
Cannot listen live? Listen on your own time and do your own blitz...anytime! Click below to listen to our quick 15 minute rev up call!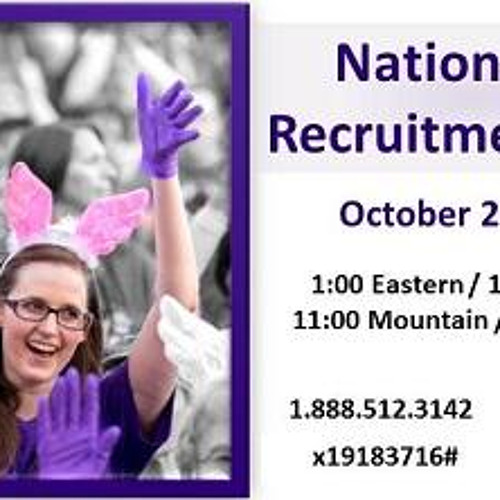 user349619633
Leadership Recruitment Blitz Rev Call by user349619633
Start Blitzing!!! Plan, Warm-Up, Ask!
Step 6: Start Blitzing
Warm up the contacts, get in front of people either via phone or in person, make connections, assess their readiness, and ask for their commitment! Come on, what do you have to lose? No one has been offended that you saw leadership potential in them. Give them an opportunity to fight back today!
Step 8: Follow Up
Things to consider:
A blitz is a fantastic way to stay focused on recruitment, but sometimes the secret is in the follow up. Touch back with those with whom you connected. If you did a direct ask, regardless of the outcome of that ask, thank them for talking with you. If you were able to secure a meeting, follow up with an email with a link to a video to educate them more on Relay For Life. If you are able to just make a new contact, follow up with a handwritten note and your business card.
Initial follow-up must occur in a timely manner, typically within one week following the blitz. Continuous follow-up should occur throughout the rest of Relay season – until the potential new volunteer says No or until they register to participate! The average person needs to be exposed to something new 7-10 times before they make a commitment.
Usually, follow-up after a blitz will include a thank you for talking with you on the blitz, an invitation to the Kickoff or next team meeting, and/or an offer to present Relay at a staff meeting or other employee meeting.
Things to Remember
Be organized – make the most of your Blitz time by planning out visits & grouping visits by location in the community
Wear the Relay For Life logo when you blitz – it's instant publicity for your event
Gaining commitment is less about pitching your story and more about listening to your potential volunteer, what they are looking for in a volunteer opportunity, and then matching the needs of the event to their needs. Ask questions, get to know then, and listen….that being said…..
Talking with new potential Relayers is an art! Feel free to utilize the Recruitment Scripts available on Relay Nation and practice your pitch.
Always leave a "call to action" – an invitation to an upcoming meeting, a Kickoff, or a Relay Rally
When you visit a potential team or volunteer, don't leave without getting a follow-up contact name and email or phone number. If possible, agree on a follow-up time with the contact, as well, so they know when they can expect to hear from you with more information.