Share. Connect. Engage. Lead.
Better digital leaders one megabyte at a time
What will you find here?
Hello, principals! I hope your year is off to a wonderful start. As I have stated numerous times, I am excited to work with each of you this year. I have created this Smore to share some information with you between those times where we have an opportunity to sit down and talk. So, what will you find in this Smore? You will find...
...real-world examples of the things we are currently working on and discussing.
...thoughtful blog posts from practicing principals and school leaders.
...articles that pertain to the work we are doing.
...thought-provoking and interesting videos around topics we are discussing.
...audio/podcasts with great interviews and topics around education, technology and leadership
This information will come out every two weeks, between our regularly scheduled meeting times.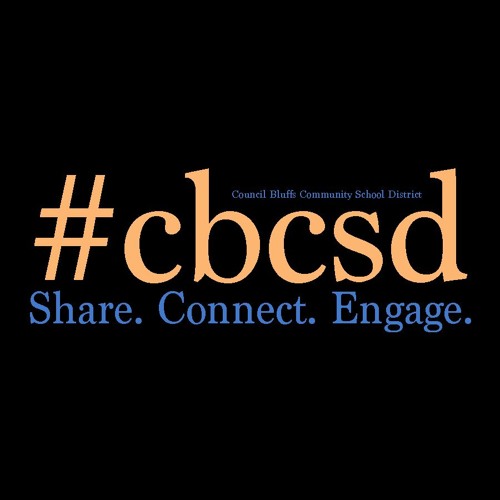 Dschoening
Share. Connect. Engage. Lead. Podcast. 2. by Dschoening
Here are a few examples of some Tweets sent out by #cbcsd principals during the past couple of weeks.
| | | |
| --- | --- | --- |
| | | |
| Anchor chart shared from Longfellow (link to Instagram post) | Rue students getting logged on to their Chromebooks | Being read to is important at Carter Lake |
Here are a few Instagram posts shared by #cbcsd principals during the past couple of weeks.
Videos
Here are a couple of interesting videos about the utilization of social media by school principals.
Video 1 (1:54) - "Obvious to me, amazing to others" - This short talk by Derek Sivers is a great reminder that what we decide to share can have an impact on others, even if we believe it's mundane, easy, or "everybody's doing this."
Video 2 (25:56) - "Sharing: The Moral Imperative by Dean Shareski" - This is a great video by someone I truly respect and whose thoughts and ideas I value.
Obvious to you. Amazing to others. - by Derek Sivers
Sharing: The Moral Imperative by Dean Shareski (2010)
Audio
The following is an episode of the 'PrincipalCast' podcast hosted by Dr. Spike Cook, Jessica Johnson and Theresa Stager where they interview Amber Teamann about engaging school community through social media. (The first box is just a screenshot for the podcast, you can listen by clicking the next box, or downloading in iTunes.)
Devin Schoening
I'm looking forward to working with you all this year. Please feel free to contact me any time.