Have you ever been inspired by someone? Well Sammy Davis Jr has inspired many people with his great talent as an actor, singer, dancer and comedian. On December 8th 1925, this amazingly talented guy was born. He has done many things with his life, never stopping until he was at the top.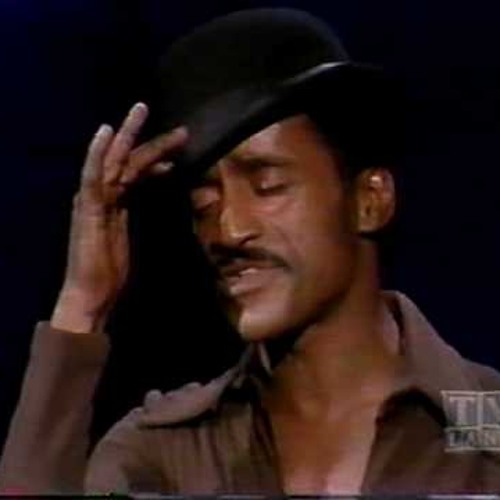 scottrek119
"Mr. Bojangles" - Sammy Davis, Jr. (Live) by scottrek119
Sammy Davis Jr was born into the acting career. With both of his parents actors in someway, Sammy performed on stage for the first time at age 3. He graced the stage, he was so good. Later, Sammy was in a trio with his father, performing with him on stage. Sammy married three times. First to a girl he was only married to a year. Loray White, in 1958-1959. His second wife was May White. Lasting 8 years, with one daughter and two adopted sons. His third and final wife was Altovise Davis. Lasting for the rest of his life, from 1970-1990.
First doesn't Always Work

Sammy Davis Jr and his first wife, Loray White.

Second isn't the Winner

Sammy Davis Jr and his second wife, May Britt.

Third Times a Charm

Sammy Davis Jr and his third, but last, wife Altovise.
Sammy Davis Jr had many accomplishments in life. He made many albums, was in movies and had met Martin Luther King Jr. Sammy Davis was in the movies Mr. Wonderful and Golden Boy. He was also a comedian. He was born into the fame. His dad was an actor and his mom was a dancer, traits that he took also. Sammy was known for his tap dancing. That's one of the biggest things that kept his fame strong. If he hadn't known tap, his career wouldn't flew downhill in 1970. Sammy Davis Jr also met Martin Luther King Jr. He went along with Martin's thinking. Although is was illegal, Sammy did marry two women not of his race. He had a hard life as an African American. Many people tried to put him down. One thing that Sammy would not do, was perform in venues that practiced segregation. He forbid it. He would not because he believed that everyone was equal, no matter the color.
Sammy Davis Jr also made Broadway. He was a headliner once for his amazing talent in New York and Las Vegas. He worked very hard and took it very seriously. Sammy broke color barriers with a group he was in, Rat Pack. He was one of two African American's in the group. He didn't let that stop him. He performed just like he normally would with anyone. His race didn't slow him down.
Sammy Davis Jr had a good, inspiring life. He always worked to his best abilities. He always stayed happy. Sammy made talents change, people realized how much they can succeed if they try hard enough. Everything had to come to an end, though. Sammy, being a life-long smoker, died of cancer. Sammy passed away on May 16, 1990. Everyone knew he went, with success.