The Trekker Times
March 21, 2022
Principal's Pen
Dear Bishop Baraga Trekkers,
We had a wonderful Open House last Tuesday evening. Thank you to all those who joined us! It was a blessing to see so many of our families. Our goal each year is to reach 90% re-enrollment by the end of March. We are already almost there! If you have any questions about your tuition contract or enrolling, please give me a call. I also encourage all those applying for financial aid to get those applications done as soon as possible. There is more information below about financial aid.
Spring Break is almost here. This Friday, March 25th, is a half-day of school with dismissal at noon. I pray that everyone has a safe and restful time during this time off! School begins again on Tuesday, April 5th.
Our Caught Being a Christian Award this week goes to Gemma Raiche. Gemma welcomed and watched over a preschool student during our lunch recess and bake sale. She was practicing the virtue of kindness. Great job, Gemma!
God bless,
Angela Oller
Reading Month
During March we've had many of our classes reading books to the younger grades. The 7th and 8th graders took time to read to the kindergarten students. The third graders read to the pre-kindergarten class.
Financial Aid
Financial aid is available to all families with children in kindergarten through eighth grade. Families apply for financial aid through their FACTS account. The cost to apply is now $40, which is a $5 increase from last year. Once you login to your FACTS account, click on the
Start an Application
button on the right hand side.
Financial aid applications should be submitted by March 31, 2022. The financial aid committee will meet in April to grant aid. Families that apply will be contacted once the financial aid committee meets and contracts will be finalized at that time.
Please call the office if you have any questions about financial aid.

First Grade Planting
The first graders planted flower seeds last week. They will be anxiously watching to see how they grow in the next few weeks!
Door Prizes
We had door prizes for three lucky families during our open house. The Erickson family won the Family Game Night Prize. The Cabrera family won the Party Picnic Cooler and the Mayes family won the Pot of Gold Basket. Congrats!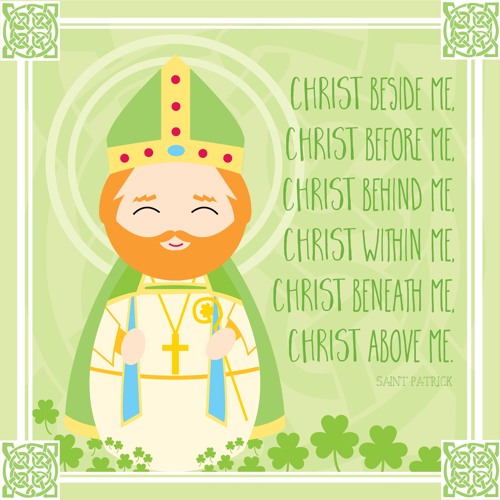 Shining Light Dolls
Ep. 99 St Patrick by Shining Light Dolls
Upcoming Events
Tuesday, March 22: Crazy Hair Day (Preschool - Sixth)
Thursday, March 24: Storybook Character Day (Check with your classroom teacher)
Friday, March 25: End of 3rd Quarter
Friday, March 25: Noon Dismissal - Spring Break Begins
Tuesday, April 5: Return from Spring Break
Tuesday, April 5: Report Cards Go Home in Monday Mailer
Friday, April 8: Third Grade Swimming at YMCA (1:10 pm - 2:30 pm)
Thursday, April 14: Parent Association Meeting, 6:30 pm
Friday, April 15: No School - Good Friday
Monday, April 18: No School - Easter Monday
Scrip
The new scrip year began this month. Now is the time to start using scrip so that you can meet your $200 goal. Any money raised after that $200 can be used to pay for tuition. You may purchase scrip in the office, place an order online, or you can use the Raise Right app right on your phone. Check out the links below.
Our school code for the Raise Right app is: 446C3LD84665
Bishop Baraga Catholic School
Angela Oller,
Principal
906-774-2277 ext 107