Then we will fight in the shade!
Back to School: Rules and Routines in the Classroom
Saw this short article about rules and routines:
The point is that if you have a rule, you have to follow it yourself or the kids will question you, and worse, lose respect. No food allowed in the classroom and you have a Starbucks blueberry scone every morning that you eat during class? Just saying. I learned from experience. (The beauty of teaching 16- and 17-year-olds: They don't often hold back their opinions.) Being a model for what we expect is at times inconvenient and exhausting but it comes with the job.

Pamplin Park Teacher Advisory Committee
Tim Talbott of Pamplin Historical Park emailed me recently asking if any teachers would be interested in serving on a Teacher Advisory Committee for the park. In general, he says:
Pamplin Historical Park's Teacher Advisory Committee will serve to enhance programming by advising staff on existing and future education projects. Working within the framework of the Virginia Department of Education's Standards of Learning, the Committee will work with the Park staff to help communicate the classroom challenges and to develop practical methods for integrating the Park's resources through on-site and outreach programs.

So if you want to be a part of a historical park, please email me for more information.
Refugee Crisis in the Classroom
Teacher|Student Opportunities
Seeking Oct 12 Presenters
On Oct 12, I'd like to have a 5 - 6 more teachers presenting at the Staff Development Day. This can be about pedagogy, 21st Century teaching, or based on a summer workshop you participated in.
If you're interested in sharing what you know, let me know via email.
2015 State Social Studies Conference
This year's statewide Social Studies conference will be at the Waterside Marriott in Norfolk, Virginia on October 16 and 17, 2015. This year's them is EXAMINING SOCIAL STUDIES THROUGH MULTIPLE LENSES. We will update everyone with more information as we have it (such as speakers, vendors, etc...) or you can follow #VASHIFTSFOCUS on Twitter.

For more information, click here.
To register for the conference, click here.
Teaching About the Holocaust
THE VIRGINIA HOLOCAUST MUSEUM, in cooperation with the United States Holocaust Memorial Museum, presents a one-day professional development program that will provide teachers with resources and pedagogical approaches to teach about the Holocaust.
The workshop is free of charge to middle school, high school, and community college educators and includes books and resources from the United States Holocaust Memorial Museum. Educators will receive a certificate of participation at the completion of the program.
Continental breakfast and lunch will be provided.
For more information and to register please contact Megan Ferenczy, director of education, Virginia Holocaust Museum, at mferenczy@vaholocaust.org.
This will be on Oct. 23, 9am to 4pm.
UCI Road World Championships
Making Legends: The Road to Richmond
Community Service
I have a goal of 200,000 community service hours being performed for 2015-2016. To do that, I'm trying to make sure I help promote opportunities for students, so I'll be doing this a number of ways.
First, there is a new Twitter account for community service, @HCPSservice. If you have Twitter, follow i,t and you can share ideas with your students.
Service opportunities are also posted on a new community service website and students and parents can sign up with REMIND as a way get text messages for new opportunities.
There are also flyers for the classroom that I hope you will post for me, as a reminder to students. If you haven't seen these flyers, let me know.
The QR code also works.
More Kahoot
Last week in the
Resources Reminder
, I listed Civics Kahoots that teachers can use. Guy Gorman at Tuckahoe also has games you can use for 7th Grade US History. Just go to the Public Kahoots and search for
GuyGorman
, no spaces.
Speaking of Guy Gorman
Did you know he was a musician? Let's get this YouTube video into the triple digits!
Guy G. Gorman Singing in Montevideo 2014
HistoryConnects
HistoryConnects programs are interactive, primary-source-based historical explorations that highlight treasures of the Virginia Historical Society's collections while reinforcing both national and state standards of learning.
HistoryConnects programs are easy to schedule and require minimal technology. All you need is a basic computer, Internet access, and a web camera. Through the use of green screen technology, high definition cameras, and the amazing collection from the VHS, our distance learning programs offer learners a unique and dynamic experience they are sure to enjoy!
HistoryConnects is made possible by the Hugh V. White Jr., Outreach Education Fund.
It does cost money, so email me if you have any questions.
For more information, click here.
What is the DBVA?
The Document Bank of Virginia (DBVa) is the Library of Virginia's initiative to get documents into classrooms. Using primary sources, teachers can make history relevant to students while helping them learn and understand state standards. DBVa will teach students to be critical thinkers as they analyze the original documents and draw their own conclusions about Virginia's past.
Gilder Lehrman AP US History Resource
They rolled this out slowly last year, but now it's all ready to use for APUSH teachers. Study Guides, primary source documents, and videos for teachers and students to use. This could also be used in an honors class if you wanted to flip the classroom at all.
Trivia and Other Balderdash
Trivia 2015 - 2016: Teachers- 1 and Me- 0
Last week:
What made JFK's death unique?.... Todd Rigler from Henrico HS got the answer correct. JFK was the only president assassinated, but died in the same day he was shot.
This week:
Name the historical event from a famous song, and name the song:
"Eugene" sang it
Reference to Lucille Ball
You can listen to it as you Drive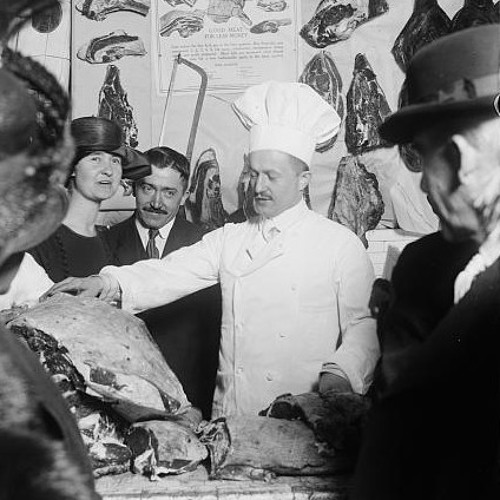 BackStory
Rare History Well Done: Meat in America by BackStory