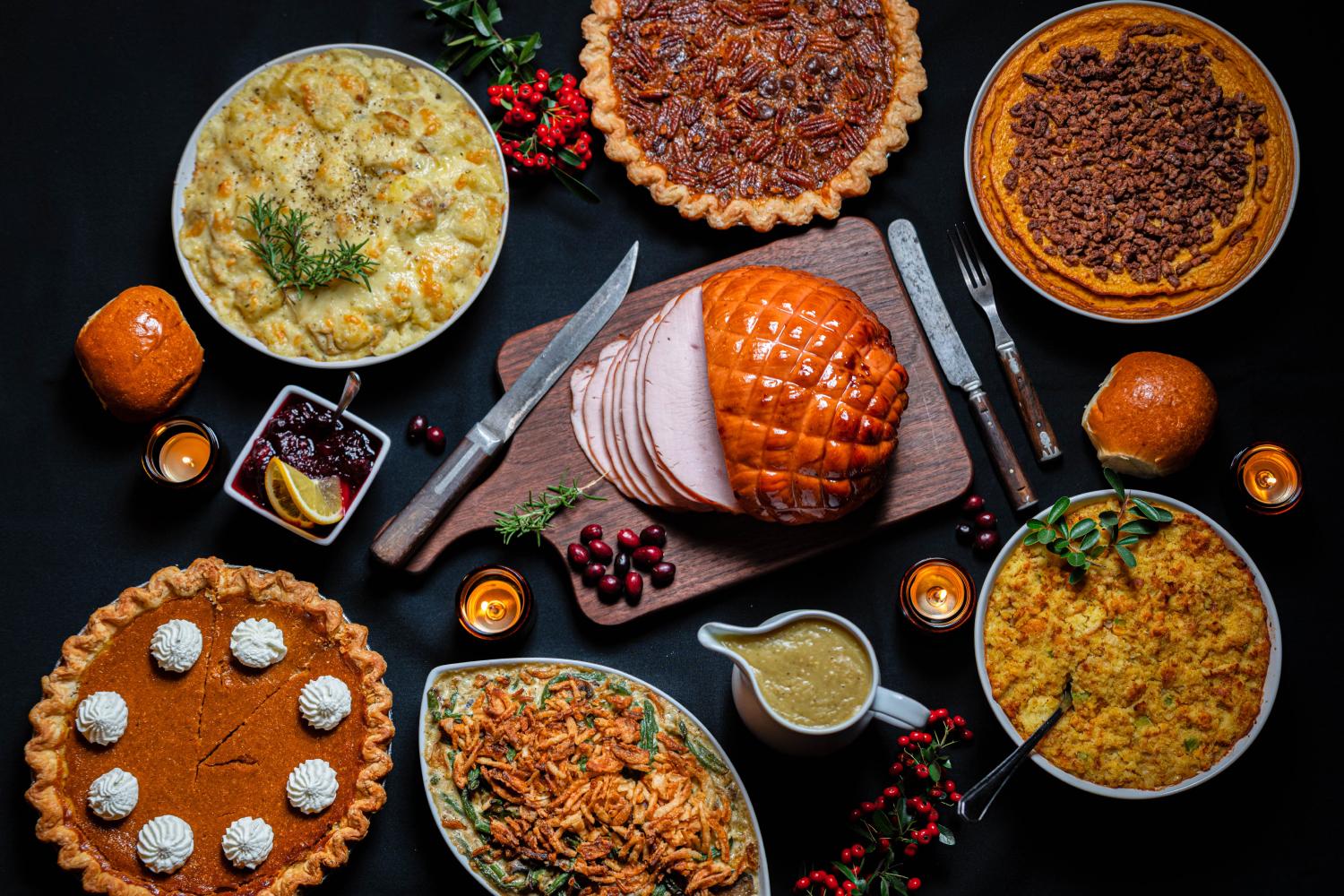 Elizabethtown Area Senior Center
November 2023
November at the Senior Center: Embracing Gratitude, Giving, and Togetherness
As the leaves transform into vibrant shades of red and gold, and a gentle autumn breeze fills the air, we welcome you to the November edition of our newsletter. It's a month that brings with it a sense of warmth and togetherness, and here at the Senior Center, we've curated a delightful array of activities and events to make the most of this beautiful season.
This November, we're excited to celebrate our "Gorgeous Grandmas and Grandpas Day," offering a day of relaxation and pampering for our cherished seniors. We believe that our community deserves all the care and attention they've bestowed upon their families, and this day is dedicated to you.
In the spirit of support and connection, we'll also be addressing the challenges of grief and loss around the holidays. The Fall Bazaar and Pancake breakfast promises a time of camaraderie and community, a perfect opportunity to engage with others and help the senior center raise money.
Our fall service project is all about giving back to the community. We'll be assembling To-Go lunch bags for ECHOS, a chance to extend a helping hand to those in need. Additionally, November brings "Extra Give," a special day of giving where you can make a difference in the senior center. Let family and friends know that anything they give on this day of giving will directly impact the senior center.
With Thanksgiving just around the corner, we've lined up a host of activities, including a delightful turkey craft, discussion on Thanksgiving nutrition, and a heartwarming canned food bingo game. We hope to create cherished memories and offer valuable insights as we come together to give thanks.
As we navigate this season of gratitude and reflection, let us cherish the moments we spend together, the bonds we create, and the warmth that fills our center. We look forward to sharing these wonderful experiences with you.
Wishing you a November filled with love, connection, and the joy of giving. Thank you for being a part of our Senior Center family.
November 2 - Back to Basics - What are Vitamins and Minerals: Learn the fundamentals of nutrition for a healthier you.

November 6 - Gorgeous Grandmas and Grandpas Day: Join us for a day of relaxation and pampering. We will be transforming the senior center into a spa, offering hand massages and nail polish, as well as guided meditation.

November 8- Greif and Loss Around the Holidays: Hospice Communities will be here to a discussion on loss and grief surrounding the Holidays.

November 10 - Prep for the Bazaar: Give of your time and have fun! We will be using our time together in the morning to prep for the Bazaar. We will set up tables, sort clothing, put jewelry on display, and make sure everything is in tip top shape for our Bazaar on November 11. There will be no other activities that morning.

November 11 - Bazaar and Pancake Breakfast: Volunteer your time, or come out support the senior center and the vendors of our community. Breakfast is $10/person.

November 13 - We Remember . . . Veteran's Day Activity: Join us as we remember those who were served our country. We will remember our Veteran's, sing Patriotic songs, and have a time of discussion.

November 15 -Painting with Lancaster Creative Factory: We will be getting creative and paint with Joanna. All participants will paint with acrylic paint on a 9x11 canvas.
November 17 -ExrtaGive Day: November 17 is a day of extra giving across the county. In the senior center we will giving extra bingo to encourage extra giving. Please plan to give a little for each game you play. If you can't join us in person to give and play please consider making a donation online. Prizes will be offered for those who give online and in person.

November 20 - Turkey Reading with the Preschool: Join us for a silly story and giggles to be had by all.

November 21 Thanksgiving Nutrition-- Overeating can happen to anyone around the holidays. We will be discussing tips and tricks to eat all the yummy food but not overeat.

November 22- Thanksgiving Bingo-- We will be playing bingo with unique prizes. Please bring a canned good/boxed good to share for the prize table. The items do not have to be Thanksgiving themed. If you are unable to bring a canned good you may still share in the joy and fun of the bingo game.

November 8 and 22- Chair Exercise with Judy-- Please note the date change for this month.
Mark these dates on your calendar and be part of the November festivities at the Elizabethtown Area Senior Center!
Are you ready to get crafty and bring a touch of autumn charm into your home? Join us on November 15th for our Craft Club, where we'll be creating delightful wooden pumpkin centerpieces. This hands-on crafting activity promises to be a fun and creative experience for everyone.
Event Details:
Date

: November 15th

Time

: 1:30 pm,

Materials

: All crafting materials will be provided, including wooden pumpkins and a variety of materials to decorate them.
During this special Craft Club session, each participant will have the opportunity to craft a total of three wooden pumpkins. You'll have access to a wide range of materials to adorn and personalize your pumpkins, allowing for a creative and unique expression of your autumn spirit.
Whether you're an experienced crafter or a first-time DIY enthusiast, our Craft Club is open to all skill levels. Our friendly and supportive crafting community will be there to assist and inspire you throughout the process.
These wooden pumpkin centerpieces are not only a wonderful addition to your fall décor but also make for great gifts for family and friends. So, come prepared to enjoy a few hours of crafting, laughter, and the satisfaction of creating something beautiful with your own hands.
We can't wait to see the amazing pumpkin centerpieces that you'll create during our Craft Club gathering. Join us for a morning of creativity, camaraderie, and a whole lot of fun.
Please make sure to sign up in advance to secure your spot for this event, as spaces may be limited.
We look forward to crafting together on November 15th!
At the Elizabethtown Area Senior Center, we rely on the generosity of our wonderful community to make our events truly special. As we prepare for several important initiatives in the coming weeks, we kindly ask for your support in making a positive impact:
For ECHOS To-Go Lunches (November 16)
Items Needed:

During the month of October, we will be collecting items to prepare "To-Go Lunches" for ECHOS. Your contributions are vital in helping those in need. Please consider donating the following items:

Bottle of Water
Protein (nuts, shelf-stable cheese, tuna packet, beef jerky)
Fruit Cup with Spoon
Packages of Snacks (PB crackers, granola bars, pretzels)
These items will help us create nourishing meals for those less fortunate in our community. Your support goes a long way in making a positive impact on the lives of others.
For the Bazaar (November 11)
NEW Items for Raffle Baskets:

Consider donating new items that we can use to create exciting raffle baskets. These can include gift cards to local stores or restaurants, new kitchen items, new housewares, new jewelry, and new bath/personal care items. Your contributions will enhance the prizes and make the Bazaar even more enjoyable.
Thank you for your kindness, generosity, and willingness to make a difference. Together, we can achieve great things and continue to be a beacon of support in our community.
As we approach the end of November, we invite you to join us for a delightful Lunch-In on November 29th at 12:00 PM. This event is designed to bring the flavors of a local favorite, Bellia's Pizza 2, directly to you at the Senior Center.
Event Details:
Date

: November 29th

Time

: 12:00 PM

Location

: Elizabethtown Area Senior Center
How It Works:
Order Your Meal: We've made it easy for you to choose your favorite dishes from Bellia's Pizza 2. Please take a moment to browse the menu at Bellia's Pizza 2 Menu and select the items you'd like to enjoy.

Place Your Order: To place your order, simply call us at (717)367-7984 or visit the Senior Center to fill out your order form. Please be sure to specify your choices from the menu. Money is due by November 28.

We'll Take Care of the Rest: Sit back and relax while we take care of the ordering and delivery for you. On November 29th, we will ensure your chosen meal from Bellia's Pizza 2 is brought right to the Senior Center for you to savor.
This Lunch-In is a fantastic opportunity to enjoy a delicious meal from a local eatery in the company of fellow seniors. You can choose from a wide variety of items on the menu, including pizza, pasta, sandwiches, and more, to suit your preferences.
We encourage you to take a moment to explore the menu at Bellia's Pizza 2 Menu and make your selections in advance. It's a convenient and enjoyable way to treat yourself to a flavorful meal without the hassle of cooking or leaving the Senior Center.
Don't miss this chance to relish some delectable food and engage in conversations with your friends and neighbors. We're looking forward to sharing this delicious experience with you on November 29th.
Please make sure to place your order in advance so that we can make all the necessary arrangements for a fantastic Lunch-In.
We can't wait to share this meal with you!
During 2023, we will have a monthly meeting of our Advisory Council. This month we had 6 representatives attend our meeting. We have 3 open seats.
This month the following things were discussed:
- Novembers Activities
- October Service Project
- Fundraising
- General questions about the center
If you have any suggestions for the current year or next year please seek out a council member, Jess Wayne or Julissa. The current members of advisory council are:
· Lee Salter
· Ann Salter
· Dianna Pirkle
· Vaughn Jennings
· Donald Mowbray
· Sandy Long
· Lois Lynn
· Mary Keener
· Judy Alwine

Join Us For Afternoon Bingo!
Afternoon Bingo will be held November 1. Doors open at 1:20 pm, bingo starts at 1:45 pm. We will play 2 hours of bingo, with a 15 minute intermission in the middle. Cost to play is $10. Light refreshments will be provided. Prizes include snack items, nuts, fresh fruits and veggies, and puzzle books.
Do not miss the fun!
Contact us
Phone: (717) 367-7984
Email: seniorcenter@getintogears.org
Connect with us on Facebook: Search 'Elizabethtown Area Senior Center'
Jess Raush, Director
Wayne Bream, Assistant
Julissa Rivera-Santa, Assistant
This program is funded, in part, under an Agreement with money allocated by the PA Dept. of Aging and the Lancaster Co. Office Of Aging. A community service of GEARS.
Jess Raush
Jess is using Smore to create beautiful newsletters