Kate Duffy, Wedding Singer
Acoustic-style wedding music for your ceremony
Hi! from Kate
I'm so pleased you've found yourself here on my website. Take a look around and see if you like what you hear and see. I have a
track below
with short clips from a few
sample songs
, so you can hear what I sound like. These are rough demos but they'll give a good idea! If you have a
particular song
in mind for your wedding and you want to know what I would sound like singing it, give me a message and
I'll record a small sample.
I want to make sure you're totally happy with what you get.
There's also a link to my soundcloud, and some of the other music (and my original songs) that I do, aside from weddings.
All my contact details are at the bottom of the page, and please do get in contact. I'll reply within 24 hours and there's no strings attached-- if you just have a query, that's great! If you're interested in booking me, that's even better!
Hope to hear from you soon.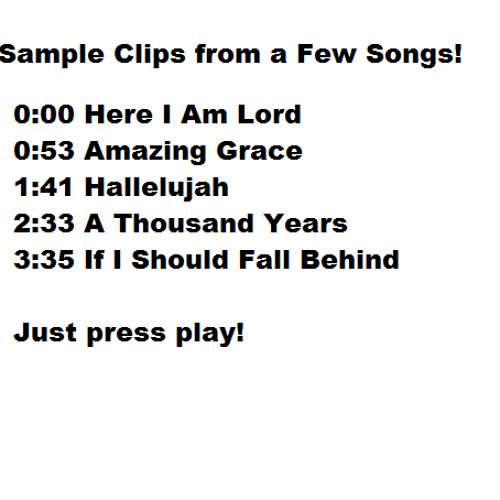 Kate.Ella.Music
Church Ceremony Sample Music by Kate.Ella.Music
Songs from Previous Weddings
Hallelujah (Leonard Cohen/Jeff Buckley)
Down In The River to Pray (Alison Krauss)
More Than Words (Extreme)
Here I Am (Bryan Adams)
If I Should Fall Behind (Bruce Springsteen)
Songbird (Fleetwood Mac/Eva Cassidy)
Fields of Gold (Sting/Eva Cassidy)
All For Love (Bryan Adams)
Ave Maria
Here I Am Lord
L.O.V.E (Nat King Cole)
A Thousand Years (Christina Perri)
Your Love Keeps Lifting Me Higher (Jackie Wilson)
How Long Will I Love You (Ellie Goulding)
I'm Yours (The Script)
Sea Of Love (Cat Power)
Kate.Ella.Music
Kate.Ella.Music
Clones
I am also part of a female duo based in Mallow, called Clones. We are available to book as ceremony singers or as wedding reception music, if you'd prefer to have more than one singer. We do much of the same style music but the harmonies give it something special.
Check out our YouTube:
https://www.youtube.com/channel/UCS5uPkUc0G0ix57d3ral7ug

or Soundcloud: