That's Not Fair!
Emma Tenayuca's struggle for justice
Tafolla, C., & Teneyuca, S. (2008).
That's not fair!
. San Antonio, Texas: Wings Press.
Information About the Book
Author: Carmen Tafolla and Sharyll Teneyuca
Illustrator: Terry Ybanez
Genre: Non-fiction
Topic or theme of the book: It's a story that shows the bravery of a young women during the hardships of pecan shellers.
Award nominated or received:
About the Authors
Dr. Carmen Tafolla is a native of San Antonio's West-Side barrios and an internationally published writer. She has her Bachelors, Masters and Doctoral degrees in Education. Tafolla has taught at universities and has presented her work at schools and colleges across North America and Europe. In 1999, she earned the "Art of Peace" Award, presented by the President's Peace Commission of St. Mary's University. Carmen Tafolla lives in San Antonio, in a 100-year old house with her husband, children, and many pecan trees.
Ms. Sharyll Teneyuca is a graduate of Rice University and New York University School of Law. As a Municipal Court Judge, she created the Community Service Program, providing an alternative to incarceration for citizens unable to pay city fines. She carries out her Aunt Emma's legacy of compassion for human beings and dedication to justice. She lives in San Antonio with her husband and three sons. She is currently at work with co-author Carmen Tafolla on a full biography of Ms. Emma Tenayuca.
About the Illustrator
Ms. Terry Ybanez is a respected artist from her hometown of San Antonio, Texas. She has donated much of her time to creating historical murals honoring significant San Antonio women. She hold degrees in Studio Art and in Bilingual/Bicultural Studies. She lives with her husband in San Antonio where she teaches art in an inner-city high school.
Criteria for High Quality Multicultural Literature
This book has intellectual abilities and problem-solving capabilities.
Emma showed that she was intelligent because she saw the problems that others were having at such a young age. She didn't understand why until she was older and that's when she decided to do something about it. She showed problem-solving capabilities by organizing a strike against the pecan factory when she was only 21 years old. She gave a voice to the voiceless.
Characters should authentically reflect the distinct cultural experiences of a specific cultural group.
This book is based on the true story of one young women's fight for justice. She recognized the hardships and unfairness of the pecan factory workers and fought for better pay. Emma's friend Maria portrays what happened and still happens to immigrant families. The parents follow the work that comes with the different seasons which sets the children behind in school.
Illustrations should complement and enhance the imagery of the story.
The illustrations show the how the Mexicans lived compared to the whites. It also shows the conditions that the women and children worked in at the pecan factory and the weariness it caused them. The illustrations properly show all different skin types. There is not just one color for the Mexicans or the whites.

That's Not Fair! Lesson Idea
Grade Level 1
CCSS RL.1.7 Use illustrations and details in a story to describe its characters, setting, or events.
The students will identify key details in the story specifically the acts of kindness that Emma does.
Lesson Procedure
The lesson will begin by the teacher bringing in unshelled pecans and asking the students if they know what they are. The students will then each get some pecans to try to shell themselves. The teacher will then explain that in the early 1900s, there use to be factories where women and children would go and shell pecans all day for very little money. The teacher will explain to the students that this was a very tedious and hard job but they had to do it for the money.
The teacher will then read the story aloud to the class pausing and asking questions such as: What does the illustration of the mother and baby tell you about how they are feeling? What does the picture of Emma's house tell you about her living conditions? Why do you think the kids in the picture don't have shoes on? Why do you think that Emma liked the song that the old man was singing so much? Would you be brave enough to do what Emma did? Have the students support their answers by using the text and illustrations.
To end the lesson, the students will individually illustrate a time when they did something kind for someone else. They should also include a few sentences that describe what they are illustrating.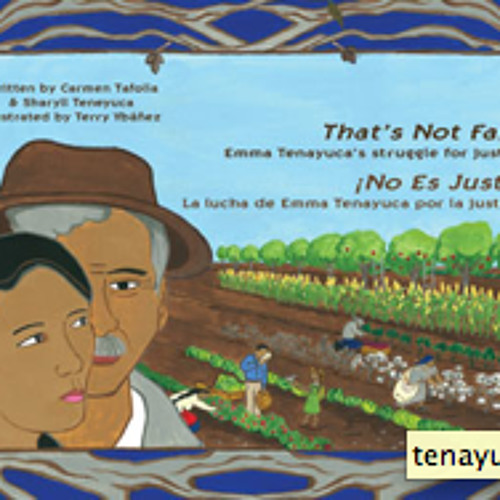 akriley2010
That's Not Fair! by akriley2010