Year in Review
Thiaw, Baby!
Kings Courtyard
Friday, Jan. 17th 2014 at 7pm
124 W King St
York, PA
Hosted by Carla Christopher; featuring Anna Jane and Maria James-Thiaw
Habari Gani? Kuumba! 2013 Year in Review!
This Holiday Season has been extremely busy, and yet, very rewarding as the James/Thiaw family got together to celebrate our love for one another. As we think of the principles of Kwanzaa and celebrate in the community, I am thankful for 2013 and all of the joys and accomplishments. Here are some of the highlights:
With Central Penn's 2012 restructuring, I was able to move out of the Communications department and into General Studies where I can focus more on my passion for literature and writing. It has been great sharing this enthusiasm with students. A new president was hired in 2013 and I was chosen to write a poem for an event welcoming her. That poem has now been published on Christmas cards sent out to our alumni and friends and I'm hearing that it will be framed and hung on campus for her inauguration.
January/February/March are always busy for Black female poets because of the heritage we celebrate in those months. April was National Poetry Month and I tackled the taboo issue of intra-cultural bullying with
the release of my latest book, Talking "White."
PostDada Press published the book in conjunction with iUniverse, and they hosted a book launch at the Midtown Scholar Bookstore in Harrisburg, PA in May. Another fun Spring event occurred in early April when Carla Christopher, poet laureate of York, PA, interviewed me about the book on
Culture & Main, a fabulous show celebrating the arts. You can check out the episode (#12) on Youtube
and hear me singing the blues too! In the Fall, I hosted my own episode (#29) and honored Harrisburg poetry icons, Nate Gadsden and Marty Esworthy. I also had the opportunity to talk with black artists about post-blackness and share the whole experience with students like the invincible
Amanda Khleor
, a survivor and a poet in her own right.
Between the performances and book signings I traveled all over the state. Features in Sunbury, Lancaster, York, Gettysburg, Philadelphia and others inspired me to start writing a collection of 'coffeehouse' poems about all of the cool venues I found myself in. In June I hosted a fundraiser for
Women At Risk, International
at the Ananda Yoga Studio in Mechanicsburg. I featured the wonderful poets Soul Cry, Carla Christopher and Christine O'leary-Rockey. We raised more than $300 to help the survivors of human trafficking. As of July, I celebrated an 80 pound weight loss and stepped onto stages around PA with a little more pep in my step! I proudly recited my poem for Treyvon Martin "The Verdict" at the Harlem Bookfair on July 20th. In August I was photographed for a fall fashion segment in the Patriot News and on
Penn Live
. Little did I know that a big change was on the horizon at that very moment!
I kept it moving, although feeling under the weather. I took on new projects such as
Poetry Editor for Minerva Rising's Summer issue and a member of the Poetry Board for Philadelphia Stories.
At Central Penn College, we started a literary e-zine and featured the work of budding young writers. I also developed workshops and presented at colleges like HACC, Elizabethtown and Rosemont College.
But something was stirring, and finally, I realized - oops, we did it again!
Another Thiaw is on the way, making us a family of 4!
This new little guy is scheduled to appear during National Poetry Month, 2014! His timing, impeccable!
Luckily, the new poetry reading I started in October at the
Cornerstone Coffeehouse
is a team effort between myself and Janet Bixler, founder of UCre-8, an applied theater business.
We created Word Flow Wedensdays, the first Wednesday of each month, where the words flow with world music to celebrate the diversity of our community.
See our next performance in February 5th featuring the ladies of
Poem Sugar Press
and the soulful sounds of Josh Mccord on Sex-aphone! Just in time for Valentine's Day!
Another very exciting project was to work with the arts organization,
Jump Street
for their Big Read events. I taught a Poetry in Nature workshop in Harrisburg and coordinated a slam featuring nationally known poet,
Taylor Mali.
A group of 10 of the fiercest poetic voices in the area competed for a $200 prize and the attention of Mr. Mali as well! I am hoping to work with Jumpstreet more closely in the near future. Speaking of slams,
I worked with Randy and Lauren Gross to bring back the Heavyword Poetry Slam.
Hopefully we can keep this momentum going!
It has been a busy year, but very exciting. Over the last few months I have worked with some wonderful poets and arts advocates. You'll see me out and about in 2014 with my little African king in a
moby wrap
! My 4 year old is becoming quite the ham as well, so don't be surprised to see him rocking the mic soon too!
Thank you for supporting my various venues and reading my latest book,
Talking "White."
Feel free to ask questions or leave comments about it. Here is what others are saying:
"I really enjoyed this collection of poetry. She has a way of weaving stories into the pieces, yet still illuminating the works as poetry. The pieces are clever, emotional, engaging and kept me glued to the book. Her takes on Black American culture and the Black experience in America were honest and it was really refreshing the way she crafted the poems so that they weren't typical or expected. This is not your average poetry book folks--it's a work of art." ~ Ife, ifemusic.com

"Masterfully written, thought provoking, and enchantingly descriptive leaving the reader feeling as though they you were involved in the moments the author has experienced. Relatable on many levels to many different people. Truly worth every penny and highly recommended!" ~ Amazon User
The best Kwanzaa gift is a new book that celebrates culture! You can get someone you love a copy of
Talking "White"
today.
Happy Kwanzaa and Happy New Year!
Sincerely Yours,
Maria James-Thiaw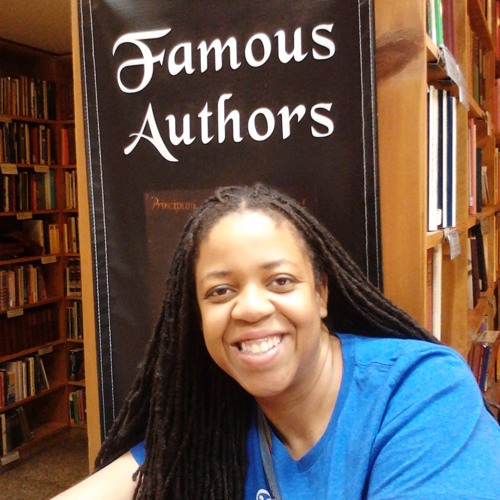 Mariathepoet
The Verdict by Mariathepoet
New Year's Resolutions
My vision for next year is to continue to serve the poetry community by being a unifying force in Central PA supporting the arts, and even advocating for the arts by creating programs for the youth in Harrisburg and surrounding areas. I plan to continue writing, publishing and connecting with you online every chance I get!
Maria James-Thiaw
I will be available for bookings before February 15th and starting again in Summer 2014. Contact me for more information.
Word Flow Wednesday
Wednesday, Feb. 5th 2014 at 6:30pm
2133 Market Street
Camp Hill, PA
Featuring the ladies of Poem Sugar Press and music by Josh Mccord!
The Big Read; Jeffers Project
Thursday, Feb. 6th 2014 at 6pm
272 North Street
Harrisburg, PA
This is a dramatic presentation honoring the poetry of Robinson Jeffers.
Harlem Book Fair, July 20th

Skinny me with actress Dona Hatcher and author, Robyn Hatcher,

Standing Ovation

- my gorgeous cousins!




Happy Kwanzaa!

Celebrating culture, heritage, community and creativity!




Word Flow Wednesdays

Every first Wednesday starting in February!