Julius Caesar soundtrack
by: Alex Coulson, Emily Kenny, and Rebecca Enlow
For Good -Emily Kenny
For Good Wicked-- Brutus and Cassius Goodbye

In act 5 scene 1 Brutus and Cassius say their goodbye's to each other, as they prepare to go to battle, knowing that they will most likely never see each other again. This relates to the song For Good in the musical wicked when Glinda and Elphaba have their emotional goodbye. With emotional lyrics like "I've heard it said that people come into our lives bringing something we must learn and we are led." This is equivalent to Brutus and Cassius friendship and brotherhood, they not only learned things from each other, they also led each other to battle and the murder of Caesar. Another parallel between the song and the play is the lyrics "It well may be that we will never meet again in this lifetime so let me say so much of me is what I learned from you" and when Brutus and Cassius thank each other for making them who they are while getting emotional considering they do not believe they will ever see each other again. "Because I knew you I've been changed for good." is a powerful set of lyrics that is a direct similarity to the final words between Brutus and cassius and highlighting the major idea of the scene that they have both made such a pivotal role in each other's life these last few years. The song "For Good" is the perfect song to illuminate the emotional scene in Julius Caesar where Brutus and Cassius say their final goodbye.
WICKED The Musical
For Good by WICKED The Musical
Games -Alex Coulson
n Act 4, Scene 3 Brutus and Cassius have some obvious conflict. The arguing starts out with a real problem, but then turns into threats and prideful boasting. Brutus accuses Cassius of being power hungry and of giving a man a position that he bribed his way to get. This totally offends Cassius, so Cassius threatens Brutus about what might happen if Brutus kept talking smack. The irony in this argument was, that Brutus and Cassius are on the same side and are fighting for the same thing. It was pointless and probably just made them trust each other less. In this argument neither of them wanted to be the first to back down, which is highlighted in the song "Games" by Luke Bryan. In the line where Bryan says, "Nobody ever comes out on top", I think that very clearly illustrates the real irony and problem with Brutus and Cassius' debacle.
ACT 4, SCENE 3
CASSIUS:
Brutus, bait not
me.
I'll not endure it. You
forget yourself
To hedge me in. I am a
soldier, I,
Older in practice, abler
than yourself
To make conditions.
BRUTUS:
Go to. You are not, Cassius.
CASSIUS:
I am.
BRUTUS:
I say you are not.
CASSIUS:
Urge me no more, I shall
forget myself.
Have mind upon your health, tempt me no further.
BRUTUS:
Away, slight man!
CASSIUS:
Is't possible?
BRUTUS:
Hear me, for I will speak.
Must I give way and room to
your rash choler?
Shall I be frightened when a
madman stares?
CASSIUS:
O ye gods, ye gods, must I
endure all this?
"GAMES" BY: LUKE BRYAN
And all of these games, we play
I can't even keep 'em all straight
Do we mean what we say
We got lines crossed all over the place, yeah
I can't tell if I'm winning or losing
Somebody tell me what are we doing
Nobody ever comes out on top
Tell me are we ever gonna stop
Playing these games
All of these games
Somebody I used to know -Rebecca Enlow
Somebody I used to know-- When Brutus stabs Caesar
In Act 3 Scene 1, Brutus and the other conspirators surround Caesar about to kill him. All of the other conspirators stab Caesar, and it's left up to Brutus to kill him. Just like in the song "Somebody I used to know", Goyte feels betrayed by somebody important to him, Caesar feels betrayed by his good friend and someone he trusts greatly. In the song, Goyte keeps saying "Now you're just somebody I used to know" and that's probably how Caesar felt when he looked up at Brutus and said the famous line "Et tu, Brute?", which means and "you too Brutus?". Even though this song is about losing a lover, Caesar loses a good friend who is close to him. Brutus feels like somebody he used to know to Caesar.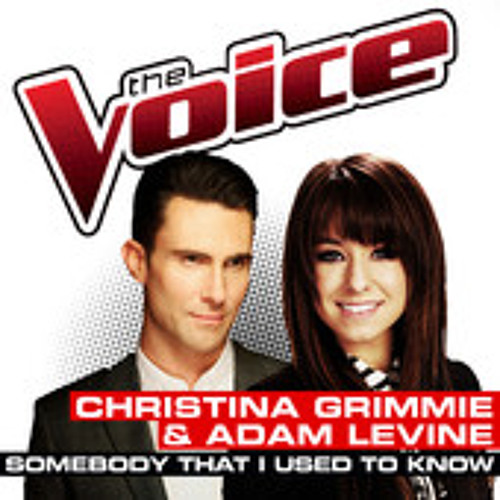 im_haze
Christina Grimmie & Adam Levine - Somebody That I Used To Know (The Voice Performance) by im_haze