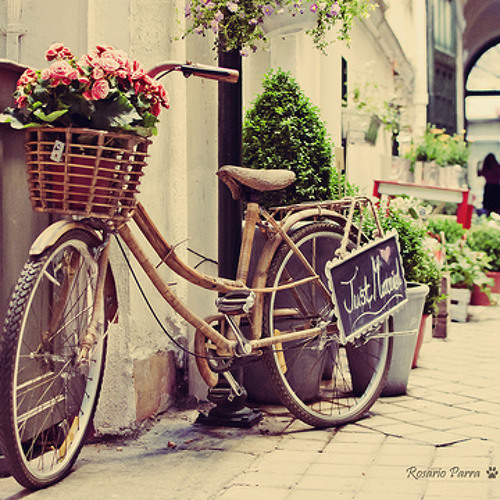 rozageiger
New Soul - Yael Naim, cover by: Róza Geiger by rozageiger
What's Happening in my Classroom
What went well?
This week was our first week back to school, so it was relatively laid back. We started Monday off with a teacher work day, The work day really helped my CT and myself get ready for the students to return to school. We were able to change the work displayed on the bulletin board, plan a mini preterit review session for the short week to come, and set the schedule for which I will be taking over the classes. It looks like I will completely take over her 3 Spanish II classes for 11 full weeks, and I will take over her 1 Spanish IV class for just about half that time. It was great to go ahead and set our schedule, so that I can best make use of my planning time. Although I did not teach this week, my CT allowed me to take a very active role in the planning. Since we only had a three day week, we had both Spanish IV and Spanish II start with three day mini units. Spanish IV spent the three days learning about Spanish countries' New Year's traditions. On Friday my CT and I even created a relay race based on the traditions for the students to participate in. It was such a huge success! The students loved it! We had them divide into teams and pick one person to do each of the following things: eat a bowl of lentils, sweep the floor, run around the pod with a suitcase, put red boxers on, throw coins off of the roof (their desk), and eat 12 grapes in one minute. Then each team had to write down the significance of each of the relay events. The team that completed everything and wrote down the correct significance first won! It was so fun to watch the students compete in these events.
One thing that I really love about MVHS is that on each teacher workday, the administration tries their best to incorporate some form of professional development. The school recently became a "Bring Your Own Device" school, so our professional development was based on ways that teachers could incorporate technology into the classroom. We were allowed to choose 3 of 6 technology based workshops to attend. I thought this was such a great idea, and a huge success. I learned about lots of great ways I can incorporate technology and foreign language in the classroom. I learned about Voki, Animoto, SMORE, and voice threads. These are all awesome programs that can easily be used to enhance a language classroom!
What did not go well?
Overall, I felt as though this week went really well. However, there were a few challenges I faced. One of the major challenges this week is our growth in class size. Two of our classes grew to 37 students. That is a small ARMY! It makes some activities really challenging! On top of that, one of the students we added to our large class is disabled. He has an electric wheel chair which requires a special table like desk. He also has to be seated close to the door for easy in and out access. It would be easy to push this student's table up to a wall, but that would complete isolate him. This is something he of course does not want, and we do not want for him. It was really difficult to fit 36 desks and his table into our classroom and arrange them to where we could still easily use our language lab. In fact it took us rearranging the desks up until he entered the classroom to make it work. This student also has very specific student accommodations listed out in his IEP. I am thankful to have him as a student, as he is teaching me valuable things about students with IEPs and how to meet their needs, but it is a challenge. I have to constantly keep him in the back of my mind when planning activities. This week we played a game where we normally have students run to the board to answer. We had to completely rework the game so that he could participate. That was difficult! I think that as time goes on, things will get easier. I believe I will develop an arsenal of modifications that will come in handy down the road. For now, I just have to be flexible and conscious of his needs.
There was another activity that did not go as well as I would have hoped. After learning about the Animoto program at a workshop on the teacher work day, My CT and I really wanted to incorporate it into a lesson. Animoto is a program that allows students to use their own pictures (or google images) along with captions to create a video. They can even add music and lots of fun things into the video. The program comes with all these styles and templates to enhance the video, and it is so easy to use. My CT and I planned to use the three day week to really review the preterit tense before starting on the imperfect. We thought it would be really fun to have the students create an Animoto about their winter break. This would require them to use phrases in the preterit, but it would be fun too! Animoto is a program that you do have to sign up for, but you can then create as many free 30 second videos as you want. It was easy to explain to the students, and they were even excited to use the program. However, we did run into some issues. The first issue is that we could not figure out how to incorporate accents into the animoto, so students had to type their text in a word document and past it into the animoto for it to have accents. That was very frustrating for my students. Another issue was that to meet the requirements my CT and I set, several of the students would have to go over the 30 second free video limit. It was difficult because we had to adjust the assignment right on the spot, and we will have to modify our grading. I am glad that we tried out the animoto program with our students, but it did show me that when trying out new things you are going to run into some issues.
Even though the start to 2014 was really cold, it is always sunny in our classroom!
This is the Spanish II side of the bulletin board that I updated on the teacher work day. I was super excited about it because these are the flowers my students created during my two week Fall practicum. It is nice to see the work I helped them do displayed. The flowers have the irregular past tense verbs in infinitive form in the center, the 5 conjugated forms of the verb on the petals, and then two sentences using the verb in past tense on the leaves.
Bring on the Change
Since it has only been a week, I will talk about more of some of the things I noticed that might need to change from my full time practicum last semester. One of the things I think I most struggle with is my classroom management. In fact, I am beyond thankful for our guest speakers in class the past week and all of their advice as it was EXTREMELY helpful for me. I learned the most from Mrs. White simply because she was just where I was! Every issue she faces, is an issue she is seeing for the first time. I am the same way. After class on Wednesday, I tried to think back to my experiences last semester, and evaluate my classroom management strategies based on the advice given. Part of the reason I believe that my classroom management was weak during my practicum is that maybe my expectations were not clearly stated to the students. I expected they would just assume that I wanted and expected the same things my CT did. That was not the case! I know that before I take over classes, I need to clearly state my expectations. The students need to hear it from me, even if they are the same as my CT's expectations. Another thing I noticed is that as the class would get louder last semester, so would I. I would try to talk over them to reign them back in. It was never very successful. I like the idea of lowering my voice as sign that my students also need to do the same. That is a change that I will for sure be making this semester. I also like the idea of letting students know up front that my CT is from this point forward and "observer." Any issues they have need to be addressed with me. I never had a problem with students talking to my CT over me last semester, but I think by saying this, I am changing the tone of the class. It shows them that I am now the authoritative figure, and the person they should address with issues. I think that I still have a lot to learn and change with regards to my classroom management skills, but I am happy to have some new things to try out.
Discovering New Things
I am really blessed in the sense that my CT is in charge of student council at MVHS. My advisement class is made up of only student council delegates. In high school I was super involved with student council and even served as the Georgia Association of Student Councils president as well as student body president at my high school. I love listening to their ideas and helping with their projects. This Friday, they had their Winter Re-Charge event after school. This is a time for them to re-group, come up with a plan for the new semester, and grow as leaders. My CT asked me to be the keynote speaker and kick the event off. I was honored, and excited for this opportunity. She let me stick around and sit in on some committee meetings, and I even got to listen to a well know guest speaker Heather Shulz who came to do a workshop for the council on communication (picture below). The coolest thing for me is that several of my Spanish students are also involved in student council. They were so excited to see that Senorita Cannella was willing to stay after and invest in their organization. I even participated in some of the games they played. I got to know them a lot better, and they got to see me in a different light. The discovery that I made through this experience is that being in charge or involved in some kind of extra curricular activity has the power to really enhance your job inside the classroom. It allowed me to connect with the kids on a whole new level and learn so much more about them. I am excited to see the impact it makes on my classroom in the weeks to come! :)