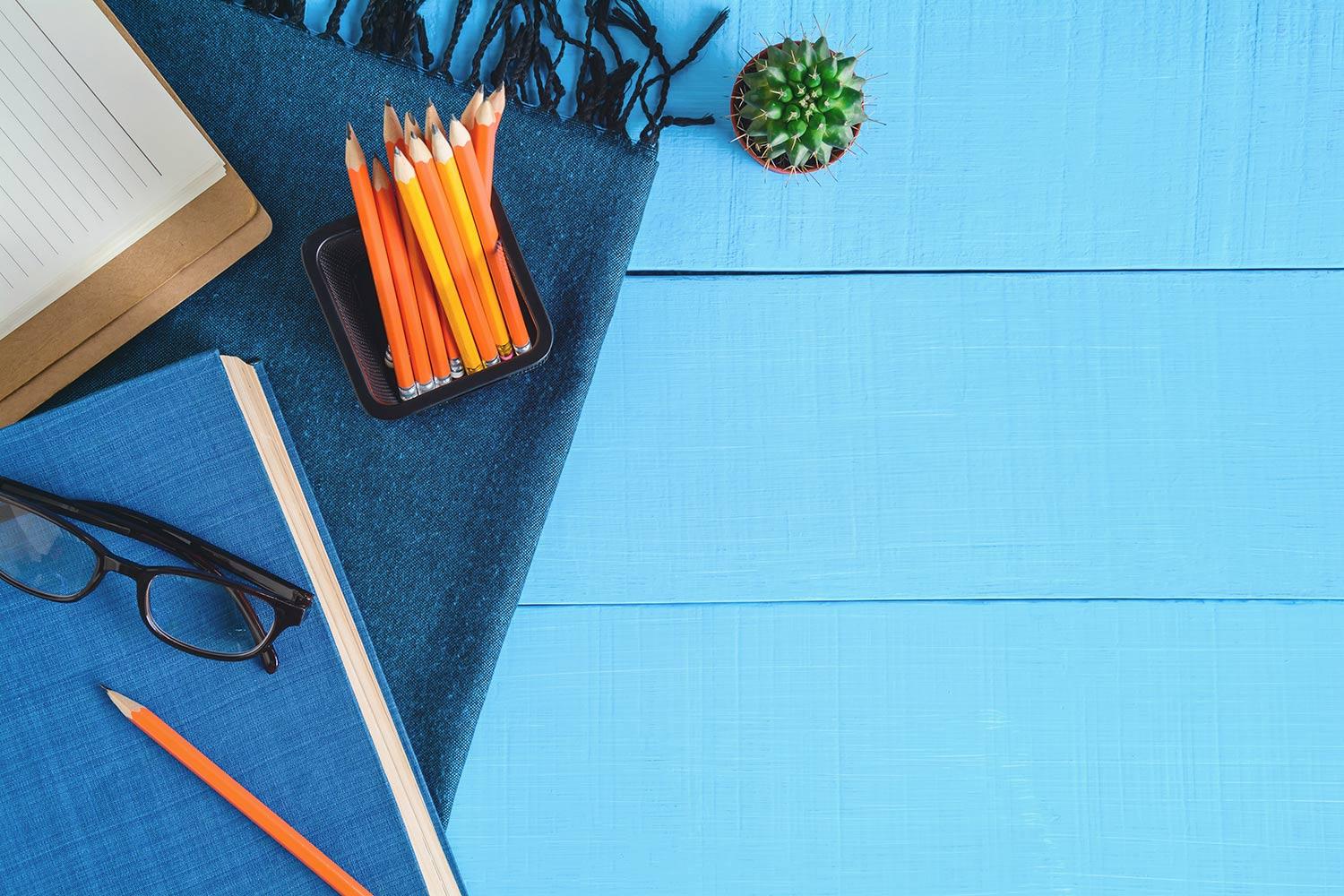 PfISD Employee Express
December 8, 2022
Upcoming Events & Holidays
Staff Survey
Teacher Appreciation Nights at COTA Peppermint Parkway

2022 W2 Notification

2023-24 Academic Calendar Survey
Staff Shout Outs
CTE Corner
Fine Arts Update
Athletics Update
Upcoming Events & Holidays
December
National Read a New Book Month
Dec. 1 - Board of Trustees Workshop
Dec. 15 - Board of Trustees Regular Meeting

Dec. 16 - Early Release
Dec. 19-30 - Winter Break
For a number of years, Pflugerville ISD has offered individual pottery pieces to our Service Award recipients - for 10, 15, 20, 25, 30, 35, and 40 years of service, along with retirees, teachers of the year, staff members of the year and humanitarians of the year. These art pieces were created by hand by a local artist who retired this year.
Due to this, district staff has reached out to multiple artists to search for a replacement. We have had a difficult time finding an artist who can create the number of pieces needed to honor our large number of recipients. We have found one potter who would be able to meet our demand, however, the style is different from the previous style.
District staff has been researching alternative options for staff awards and we would like feedback from staff to help guide our decision. Please click the link below to access a short survey.
Teacher Appreciation Nights at COTA Peppermint Parkway
Circuit of The Americas (COTA) is honored to invite you and your family to Peppermint Parkway, a unique holiday experience in Austin. Available on select nights through Dec. 30, Peppermint Parkway features a one-mile drive-thru of unforgettable immersive holiday displays, millions of dazzling lights, characters, and more. In addition, guests can visit Peppermint Plaza to meet Pepper and Mint, enjoy holiday treats, and experience thrilling rides, or drive on COTA's signature 3.41-mile track with a Candy Cane Cruise ticket!
Present your ID upon arrival at the check-in tent for the teacher appreciation discount of 50% off Peppermint Parkway admission from December 26 to 30. To purchase tickets, go to peppermintparkway.com, select "get tickets" and your admission package. Then enter code WINTERBREAK at checkout!
Teacher Appreciation Nights are dedicated to your service to students and their families. Thank you for all you do!

Pflugerville ISD is required by the IRS to furnish all employees with a Form W2 Wage and Tax Statement each year. The W2 contains employee's compensation and tax withholding amounts for the year 2022.
This year PFISD is giving you the option of Print Your Own W2-2022. Benefits of Print Your Own W2:
Reducing District cost, estimating $5050 of savings to print W-2's for 5050 employees
Saving your W2 electronically for your records (digital version)
Receiving your W2 sooner than January 31, 2023
The Skyward Online Form selection window opens in Employee Access from December 1, 2022 through January 13, 2023 to complete your W2-2022 delivery options.
Please use the instructions below to select your W2 delivery options and verify your employee profile information.
2023-24 Academic Calendar Survey
The Pflugerville ISD instructional calendar results from a collaboration between the community, students, and staff. The calendar is intended to balance the needs of all stakeholders, especially our students and teachers. Our District Academic Advisory Council (DAAC) solicits your feedback as part of their 2023-2024 calendar development process.

Please respond by December 9, 2022.

We love our PfISD staff members and we know our parents do too! We want to provide an opportunity for our parents to publicly recognize and thank our staff members who serve our students, staff and the community. We have created a Google Form to provide information directly to us to share with our staff as a whole and let you see the difference you are making in a student's life every single day. Please click here for the Google Form.
These Shout Outs will be included in upcoming issues of the Parent and Staff Newsletters. If a Shout Out directly references a student, we will not include the parent name to protect the child's anonymity. If you are recognized in an anonymous Shout Out and want to learn the parent's name, please contact Tamra Spence at tamra.spence@pfisd.net.
THANK YOU TO OUR AMAZING PFISD STAFF MEMBERS FOR EVERYTHING THEY DO FOR OUR STUDENTS AND COMMUNITY!
Donna Spears of HHS Math teacher (via Cheree W): Ms. Spears is an amazing Math teacher. She goes over and beyond for her students, coming in to work early everyday and leaving later so her students always have access to her in case they need help. I personally met her at open house and she really does meet the needs of "the whole child", not just academically. My son raves about how she makes sure that he understands the work in her class. Teaching is her passion and it shows! I am truly grateful for you Ms. Spears!!
Brea Lovelace of Riojas Elementary School (via Erin P.): The Riojas PTO is so thankful to Ms. Lovelace for taking time to help us get our Holiday Market Place in order for our students. She is an amazing teacher and we are so lucky to have her!
Eugene Sykes of Bohls Middle School (via Jameesa B.): Mr. Sykes has been such a great mentor to my daughter. He looks out for the well being of the children on a daily basis. He gives encouraging words and goes above and beyond to make sure that my daughter feels loved and confident in herself. An overall good coach/ teacher!
Brittany Slover of Connally High School (via Jan H.): She is an Awesome teacher she exceeds her expectations of helping her students succeed in their life choices. She cares about all of her students. Just a great "Teacher" who is truly putting that word to great use. This is for the WHOLE SPED classroom teachers she couldn't do it without them kudos to those as well.
Ashley Derrington of Connally High School (via Jan H.): Would like to give this Awesome Teacher and her team a A+ Thank you guys for being the best teachers and having plenty of patience and helping us in successfully completing the school year. Thank you guys
Tiffany Altman of Carpenter Elementary (via Kelley G.): Mrs Altman is such a wonderful presence in our daughter's world. We are so grateful to have been placed with such a fab kinder teacher!
Mr Howell of Pflugerville High School (via Lamonica J.): Mr. Howell has been a tremendous help to myself and my daughter with college applications and scholarship and the completing the online Fasfa. He is very informative and knowledgeable about the college entry process and that is what every parent and student needs in a college guidance counselor. Thank you Mr. Howell for all of your advice and guidance.
Kevin Kiffin of Westview middle school (via U.Jones): Thanks for your dedication to your students. Thanks for always being willing to help my daughter with all that she needs in your class. Thanks for going the extra mile on those challenge days. It is greatly appreciated.Thanks for all the tutorial days.
Janna Wilkerson of Rowe Lane (via Dana O.): Mrs. Wilkerson does such an incredible job building her students up and making them feel successful and valued. She makes sure she is supporting them emotionally and challenging them academically. I have such confidence sending her to school each day because she is in such capable and loving hands. Mrs. Wilkerson connects with her students and motivates them to want to be at school. Thank you for having such a significant impact on my daughter and the rest of your class. Your tireless self-sacrifice does not go unnoticed. We are very fortunate to have you in our lives.
Kitt Scharff of WIndermere Elementary (via Anonymous): To her immense credit, Kitt treated me like a parent when my child was in her class.
Mrs. Shari Griffith of Brookhollow Elementary (via Anonymous): Thank you very much for all your hard work. We feel so lucky that we got you for a teacher this year. Your dedication to your students does not go unnoticed!
Ashley Alves of Mott Elementary (via Noor H.): We addressed our child's anxiety issues with Miss Ashley. She took her time to evaluate him and provided excellent recommendations and research materials. She is very resourceful and a true asset for Mott Elementary.
Colleen Andre of Mott Elementary (via Noor Hajani): Miss Andre is quite passionate, hardworking and enthusiastic. She maintains excellent parent-teacher communication and goes beyond her means to accommodate kids in her class. Her individualistic attention pertaining to every kids' needs is quite applaudable. We are truly blessed to have her as our teacher this year.
Ana Morales of Highland Park Elementary (via Anonymous): She is a very patient and helpful teacher. She is great at communicating and even though she does not have to, she responds right away!! She is on top of everything!
Alyssa Posadas of HPES (via Anonymous.): Ms.Posadas has been amazing with my daughter Ciera all year. Ciera struggles with confidence. Ms.Posadas has been working extra hard to help lift Ciera's confidence in her last year in elementary school. She is creative and works to push her appropriately out of her comfort zone. She communicates with me often about Ciera's progress and helps us with ideas to incorporate at home to lift her education confidence as well. She also does a great job having fun in the classroom, keeping the kids on task AND holding them accountable. We are lucky to have her!
Riojas Third Grade Team of Riojas Elementary (via Anonymous): These teacher just had their Market Day and they do a fantastic job! It is a lot of work, but it is well worth it. The students are able to be creative and each of them create their product. a on Market day the third graders can sell their product to all grades, where they put to practice their money skills in a fun and productive way! AMAZING!!!
Ms. Brody of HPES (via Anonymous): Ms.Brody has done an amazing job helping Ciera feel comfortable and learn how to work through her problems this year. 5th grade tends to be an emotional year and kids need to have teachers they can confide in and feel comfortable talking to. Every day Ciera shares how much Ms.Brody cares for her and helps her sort through any trouble she is having. She's really, really trusts her and for that we are exceptionally grateful!
Jaimie Havins of Brookhollow 1st grade (via Anonymous): Mrs. Havins has truly inspired my daughter this year. She is excited about and excelling Math, Reading and now Social Studies. Charley LOVES going to school everyday and is eager to learn.
Sandy Stewart of Rowe lane elementary (via Sehrish B.): Miss Sandy is such a sweet librarian at Rowe lane, she always greet everyone with beautiful smile on her face, I love the way she talks and help all the kids. She is very kind and humble to everyone.Thank you so much miss Sandy for all your efforts and dedication to make Rowe lane more beautiful.
Shela Patel of Rowe lane elementary (via Sehrish B.): Miss Patel is working in Rowe lane for so many years , she is very kind and hard working I always see her going above and beyond. Just wanted to say thank you so much for working so hard.we all truly appreciate all your hard work.
Connie Sinclair of John B Connally High School (via MARY K MAYES): Connie is the BEST. She was always available when I needed help getting into the building and setting up concessions. She is always welcoming when I come to the school no matter what the case may have been. There is something special when staff knows your name and welcome you with a smile no matter how crazy busy the front office is. She is a GREAT asset to the front office.
Ben O'Connor of Cele MS (via Anonymous): Mr. O'Connor is an outstanding leader of CMS. He goes above and beyond daily, but we are always in awe at how he attends every play, performance, recognition ceremony and game. His dedication to the Cele family doesn't go unnoticed. Thank you for all of the time you give to our community.
Miss Amelia Chapa of Consejera Escolar (via Lesbia H.): Ella es una persona amable, atenta y siempre esta al pendiente de los niños. Contribuye significativamente en su crecimiento personal y profesional ofreciéndoles siempre una mano amiga, en las actividades para la comunidad se muestra receptiva y muy atenta a las necesidades de los niños.
Addison Ard of Copperfield Elementary (3rd Grade) (via Victoria A.): She's the most caring and attentive teacher ever! If there's something going on with my child at school that she notices different she will get in touch with me as soon as she can. Me and my son are grateful to have you as our 3rd grade teacher!!
Lisa Cortina of Rowe Lane and Special Education Teacher (via Jennifer and Michael S.): Mrs. Cortina always listens, provides feedback and reassures us regarding our child who started Kindergarten this year-she also demonstrates patience and knowledge in what is best for our child in regards to his learning-we have seen results already! We are so very grateful for her!!!
Ms. Maldonado, Ms. Lalwani, Mr. Cesar, Ms. T, and Brittany of Mitt Elementary (via Mr. & Mrs. E.): The start of the school year was pretty rough for my daughter. Due to exhibiting behavioral issues, it was a pretty rough first couple of months of school. These awesome teachers were so patient with our family and our daughter, and helped us all the way through. Thanks to them all, we were able to determine the root cause of the issue. Not only do they have to deal with working with "exceptional" kids, which has its own challenges, but they also teach the kids day to day with patience and joy. Thank YOU!
Accounting Students Train with IRS

On November 15th, PfISD Accounting II students and teachers traveled to Georgetown High School where they were trained in the "Volunteer Income Tax Assistance (VITA)" grant program, driven by the IRS. The program is designed to support free tax preparation services for the underserved; the service helps low- to moderate-income individuals, persons with disabilities, the elderly, and limited English speakers filed their taxes each year.
Students learned about the VITA program and how it impacts people needing assistance in tax-preparation, learned about the forms & procedures for assisting with tax-preparation, and took away the skills necessary to complete the VITA Exam upon returning to their home campus. The goal of the training was to prepare students as they sit for the exam, and in turn, become certified to assist with tax-preparation for the community of Pflugerville. Talk about real-world skills!
The Accounting & Financial Services program of study falls under the Career & Technical Education department in PfISD; more information can be found by visiting our website at https://www.pfisd.net/Page/7408
Elementary Music
15 of our elementary schools were able to send students to see Ballet Austin's The Nutcracker live at the Long Center on December 7th and 8th. We appreciate the classroom teachers and music teachers for their work to make this trip happen, our amazing transportation department for getting our students there, and the education team at Ballet Austin for providing this great experience!

Choir
'Tis the season to hear caroling! We appreciate the dedicated choir students and directors for putting together these experiences, and the captive audiences all over the district who listened and sang along!
(All schedules can be found on rankonesports.com)
Football:

The Pfield has hosted 5 UIL Playoff games this season. I can't tell you enough about how many compliments we have received from teams, parents, officials, districts and media members about the hospitality. Our stadium staff is AWESOME, they try to make EVERYONE have the best experience while in Pflugerville, Texas. Here is a note I received this past week.
PfISD A+ FCU and Sonic Coach of the Month:

Coach Busby of PHS & Coach Coleman of CMS
These two coaches go "above and beyond for our students & staff!! CONGRATS