Personal Statisiccs
Birth Date- March 26, 1881

Education-N/A
Marital Status- Married (Aida Gucci) , Had 3 sons(Aldo Gucci, Maurizio D'Ancora, Grimalda Gucci, Vasco Gucci, Enzo,Gucci, Ugo Gucci)
Death Date-1995
Early Designing Experience- Gucci's first talent was his craftsmanship was in leather goods. He started out selling leather bags to horsemen in the the 1920's and progressed to luxury luggage as his clients graduated from equine transportation horseless carriages. Eventually started his own company and hiring people.
Famous for -
Decade-
Awards
VH1 / Vogue Best New Designer (1995)
Designer of the Year (1996)
CFDA International Designer of the Year (2000)
Elle Style Awards' Style Icon Award (2000)
British GQ International Man of the Year (2001)
Time's Best Fashion Designer (2001)
First Annual Fashion Designer Achievement Award at the Copper Hewitt Design Museum's National Awards (2003)
Price Range
Gucci's price ranges from$ 200.00 to $1000.00
Color, Fabrics, Silhouettes, Sytles, and Accessories Used
The colors Gucci uses are neutral ( black,brown,beige,white,and gray).
Gucci's popular fabric is leather
Urban, aggressive seductress and her playboy consorts. For men, the image veers closer to that of a pool boy and his sugar daddy.

Gucci = Bridge
Gucci's price ranges from$ 200.00 to $1000.00
Top 3 Important things to know about Gucci !!!
Guccio Gucci, the founder of this luxury brand had spent many years working in London's Savoy Hotel. He worked as an elevator attendant in this hotel; the job which was the real inspiration behind his brand.Being an elevator attendant in one of the most lavish hotels in Europe, he came in contact with A-listers like Marilyn Monroe, Winston Churchill, Frank Sinatra and Claude Monet. This inspired by him to open his own high-end leather luggage and this is how he launched his brand in 1921.

One of Guccio Gucci's most remembered creations was Bamboo bag, in which he added a patina to cane to create the handle of this bag.
In 1960, the Gucci brand logo was invented. The double GG logo was designed to honor Guccio Guccio, thereby creating another trademark insignia for the company. The GG monogram strengthened the company's fame and soon became a status symbol of high glamour, luxury and desirability.
Bibliography
"Gucci." Official Site – Founded in Florence, Italy in 1921. Web. 10 Dec. 2014.
"Gucci." Wikipedia. Wikimedia Foundation, 12 Oct. 2014. Web. 10 Dec. 2014.
"Guccio Gucci." - Biography, Fashion Designer Profile & Collection. Web. 10 Dec. 2014.
"Guccio Gucci - Fashion Designer | Designers | The FMD." The FMD. Web. 10 Dec. 2014.
"Guccio Gucci, a Man Behind Famous GG. Biography and Label History." Eyeinform Blog. Web. 10 Dec. 2014.
"Jewelry Accessories-Bold & Statement Designer Jewelry." Guccio Gucci Fashion Designer Biography. Web. 10 Dec. 2014.
"Know Your Fashion Designers: 10 Facts About Guccio Gucci."
College Fashion
. Web. 10 Dec. 2014.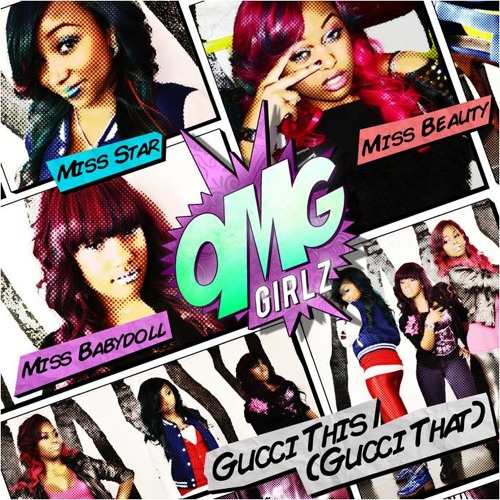 Interscope Records
The OMG Girlz - Gucci This (Gucci That) by Interscope Records