#Storytelling
5 Questions to ask that helps jumpstart your brand's story!
#Storytelling 5 Questions to ask that helps jumpstart your brand's story!
We all have one that is filled with intrigue, excitement, turmoil, adventure, challenge, and triumph. The fascinating journey to reveal, embrace, and explore that fuels the passion behind our purpose. It is a unique conversation, visual collage, and an emotional tug that allures the public into our world.
What is it?
Our personal story.
In the world today, articulating this message to the public connects brand to audience. The Brand Paramedic provides the insight needed to jumpstart your brand's message using the art of storytelling. Attend the 15 minute webinar and get started today.
Questions are explored and answered to jumpstart your brand's message.
The Agenda Topic will address the following questions:
What is Storytelling?

Why is your story necessary?

How to begin creating your brand story?

Where to share your brand's message?

When to tell your story?

Also, use the hashtag #MsStevensPRBrandStory and post questions to my sites either on Twitter and Facebook so that I can either address during the live event or share in a follow-up post on my website. Thank you for your support.
Click below to listen to MsStevensPR.Com's podcast on Step 1 Unique Story #BrandTip and get a teaser to the main event. Save the date to attend the upcoming webinar event and also subscribe to MsStevensPR.Com today.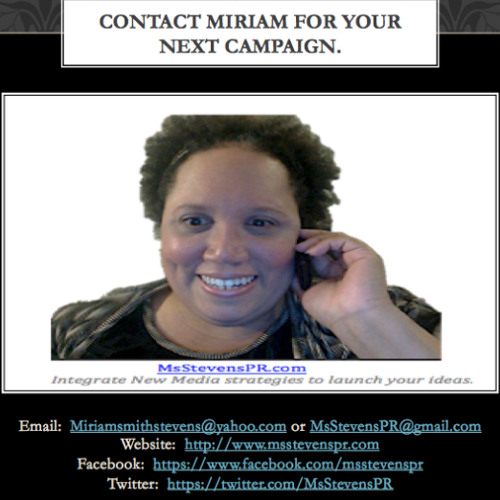 miriam-s-stevens
MsStevensPR.Com Shares Step 1 Unique Story #BrandTip by miriam-s-stevens
You do not want to miss out on this exciting and informative online webinar event!
Monday, March 23rd, 11pm
This is an online event.
It is time for you to get the help you need to connect your brand message with your intended audience. Learn the 5 Questions to ask that helps jumpstart your brand's story!
Watch Now - https://youtu.be/VocRhT7g46s This is an online webinar event that was Streamed live on March 23, 2015
MsStevensPR.Com provides a 3-Step C.P.R. Brand Treatment Plan to help revive your image.
For more tips and tools about social media brand development, contact MsStevensPR.Com.

MsStevensPR.Com is here to help you revive your image, business, service, and dreams. MsStevensPR.com realizes that in todays competitive social media and Internet market, it is hard to have your voice be heard and your vision be seen. Therefore, MsStevensPR.com provides you a customized plan that breathes new life and elevates you to new heights.