The Digital Broadside
News You Can Use
Election Politics
The 2016 Election is officially underway with the Iowa Caucuses completed. Once every four years, we get to geek out for MONTHS about what all this means until November. Have fun with this with your students. Find ways to incorporate this in your classes. Look for fun ways to explain things to your students like this one on how the Iowa Caucus works, see below.
Here are some resources that can help:
How The Iowa Democratic Caucus Works, Featuring Legos
Summer School Options
Please remind students that we have online summer options for Government and US History. Last year, we had 1 US History class and 2 Government classes. But they seem to fill up late and we never know if they will actually make until the last minute.
If you have students who need these classes, and may succeed in an online environment, please consider this option for them.
Student Growth Measures for MP2
Just a reminder to have students doing the SECOND GROWTH MEASURE before the Semester ends. Please remember to keep your spreadsheet updated so that you don't have to fill it all in later in June!
The End of SOLs?
Update: So... interesting turn of events. The Bill died. Apparently, they want to "improve SOL tests" and can't do that if there aren't many left. This means, for the foreseeable future, the SOLs will remain as they are.
I saw the first episode of Mercy Street, and while I wasn't "blown away," I think it's going to do a great job at show how the war played out at home, on the streets. It will also have a focus on women in the war. I often hear how our female students don't like history because it's all about battles, so this show may peak their interest.
If I could only avoid seeing "Ted," when Josh Radnor is on the screen.
It appears that there are only 6 episodes, so far. But I think it would still be good for a history class.
2015 Curriculum Framework
Hopefully we will know by the end of January of the new Framework has been approved. Also, they have practice TEI items for teachers and students online. These practice TEI items will be on the 2008 Curriculum, but field tested. Voting is this Thursday on the new Framework.
Teacher|Student Opportunities
The Power of Place: Land and Peoples in Appalachia
The James Age Film Project and the University of North Carolina Asheville welcome your interest in our two-week NEH 2016 Summer Institute, The Power of Place: Land and Peoples in Appalachia. If you are a K-12 educator, we invite you to consider joining the institute, from July 10 to July 22, at the University of North Carolina at Asheville, North Carolina.
Our two week institute will use environmental history to examine the role of landscape in the shaping of culture and history, with the Southern Appalachians as a powerful case study. Using the experience of Appalachia, we will see how environmental history presents new questions to interrogate past events, encourages an interdisciplinary approach to the study of place, and presents an excellent opportunity for team teaching in the classroom. deadline is March 1, 2016.
Demon Times: Temperance, Immigration and Progressivism in an American City
Program Description:
The goal of the program is to consider the roles of Westerville, Ohio and Columbus, Ohio as landmark cities central to the themes of Temperance, immigration, and the Progressive movement in American history and culture. The Columbus area is a unique landmark allowing us to consider how the landscape and architecture of a major Midwestern city and a nearby small town are simultaneously typical of the American experience and a unique landscape of American reform traditions.
The influential Temperance organization the Anti-Saloon League was based in Westerville, a Columbus suburb. The Anti-Saloon League's influence and methodology was scientific and unapologetic in its approach, aiming directly at alcohol, Catholics, and immigrants. Columbus was home to a large German immigrant population, with an attendant brewing industry. The juxtaposition of these two elements makes for a unique landmark allowing us to consider the collision between immigrants and advocates of temperance in the Progressive era. July 10-15 and July 24-29, 2016.
Check it out here: Application Deadline: March 1, 2016.
The Political Thought of James Madison Seminar at James Madison's Montpelier
This seminar examines the life, character, political thought, and political practice of James Madison. Emphasis will be placed on Madison's most active philosophical years, i.e., during the Founding period from 1786 to 1792. This 3-day teacher event will be led by Colleen Sheehan of Villanova University.

March 18-20, 2016
Application deadline: February 19, 2016
Learn more and apply at www.montpelier.org/center.
Full scholarships are available for teachers from MA, NY, NJ, KY, CA, NV, NC, and VA!
World War One @ the Virginia Historical Society
How has our understanding of the war changed in the last century? How do historians view the legacies of the war today? How can teachers make the most of primary sources from
the era, particularly local sources in Virginia?
March 1, 2016
FREE
12pm to 4pm
To register online, please visit their page.
Teaching World War One: 100 Years Later is the first program in the Virginia Historical
partnership with the University of Richmond's Department of History.
NCSS in DC 2016: Volunteer and Get in Cheaper
The Local Arrangements Committee Co-Chairs for the NCSS 2016 Conference in Washington, D.C and are looking for volunteers to help during the conference. In exchange for volunteering, participants receive a discount registration rate for the conference. The discount received directly correlates with the time one volunteers. This can be a good deal, particularly for pre-service teachers.
The NCSS 2016 Conference in DC will take place at the Walter E. Washington Convention Center, December 2-4, 2016. We will need help beginning with preparations on Wednesday morning, November 30th and ending with closing on Sunday morning, December 4th.
More details about discounts and specific jobs will come later. If you or anyone else has questions about this, please feel free to email me. Your help is greatly appreciated!
If interested, email Wesley Hedgepeth at wesleyhedgepeth@trinityes.org
Virginia Holocaust Museum Has TONS of Stuff
Over the break, I got a lot of emails for opportunities at The Virginia Holocaust Museum. Here are some of them:
"The American Response to the Holocaust." This one day workshop will be taught by Facing History and Ourselves', senior historian Dr. Mary Johnson. This year's topic will focus on deepening our understanding of the Holocaust as we examine the response of the United States to the events that were unfolding in Europe from 1933 to 1945.

Visual Arts Contest. The concept of survival will be the focus of the Virginia Holocaust Museum's 2016 Visual Arts Contest. Millions of people were affected by the Holocaust. During the Holocaust people lost their civil liberties, were forced from their homes, families and countries, into ghettos, concentration camps and killing centers. Many went into hiding, tried to immigrate to other countries or sent their children away in hopes that they would survive. It is important for students to know about these individuals and their varied personal experiences during the Holocaust in order to understand the importance of individual decision making, the dangers of intolerance and the diverse experiences of those affected by the Holocaust. Submissions are due March 18.
The Summer School Program in Grodzka Gate - NN Theatre" Centre, Lublin, Poland is pleased to announce the call for applications for the second edition of the summer student program "Memory – Place – Presence", coordinated by the 'Grodzka Gate – NN Theatre' Centre in cooperation with The University College of Enterprise and Administration in Lublin, Poland. The program will start on June 23, 2016, and will continue through July 3, 2016. The summer school program is created for all those who want to experience and explore the lost Yiddishland and its fascinating history, the forgotten continent of shtetls and cities, the cradle of the Jewish diaspora, a source of inspiration for countless writers and artists, and a mute witness to the Holocaust. The program offers a unique, complex 10-day seminar on the Jewish cultural heritage of the Lublin region – located in the heart of Yiddishland.
The United States Holocaust Memorial Museum's Teacher Fellowship program is designed to immerse participants in advanced historical and pedagogical issues relating to the Holocaust. Join the program's exclusive national corps of skilled teachers who serve as leaders in Holocaust education in their schools, communities, and professional organizations. If you are a secondary school educator or community college professor who has been teaching about the Holocaust for at least five years, please consider applying. For more information about the program, or to access to the online application, please visit this link.
If you have any questions, please email me.
Six Degrees of Separation
I've brought this idea up before, but I thought about it again while thinking about authentic assessments. This activity would be great for any student, 6 - 12 grade. I found it in the APUSH world, but it works with any content area.
Here's what you do:
Either create a worksheet or have the kids make one where you start out with an event in history, anything.
Create 2 - 6 boxes that the students will use to fill in with their research. You can decide how much they can handle. Maybe 6th grade just has two boxes to research, while APUSH kids have 6 boxes.
Create a last event for the students. So for example:
War of Austrian Succession (teacher provides this)
Student Research 1
Student Research 2
Student Research 3 (optional)
Student Research 4 (optional)
Student Research 5 (optional)
Student Research 6 (optional)
Revolution of 1848 (teacher provides this)
Once you give this to the students, they:
Create a next step for Research 1, it's their choice, it just has to make sense. They then write a few sentences explaining the link from the War of Austrian Succession, so they could write, "Louis XVI came to the throne at a time when the French monarchy was at one of its lowest points."
They continue this for each "degree" you want them to complete. 6 Degrees of Separation means they research 6 topics. How many they research is up to you.
The fun of this is the different paths students will take, which can be shared in the class.
This is a good way for students to see that there are many answers in history, and many paths. Not just the one the textbook or SOL Framework lays out.
Who Started World War One?
An article from last year:
"Serbia bore the greatest responsibility for the outbreak of WW1. Serbian nationalism and expansionism were profoundly disruptive forces and Serbian backing for the Black Hand terrorists was extraordinarily irresponsible. Austria-Hungary bore only slightly less responsibility for its panic over-reaction to the assassination of the heir to the Habsburg throne."

Read more here.
Wheel Decide
I love observing for many reasons. I know it makes some folks nervous, and I apologize for any of that, but I learn a lot from you all during my observations. For example, I observed
Ashley Kelly
at Tuckahoe the other day and she used a tool call
Wheel Decide
to call on students in class.
Basically, she had all her students name on the wheel, hit spin, and whoever it landed on had to answer the question. It's a great classroom management tool. I'm sure there are others like this, but if you haven't used one, this could be a good one for you.
Practice it as school first, though. The website appeared different at school than at home. But basically, you just create a wheel, type in kids names, and done!
Trivia and Other Balderdash
Trivia 2015 - 2016: Teachers- 8 and Me- 7
Last week:
Nobody won last week.
For this, you need to answer each of the following questions, and then figure out what they have in common.
What do Martin Sheen, Rob Lowe, and James Marsden have in common? (They all played JFK in movies)
His New Yorker cartoons became the inspiration for a famous TV show family. (Addams/Adams)
The winner of an important 8-7 vote. (Rutherford B. Hayes)
This person likes fast pudding, and did so for at least a year-2 acceptable answers (Franklin or Teddy Roosevelt)
He had a pet ape. (Obama)
All these Presidents went to Harvard.
This week: "Connections". For this, you need to answer each of the following questions, and then figure out what they ultimately have in common. The answers aren't what is in common.... you have to take one more step.

His play best tells the story of the Salem Witch Trials and the Cold War.
This actor used the Queen of Diamonds to prevent an assassination.
Jellybeans anyone?
This 1978 book detailed life with this abusive actress.
Paul Simon wondered where he was.
Solve those, and then tell me what they all have in common?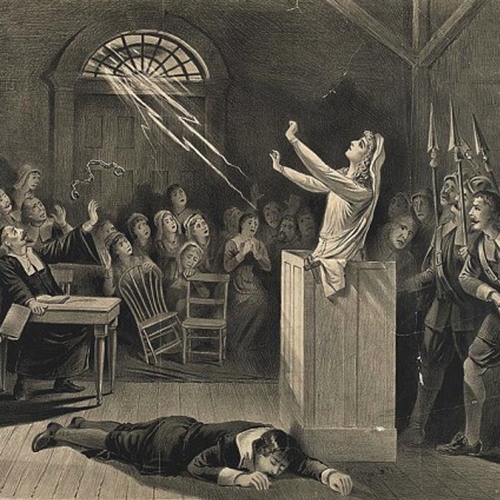 BackStory
Court Of Public Opinion: Trial Watching In America by BackStory