Allison Jones
Paralympic skier/cyclist: Defying all odds
Statuses
Allison Jones
was born in Amarillo, Texas on May 12, 1984, but has lived in Colorado Springs, CO for the majority of her life. She was born with a birth defect called
proximal femoral focal deficiency (PFFD)
, which left her without a right femur. Her parents made the decision to have her right foot amputated when she was seven months old to make it easier for her to be fitted for a prosthetic. She received her first prosthetic leg just two months later, and has been wearing them since. In sociological terms, Allison's status as a handicapped person was
ascribed
, meaning it was a status that she was born into rather than acquired later in life. Other ascribed statuses that of Jones' are:
Daughter
Female
American
Sister
Allison first discovered paralympic cycling when she was 11 and was able to attend the paralympic games when they were being held in Colorado. After that experience, she is quoted saying that she "knew that was something she wanted to do". She decided to find a personal trainer to help her gain the achieved status of a cyclist. An achieved status is a title or identity that one acquires post-birth as they go about their lives and develop who they want to become. Other achieved statuses of Jones' are:
Skier - During the winter games, Allison skis rather than cycles
Wife - Married fellow athlete Sara Jarrell in October of 2013
Activist - Supports organizations for LGBT rights
Olympian - Competed in the Paralympics 7 times, her first admission to the games being in Salt Lake City in 2002
Mechanical Engineer - Has a mechanical engineering degree from University of Denver where she received the "Pioneer Award"
Role Model - A strong and dedicated athlete who does not let her handicap hold her back from achieving her goals
Olympian

Allison at the 2014 Olympic games in Sochi, Russia

Wife

Allison with wife, Sara, after a training session

Role model

Photoshoot for the 2014 Sochi games
Values
Allison has been determined to fulfill her dream of being a Paralympic athlete ever since she was a little girl. She has been skiing ever since she was 4 years old and began cycling training at 11, competing professionally by age 15. Living life to its full potential in spite of her disability is certainly one of Jones' strongest values.
It is evident throughout Allison's postings on social media and her website that she values her fellow USA teammates and their common goals for the games. She supports her fellow teammates every step of the way, as they do for her. Maintaining good sportsmanship is certainly something that Jones remains conscious of while she is competing.
Sports as a subculture
Alpine skiing
is considered to be both one of the most exciting and most dangerous winter sports known to man. While some skiers are able to use two skis/poles while competing, other standing skiers may use one ski or two, with regular poles or outrigger ski poles for stability. Athletes normally in wheelchairs ski on sit-skis or mono-skis, single skis attached to sleds with shock absorbents which provide comfort while competing. Open to both male and female athletes, alpine skiers race down varying slopes of varying difficulty which include:
Downhill
Slalom
Giant slalom
Super-G
Super-combined
Snowboard cross
Cycling is a relentlessly long test of endurance and stamina that is open to athletes with a varying range of disabilities. Amputees and athletes with other locomotor disabilities compete in road races using cycles specifically constructed for their needs such as handcycling, designed for athletes who normally use a wheelchair.
Both skiers and cyclists in the Paralympic games are divided into classes based upon severity and/or type of disability.
Socialization
Aside from being an athlete and paralympian, Allison is also a mechanical engineer. She received an engineering degree from University of Denver, and works in the engineering field on the off-seasons between training.
Allison married her long-time partner Sara in October of 2013, who is also a fellow athlete.
SOCHI 2014
The 2014 winter paralympics in Sochi, Russia, are Allison's seventh and final paralympic games. She announced via her twitter that the 2014 winter games would be her last, as she plans to move forward in her career as an engineer and spend time with her new wife. She walked away from the Sochi games with a bronze medal in downhill slalom for her USA team.
Social interaction / competition
As aforementioned, it is paramount to Allison that she maintain good sportsmanship while competing in the games. She is not only a dedicated teammate to her fellow American paralympians, but she is also courteous and friendly toward her competition. On her instagram, Allison is pictured standing on the podium with her competitors, smiling with them, and even arm-in-arm with them.
Symbolic theory
The paralympics itself is a beacon of hope and positivity for disabled people across the world. The athletes who compete in these games are true heroes - people who have overcome obstacles life has handed them and made something amazing out of themselves.
Audio reflection below. Sorry for all of the times I said "you know" and "um".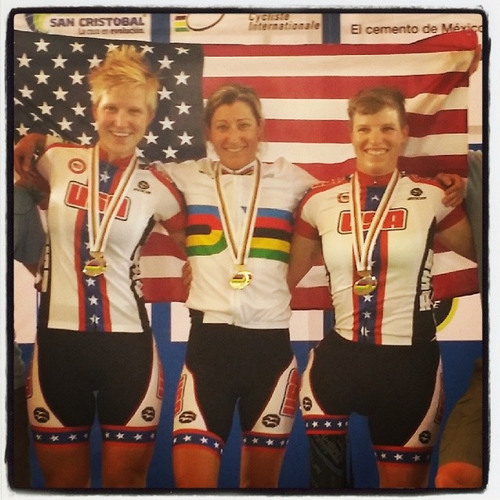 Madeline Maienza
Pbc by Madeline Maienza